Brain Power Essential Oil
Clears the Brain Instantly!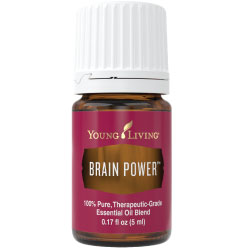 Brain Power Essential Oil is an excellent blend of essential oils that is specifically designed to assist with mental clarity and eliminate "brain fog".
It contains oils that are very high in sesquiterpenes which increase oxygen around the pineal, pituitary and hypothalamus of the brain.
It also dissolves petrochemicals around the glands in the brain and along the spine if placed there. One of the causes of brain fog is thought to be the toxicity due to petrochemicals and various other synthetic chemicals we use in our daily life. Or lack of oxygen. Brain Power can assist with all of these!
Use it before a meeting or competition to give you that mental edge. Or use it help you concentrate during meditation. Either way, Brain Power is a welcome blend.
Brain Power essential oil is one of my favorite essential oil blends and I use it every single day at the farm for training horses. Alternate it with Clarity Essential Oil and see which one works better for you and your animals. Combine with any blend to make it more effective!
I notice that women (and mares) have better results with Brain Power although I personally use both! What I do know is that if you have brain fog, inhale directly from the bottle and forget you ever had it!
Need essential oil that will help you concentrate and assimilate new ideas?
Try Clarity blend for mental focus and concentration! If Brain Power doesn't help, than Clarity will!
Did you know that taking commercial drugs can inhibit the brain from metabolizing serotonin?
Brain Power, Clarity, Joy, Peace & Calming, and Valor Essential Oil. all help the brain recover from the damage of commercial drug use. And they will also stimulate the pineal gland that metabolizes 50% serotonin in the body.
What is Serotonin?
Serotonin regulates some of these functions: mood, appetite, sleep, muscle contraction, memory and learning!
This is an easy reference guide for Brain Power Oil Blend. It will tell you how to use your oil blend and what to use it for. It will also provide you with some fun tips and testimonials!
As I receive new tips and testimonials they will be added to the page, so check back frequently!
Buy Brain Power Essential Oil Here!
Brain Power Essential Oil Blend™
What is in Brain Power Essential Oil? There are seven different essential oils in Brain Power. They are listed below along with a brief description of each oil.
Do you want more information about the individual oil? Just click on the name of the oil to find out other interesting information such as:
What Part of the Plant is Used?
What is an ORAC Value?
What is the ORAC of the Oil?
What are the Plant Properties and Uses?
Where is the Name derived from?
The Most Interesting Historical Reference?
And more!
What are the Documented Uses for Brain Power Essential Oil? Mental focus and concentration, brain fog, anti-aging, increase activity in the pineal, pituitary and hypothalamus glands, increase growth hormone and melatonin, sleep apnea, dissolve petrochemicals on receptor sites, improve memory, forgetfulness, jet lag, nervous and mental fatigue, depression, convulsions, dizziness, epilepsy, fainting, headaches, autism, AIDS, ADD/ADHD, stroke, chemical sensitivity, confusion, oxygenate the brain and bring emotional balance, narcolepsy, neuropathy.
What Body Systems are Affected? Nervous System
What is the Aromatic Affect on the Mind? Increases mental concentration and focus during mental activity. It is uplifting and energizing.
What is the Spiritual Influence? Will help those who suppress emotions such as passion, excitement and joy. Or, those who lack motivation and like to procrastinate. Gives the mental clarity and focus needed to overcome apathy and embrace life.
How do I use it?
Use NEAT (undiluted). Then,
Apply several drops (2-4) on ears, wrists, neck, forehead, temples or feet
Apply to chakras/vitaflex points
Directly inhale, or
Diffuse.
Good oil for the First Aid Kit? Yes
Can this oil be used for Animals? Yes! One of my top ten pet oils!
This is fantastic oil for training animals especially if they seem lethargic or absent. It will definitely help them focus more on their training and have more enthusiasm for life. Combine with any blend to make it more effective!
Note about animals: Certain oils can be very toxic to cats. Citrus products and oils in particular. Please consult your vet if you are not sure about applying any essential oil to your pet.
What are the Safety Precautions? Brain Power essential oil has no contraindications. 
Want to Purchase Therapeutic Brain Power Essential Oil?
Go to the Oil Shop! Buy Brain Power Oil Here!
Tips and Testimonials from an Essential Oil User
Want to be calm and focused? Use Peace & Calming with Brain Power. This is a perfect combination when before a bigmeeting or event!
Have a Great Experience to Share About this Essential Oil?
Do you have a personal story to share about this Essential Oil? Please share it here!
Return from Brain Power Essential Oil to Natural Sleep Remedies