Cel-Lite Magic Massage Oil
Dissolves Cellulite, Fat and More!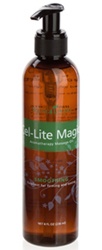 Cel-Lite Magic Massage Oil is an incredible blend of essential and vegetable oils made to improve circulation; and reduce fluid retention, cellulite and fat. The oils have lymphatic draining, diuretic and detoxifying properties.
Use this oil as a water retention and cellulite home remedy. Massage onto location and place in your bath water! It also nourishes and tones the skin; and can help with varicose veins. More uses and benefits are documented below.
This is an easy reference guide for Cel-Lite Magic Massage Oil Blend. It will tell you how to use your oil blend and what to use it for. It will also provide you with some fun tips and testimonials!
As I receive new tips and testimonials they will be added to the page, so check back frequently!
Buy Cel-Lite Magic Massage Oil Here!
---
Cel-Lite Magic Massage Oil™
What is in Cel-Lite Magic Massage Oil?
There are five different therapeutic grade essential oils in Cel-Lite Magic. They are listed below along with a brief description of each oil.
Vegetable Oils:
Fractionated Coconut Oil (distilled from pure coconut oil). It is easily absorbed into the skin, odorless, colorless, and easily washes out of fabrics.


Wheatgerm Oil is rich in vitamin B and E, and lecithin. It is an antioxidant, and has been known to reduce scaring from tissue damage and stretch marks.


Grape Seed Oil is an antioxidant and is very good for the skin.


Olive Oil contains squalene, an antioxidant and a great skin moisturizer.


Almond Oil is high in phytonutrients and vitamin E, and very beneficial to the skin.
Essential Oils:
Do you want more information about the individual oil? Just click on the name of the oil to find out other interesting information such as:
What Part of the Plant is Used?
What is an ORAC Value?
What is the ORAC of the Oil?
What are the Plant Properties and Uses?
Where is the Name derived from?
The Most Interesting Historical Reference?
And more!
What are the Documented Uses for Cel-Lite Massage Oil? Aneurysm, arteries, blood vessels, cellulite, chelation, circulation, congestion, edema, eye lid drop (drooping eyelids), fat, fibroids, hemorrhoids, lymphatic system (detoxify, decongestant, increase function of, stimulates), muscle spasm, retina bleeding, tone skin, varicose veins (spider veins) and weight loss.
What Body Systems are Affected? Skin.
What is the Aromatic Affect on the Mind? Calming.
How do I use it?
Use NEAT (undiluted) Then,
Apply to legs, arms, neck and back
Apply to location.
Note: A fat cell cluster or cellulite is a slow dissolving substance so areas must be worked for at least a month with a weight loss program for best results. Massage on up to 3x per day, especially before exercising. Usually along with exercise, results are noticed in 4-6 weeks.
Good oil for the First Aid Kit? No
Can this oil be used for Animals? Yes, but I haven't used it! Let me know if you have!
Note about animals: Certain oils can be very toxic to cats. Citrus products and oils in particular that are not of therapeutic grade! Please consult your vet if you are not sure about applying any essential oil to your pet.
What are the Safety Precautions? Cel-Lite Magic does not have any known contraindications. Avoid eye contact. For external use only.
Tips and Testimonials from an Essential Oil User
Trying to loss weight? Use Cel-Lite Magic Massage Oil for a body massage after a shower. Add more grapefruit to dissolve fat and drink grapefruit oil throughout the day!
Want to Purchase Cel-Lite Massage Oil?
Go to the Oil Shop! Buy Cel-Lite Massage Oil Here!
Return from Cel-Lite Magic Massage Oil to Oils for Massage