Di-Gize Essential Oil Takes On
Stomach Challenges and More!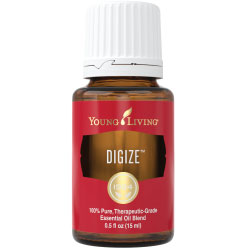 Di-Gize Essential Oil should be included in your home remedies for upset stomach and stomach flu book! It is an incredible blend of eight different essential oils that takes on heartburn, virus, cramps, indigestion and more!
Use it for constipation, stomach ache, nausea, gas, and irritable bowel syndrome (IBS). It also combats Candida and parasites in humans and animals!
Di-Gize essential oil is definitely a great blend to have on hand at home and at the farm. I always put a drop on Lexie's paw, my dog, when she has eaten some bug or who knows what at the barn.
One morning at an out of town horse show I woke up with severe food poisoning the next morning. After throwing up several times I placed Di-Gize essential oil on my feet and took a shower. It was a pretty rough morning put by lunch I was eating and riding again! Thank god for Di-Gize!
This is an easy reference guide for Di-Gize Oil Blend. It will tell you how to use your oil blend and what to use it for. It will also provide you with some fun tips and testimonials!
As I receive new tips and testimonials they will be added to the page, so check back frequently!
Want to Purchase Therapeutic Di-Gize Essential Oil?
Go to the Oil Shop! Buy Di-Gize Oil Here!
Di-Gize Essential Oil Blend™
What is in Di-Gize? There are eight different essential oils in Di-Gize. They are listed below along with a brief description of each oil.
Peppermint Essential Oil (Mentha piperita) has analgesic, anti-inflammatory, antispasmodic and digestive aid properties. It blocks pain, enhances the other effects of the oils, sooths food poisoning curbs appetite and reduces motion sickness.


Lemongrass Essential Oil (Cymbopogon flexuosus) has analgesic, anti-inflammatory, antiparasitic and antibacterial properties. Known to repair connective tissue and especially good for ligaments and tendons.


Juniper Essential Oil (Juniperus osteosperma) has antiseptic, cleanser, detoxifier, diuretic and antispasmodic properties. It is a detoxifier and a cleanser.


Patchouli Essential Oil (Pogostemon cablin) has antiseptic, diuretic, antitoxic and anti-infectious properties. It is used for water retention, weight reduction, digestive conditions and to curb appetite.


Ginger Essential Oil (Zingiber officinale) has laxative, anesthetic, and anti-inflammatory properties. It is gentle and stimulating to the mind and used for digestive disorders and motion sickness.


Fennel Essential Oil (Foeniculum vulgare) has anti-parasitic, antiseptic, antispasmodic, anti-toxin, diuretic and analgesic properties. It is used for diabetes, cancer, obesity, fluid retention, parasites and digestive problems.


Tarragon Essential Oil (Artemisia dracunculus) has antispasmodic, antiparasitic, anti-fermentation and digestive aid properties. It is a great for all intestinal disorders and may help to reduce anorexia.


Anise (Pimpinella anisum) has analgesic, diuretic, and antispasmodic properties. It is used for arthritis, rheumatism, digestive disorders and cancer.
Do you want more information about the individual oil? Just click on the name of the oil to find out other interesting information such as:
What Part of the Plant is Used?
What is an ORAC Value?
What is the ORAC of the Oil?
What are the Plant Properties and Uses?
Where is the Name derived from?
The Most Interesting Historical Reference?
And more!
What are the Documented Uses for Di-Gize Essential Oil? Digestion, stomach cramps, belching, bloating, heartburn, morning sickness, parasites, digesting toxic material, indigestion, motion sickness, curbing appetite, stomach flu, stomach virus, chronic stomach inflammation, upset stomach, irritable bowel syndrome (IBS), chronic fatigue, diverticulitis, food poisoning, lymphatic draining, polyps, worms, decongests prostate, alkalosis, antioxidant and lower back pain.
What Body Systems are Affected? Digestive, Nervous and Respiratory Systems.
What is the Aromatic Affect on the Mind? Stimulating and uplifting.
What is the Spiritual Influence? Will help those who are disillusioned, or lack compassion or hope. Di-Gize will help release past beliefs that are being held in the stomach, large intestine and small intestine meridians. This is associated with our "gut feelings".
What Chakra is Affected? Root, sacral and solar plexus chakras.
How do I use it?
Use diluted - 50:50 dilution (one part essential oil: one part vegetable or carrier oil). Then,
Apply several drops (2-4) on ears, wrists, neck, forehead, temples or feet
Apply to chakras/vitaflex points
Directly inhale
Diffuse, or
Dietary Supplement.
Good oil for the First Aid Kit? Yes
Can this oil be used for Animals? Yes! Definitely use it for dogs and horses. Horses are so prone to stomach upsets that I always keep some in my Horse First Aid Kit. Include it in your Human and Canine First Aid Kit as well!
Note about animals: Certain oils can be very toxic to cats. Citrus products and oils in particular that are not of therapeutic grade! Please consult your vet if you are not sure about applying any essential oil to your pet.
What are the Safety Precautions? Children under 5 years of age should not use this Di-Gize essential oil. Women who are pregnant and those who have epilepsy should use caution. Can cause irritation to the skin, therefore dilution is necessary.
Want to Purchase Therapeutic Di-Gize Essential Oil?
Go to the Oil Shop! Buy Di-Gize Oil Here!
Tips and Testimonials from an Essential Oil User
Add to abdomen for nausea, motion sickness or upset stomach.
Use on your dogs paw for stomach upset or to help them expel worms.
Have a Great Experience to Share About this Essential Oil?
Do you have a personal story to share about this Essential Oil? Please share it here!
Return from Di-Gize Essential Oil to Horse Emergencies