Dragon Time Essential Oil -
Alleviate Hormonal Stress, Cramps and More!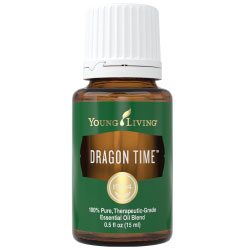 Dragon Time Essential Oil is a wonderful blend of oils that is relaxing. It was designed specifically for women to help ease menstrual cramps (and pre-menstrual). It also combats headaches and mood swings that come with hormonal imbalance. And brings relief for PMS.
Balancing hormones depends on so many factors. So you may have to experiment with several oil blends to see what works best for you. In general, Dragon Time has been most successful for women up to 30 years old. For women between 30-45, Mister has worked best and for women over 45, EndoFlex is a good choice.
Personally, I go back and forth between EndoFlex and Mister. And sometimes I need to combine them!
This wonderful oil is also available in a massage oil and bath and shower gel for those of us who want convenience. Or make your own by adding it to a fragrance free body oil or bath gel!
Some men have also responded well to Dragon Time essential oil using it alone or with Mister Essential Oil for congested prostate. Mister specifically helps to regulate prostate function.
This is a fun and easy reference guide for Dragon Time Essential Oil Blend. It will tell you how to use your oil blend and what to use it for. It will also provide you with some fun tips and testimonials!
As I receive new tips and testimonials they will be added to the page, so check back frequently!
Buy Dragon Time Essential Oil Here!
---
Dragon Time Essential Oil™
What is in Dragon Time Essential Oil Blend? There are six different therapeutic grade essential oils in Dragon Time Essential Oil. They are listed below along with a brief description of each oil.
Jasmine Absolute (Jasminum officinale) has antidepressant and antispasmodic properties. It is emotionally uplifting; and has been used for menstrual discomfort and muscle spasms.


Clary Sage Essential Oil (Salvia sclarea) has anti-convulsive, anti-fungal, sedative, soothing and nerve tonic properties. It is balancing to the hormones, and enhances the dream state.


Marjoram Essential Oil (Origanum majorana) is antibacterial and antiseptic. It smoothes muscle tissue and relieves muscle spasms, headaches and calms the nerves.


Lavender Essential Oil (Lavandula angustifolia) has analgesic and anti-spasmodic properties. It helps relief stress, sore muscles, menstrual cramps and nervous tension in the body.


Fennel Essential Oil (Pelargonium graveolens) has anti-parasitic, antiseptic, antispasmodic, anti-toxin, diuretic and analgesic properties. It is used for diabetes, cancer, obesity, fluid retention, hormones and digestive problems.


Blue Yarrow Essential Oil (Achillea millefolium) has anti-inflammatory and hormone like properties. It is used for prostate and menstrual problems, varicose veins and scarring.
Do you want more information about the individual oil? Just click on the name of the oil to find out other interesting information such as:
What Part of the Plant is Used?
What is an ORAC Value?
What is the ORAC of the Oil?
What are the Plant Properties and Uses?
Where is the Name derived from?
The Most Interesting Historical Reference?
And more!
What are the Documented Uses for Dragon Time Essential Oil? Deodorant, eyes, improve vision naturally, infertility (female), fertility, headaches, heart, hormonal edema, hysterectomy, imbalance and system, hot flashes, low libido (women), memory, menopause, menstrual problems and PMS, mood swings, tone uterus, skin elasticity, postpartum depression, prostate decongestant and skin.
What Body Systems are Affected? Hormonal System.
What is the Aromatic Affect on the Mind? Emotionally calming and balancing.
What is the Spiritual Influence? Dragon Time promotes the emotions of forgiveness, gratitude and self worth. It helps us release emotions of anger and self-esteem issues. This oil will help you to love and forgive yourself; and let go of the past so you can move forward.
What Chakra is Affected? Opens the root and sacral chakras.
How do I use it?
Use NEAT (undiluted) then,
Apply several drops (2-4) to wrists, neck, around ankles and feet;
Add several drops (2-4) to bath water;
Apply to vitaflex points;
Directly inhale;
Diffuse; or
Dilute 1:15 with vegetable oil for body massage.
Good oil for the First Aid Kit? No
Can this oil be used for Animals? Yes. Although, I haven't used it. But if you have, let me know!
Note about animals: Certain oils can be very toxic to cats. Citrus products and oils in particular that are not of therapeutic quality! Please consult your vet if you are not sure about applying any essential oil to your pet.
What are the Safety Precautions? Sensation essential oil does not have any known contraindications. Non-irritating and non-toxic. However, this oil should be used cautiously during pregnancy.
Want to Purchase Therapeutic Dragon Time Essential Oil?
Go to the Oil Shop! Buy Dragon Time Oil Here!
Tips and Testimonials from an Essential Oil User
For cramps, apply as a hot compress on abdomen or lower back. This feels great!
Have a Great Experience to Share About this Essential Oil?
Do you have a personal story to share about this Essential Oil? Please share it here!
Return from Dragon Time Essential Oil to Clary Sage Essential Oil