Dragon Time Essential Oil -
Natural Phytoestrogens for Women's Needs

Dragon Time Essential Oil is a wonderful blend of oils that is relaxing. Its balancing properties make it a perfect choice for supporting normal, healthy emotions during the female monthly cycle. Dragon Time is recommended for young and mature women.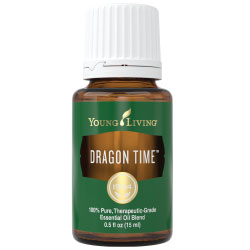 Finding the right oil for your special needs depend on so many factors; so you may have to experiment with several oil blends. Other oils that have similar qualities include Mister and EndoFlex.
Personally, I go back and forth between EndoFlex and Mister. And sometimes I need to combine them!
This wonderful oil is also available in a massage oil and bath and shower gel for those of us who want convenience. Or make your own by adding it to a fragrance free body oil or bath gel!
Some men have also responded well to Dragon Time essential oil using it alone or with Mister Essential Oil.

This is a fun and easy reference guide for Dragon Time Essential Oil Blend. It will tell you how to use your oil blend and what to use it for. It will also provide you with some fun tips and testimonials!
As I receive new tips and testimonials they will be added to the page, so check back frequently!
Want to Purchase Therapeutic Dragon Time Essential Oil?
Go to the Oil Shop! Buy Dragon Time Oil Here!
---
Dragon Time Essential Oil™
What is in Dragon Time Essential Oil Blend? There are six different therapeutic grade essential oils in Dragon Time Essential Oil. They are listed below along with a brief description of each oil.
Jasmine Absolute (Jasminum officinale) as a wonderful aroma that eases stress and uplifts the mind and body! It is also beneficial for supporting healthy skin. It has been used throughout history for romance and attraction and for balancing the feminine energy of the body.

Clary Sage Essential Oil (Salvia sclarea) has been used for centuries to help support the female body and it's own challenges. It contains sclareol which is very rare when distilling essential oils. Supports normal, healthy attitude; and menopausal women*.

Marjoram Essential Oil (Origanum majorana) It is beneficial for occasional simple nervous tension. It is a key oil in the Raindrop Technique!

Lavender Essential Oil (Lavandula angustifolia) can help you relax, wind down before bed and even ease stress. Its balancing properties can create a relaxing atmosphere.

Fennel Essential Oil (Pelargonium graveolens) The Benefits of Fennel date back to the ancient Egyptians. It is stimulating to the circulatory, glandular, respiratory, and digestive systems*. It also may support feelings of well-being during the menstrual cycle.

Blue Yarrow Essential Oil (Achillea millefolium)

Do you want more Information about the Individual oil? Just click on the name of the oil to find out other interesting information such as:
What Part of the Plant is Used?
What is an ORAC Value?
What is the ORAC of the Oil?
What are the Plant Properties and Uses?
Where is the Name derived from?
The Most Interesting Historical Reference?
And more!
What are the Documented Uses for Dragon Time Essential Oil? Deodorant, supporting normal, healthy emotions during the female monthly cycle. young and mature women.
What is the Aromatic Affect on the Mind? Emotionally calming and balancing.
What is the Spiritual Influence? Dragon Time promotes the emotions of forgiveness, gratitude and self worth. It helps us release emotions of anger and self-esteem issues. This oil will help you to love and forgive yourself; and let go of the past so you can move forward.
What Chakra is Affected? Opens the root and sacral chakras.
How do I Use it?
Use NEAT (undiluted) then,
Apply several drops (2-4) to wrists, neck, around ankles and feet;
Add several drops (2-4) to bath water;
Apply to vitaflex points;
Directly inhale;
Diffuse; or
Dilute 1:15 with vegetable oil for body massage.
Can this Oil be used for Animals? Yes. I use it for emotional balance, normally mares do well with this oil.

Note about Animals: Certain oils can be very toxic to cats. Citrus products and oils in particular that are not of therapeutic quality! Please consult your vet if you are not sure about applying any essential oil to your pet.
What are the Safety Precautions? Possible skin sensitivity. If pregnant or under a doctor's care, consult your physician. Dilution not required; suitable for all but the most sensitive skin. Generally safe for children over 2 years of age.

Use cautiously during pregnancy.

Want to Purchase Therapeutic Dragon Time Essential Oil?
Go to the Oil Shop! Buy Dragon Time Oil Here!
Tips and Testimonials from an Essential Oil User
Apply on abdomen or lower back and place on hot compress. This feels great!
Have a Great Experience to Share About this Essential Oil?
Do you have a personal story to share about this Essential Oil? Please share it here!
Return from Dragon Time Essential Oil to Clary Sage Essential Oil