EndoFlex Essential Oil - Balance and Support
your Endocrine System! It's Linked to
More Than you Know!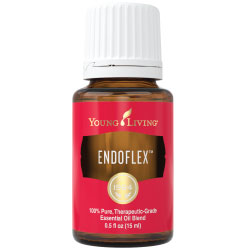 EndoFlex Essential Oil is a incredible blend of oils that is minty and uplifting. It was designed specifically for to bring balance to the endocrine system. It supports the pineal and pituitary glands as well as the adrenal, thymus and parathyroid glands.
Use EndoFlex along with oils such as myrrh or myrtle as natural remedies for thyroid problems including hyperthyroid and hypothyroid.
It also helps to bring hormonal balance to the body and may help to alleviate hot flashes, ease cramps and provide relief for PMS. Because it improves metabolic function, it may help to stimulate weight loss as well.
Balancing hormones depends on so many factors. So you may have to experiment with several oil blends to see what works best for you. As a rule of thumb, Dragon Time has been most successful for women up to 30 years old. For women between 30-45, Mister has worked best and for women over 45, EndoFlex essential oil is a good choice.
Personally, I go back and forth between EndoFlex and Mister. And sometimes I need to combine them! But it definitely has helped.
For men, EndoFlex, Dragon Time and Mister Essential Oils are all natural prostate remedies. They all help decongest and balance the hormones. But since everyone's body chemistry is different, one may work better than the other; or a combination of several may help.
This is a fun and easy reference guide for EndoFlex Time Essential Oil Blend. It will tell you how to use our oil blend and what to use it for. It will also provide you with some fun tips and testimonials!
As I receive new tips and testimonials they will be added to the page, so check back frequently!
Buy EndoFlex Essential Oil Here!
---
EndoFlex Essential Oil™
What is in EndoFlex Essential Oil Blend? There are six different therapeutic grade essential oils in EndoFlex. They are listed below along with a brief description of each oil.
Carrier Oil: Sesame Seed Oil
Do you want more information about the individual oil? Just click on the name of the oil to find out other interesting information such as:
What Part of the Plant is Used?
What is an ORAC Value?
What is the ORAC of the Oil?
What are the Plant Properties and Uses?
Where is the Name derived from?
The Most Interesting Historical Reference?
And more!
What are the Documented Uses for EndoFlex Essential Oil? Addison's Disease, adrenal glands, back, bladder, Candida, cellulite, cortisone like, Cystic Fibrosis, depression, diabetes, diuretic, edema, endocrine system, Epstein-Barr, eyes, naturally improve vision, fibroids, Graves Disease, Hashimoto's Disease, balance hormonal system, hot flashes, kidneys, kidney muscles, Lupus, menopause, painful menstruation (dysmenorrheal), menstrual cramps and PMS, night sweats, pancreas support, parathyroid, prostate and BPH, respiratory system, Schmidt's Syndrome, supports thyroid, hyperthyroidism, hypothyroidism, urinary tract infection and weight loss.
What Body Systems are Affected? Hormonal System.
What is the Aromatic Affect on the Mind? Emotionally calming and balancing.
What is the Spiritual Influence? EndoFlex promotes the emotions of relaxed and balanced and self worth. It helps us release emotions of sick and tired, control and stuck. This oil will help you balance work and play, see your life in new ways and let go of the past so you can move forward.
What Chakra is Affected? Opens the sacral, solar plexus, throat and third eye chakras.
How do I use it?
Use NEAT (undiluted) then,
Apply several drops (2-4) to lower back, thyroid, kidneys, adrenals, liver, and glandular areas;


For hormonal balance apply several drops (2-4) to ankles, thyroid and adrenal areas 2-3 times per day. The vita flex points for reproductive glands are around the ankle;


Apply to vitaflex points;


Directly inhale;


Diffuse; or


Dietary supplement.
Good oil for the First Aid Kit? No
Can this oil be used for Animals? Yes
Note about animals: Certain oils can be very toxic to cats. Citrus products and oils in particular that are not of therapeutic quality! Please consult your vet if you are not sure about applying any essential oil to your pet.
What are the Safety Precautions? EndoFlex essential oil should not be used on children less than 18 months of age. Additionally, it should be used with caution by those who are susceptible to epilepsy. Could possible result in skin irritation. Therefore dilution may be required.
Children under 6 years old should not use EndoFlex as a dietary supplement.
Want to Purchase Therapeutic EndoFlex Essential Oil?
Go to the Oil Shop! Buy EndoFlex Oil Here!
Tips and Testimonials from an Essential Oil User
Diffuse up to 30 minutes for three times a day to help balance hormones and the endocrine system.
Have a Great Experience to Share About this Essential Oil?
Do you have a personal story to share about this Essential Oil? Please share it here!
Return from EndoFlex Essential Oil to Nutmeg Essential Oil