EndoGize Endocrine System Supplement
with DHEA for Women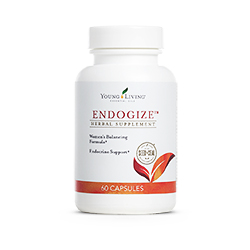 EndoGize Endocrine System Supplement with DHEA helps women to balance naturally by supporting a healthy endocrine system. This product was designed to promote women's wellness and balance.
DHEA is the most common hormone in the body and a precursor to over 50 other hormones. It is converted by enzymes into pregnenolone.

Also check out Sclaressence, EndoFlex and Mister essential oils; and Estro, FemiGen and Progessence Plus Supplements for complementary products.
This is an easy reference guide for EndoGize Endocrine System Supplement with DHEA.  It will tell you how to use your oil blend and what to use it for. It will also provide you with some fun tips and testimonials!
Want to Purchase EndoGize Supplement with DHEA?
---
EndoGize™ Endocrine System Supplement with DHEA

What is in EndoGize Endocrine Supplement with DHEA? 

EndoGize Supplement combines natural ingredients as well as essential oils.

A brief description of each ingredient is provided below:


Vitamin B6 as pyridoxine HCl – A important vitamin in the body that must be obtained from food and supports the metabolism of amino acids, lipids and nucleic acids.

Zinc as aspartate – An essential trace element that supports a healthy immune system and acts as a catalyst for other enzymes.
Eurycoma Longifolia Root Extract (Tongkat ali) – Evergreen tree grown in Malaysia.
Ashwaganda Root (Withania somnigera) – Grown in India it is a member of the pepper family which is used in traditional Aurvedic Medicine.
Muira Puama Root (Ptychopetalum olacoides) – Traditionally used to support healthy endocrine system.

Epimedium Leaf (Epimedium safittatum) or Horny Goat Weed – A balancing herb.
Tribulus Terrestris fruit –Traditionally used in Ayurvedic Medicine.
DHEA (derived from Wild Yam Root) – DHEA is a hormone precursor for the body.
L-arginine – Is a semi-essential amino acid involved in supporting hormone release and the metabolism of ammonia waste in the urea cycle.
 L-a-phosphatidylcholine – a primary component of lecithin, is converted in the brain into the neurotransmitter acetylcholine.
Lecithin (as soy) –  is a fat that is essential in the cells of our body. It can be found in many foods, including soybeans and egg yolks.
Black Pepper Fruit Extract (Piper nigrum) It is supportive of a healthy digestive system and is useful topically for soothing muscle discomfort following exercise.
Amylase 5000 FCC – A digestive enzyme which supports digestion of starch, carbohydrates and sugars.
Validase AFP Protease – A digestive enzyme which supports the break down protein.
Cellulase 4000 - This enzyme supports digestion of plant material.
Glucoamylase – A digestive enzyme that supports the breaks down sugars from starch.
Also contains these essential oils:
Clary Sage Essential Oil (Salvia sclarea) has been used for centuries to help support the female body and it's own challenges. It contains sclareol which is very rare when distilling essential oils. Supports normal, healthy attitude during PMS; and menopausal women.
Ginger Essential Oil (Zingiber officinale)is supportive of the digestive system, ginger is commonly used to soothe, comfort, and balance digestive discomfort. Spicy and warm.

Cassia Essential Oil (Cinnamomum cassia) smells and tastes like cinnamon oil. Contained in the recipe for the Holy Anointing Oil given to Moses.
Canadian fleabane (Conyza canadensis)

Do you want more Information about the Individual oil? Just click on the name of the oil to find out other interesting information such as:
What Part of the Plant is Used?
What is an ORAC Value?
What is the ORAC of the Oil?
What are the Plant Properties and Uses?
Where is the Name derived from?
The Most Interesting Historical Reference?
And more!
What are the Documented Uses for EndoGize Endocrine System Supplement with DHEA? Supports healthy female endocrine system. Balance

How do I use EndoGize Endocrine System Supplement with DHEA?
Take 1 capsule twice daily. Use daily for four weeks then suspend for two weeks before resuming this supplement.
Can this oil be used for Animals?  Yes, but have not used it personally; and hasn't been used extensively in animals yet. May support endocrine system  - please consult your vet.
Note about Animals: Certain oils can be very toxic to cats especially if the quality of the oil is not pure. Citrus products and oils in particular when not therapeutic grade.  Please consult your vet if you are not sure about applying any essential oil to your pet or giving an essential oil supplement to your pet.
What are the Safety Precautions? Do not use if pregnant or lactating. Adult use only.
Keep out of reach of children. If you are taking other medications or have a medical condition, consult your healthcare practitioner prior to use.
Want to Purchase EndoGize Endocrine System Support Supplement?

Return from EndoGize Endocrine System Supplement with DHEA to Essential Oil Supplements