Estro Tincture Natural PhytoEstrogen with Benefits of Black and Blue Cohosh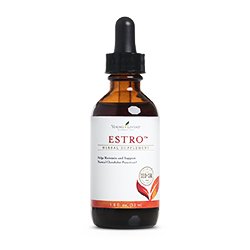 Estro Tincture Natural phytoestrogen replacement support is the perfect all natural female support supplement with the benefits of black and blue cohosh. Use to support the female glandular system and to foster a normal, healthy attitude during PMS. Also contains royal jelly benefits.

Black and blue cohosh plants are natural sources of phytoestrogens. Traditionally, Black Cohosh benefits have included decreasing cortisol levels, supporting a healthy endocrine system in women. It is used in Europe as a natural alternative to promote balance. Blue cohosh traditionally has been used to uplift attitude during PMS.

Phytoestrogens have been studied for their ability to support the female system. Benefits of Royal Jelly include supporting of healthy endocrine system.
Contains three essential oils that help to balance and support the female glandular system: Fennel, Clary Sage and Lavender.
Also check out Sclaressence, EndoFlex and Mister essential oils; FemiGen and Progessence Plus  complementary products.

This is an easy reference guide for Estro Tincture.  It will tell you how to use your oil blend and what to use it for. It will also provide you with some fun tips and testimonials!
As I receive new tips and testimonials they will be added to the page, so check back frequently!
Want to Purchase Estro Tincture Natural Phyto-Estrogen?
This product was discontinued in February, 2018. My suggestion is to use Clary Sage, Progessence Plus, Dragon Time or Sclaressence in its place. You may also need Endoflex to support the entire endocrine system.

---
Estro™ Tincture Natural Phyto-Estrogen Replacement

What is in Estro Tincture Natural Phyto-Estrogen Replacement? 

Estro Tincture Natural Phytoestrogen Replacement combines natural ingredients as well as essential oils.

A brief description of each ingredient is provided below:

Black Cohosh Root (Cimicifuga racemosa)
Blue Cohosh Root (Caulophyllum thalictroides)
Royal jelly – Is rich in amino acids, minerals and Vitamins B6 and B5. Supportive of a healthy endocrine system.
Also contains these essential oils:
Clary Sage Essential Oil (Salvia sclarea) has been used for centuries to help support the female body and it's own challenges. It contains sclareol which is very rare when distilling essential oils. Supports normal, healthy attitude during PMS; and menopausal women.
Fennel Essential Oil (Pelargonium graveolens) The Benefits of Fennel date back to the ancient Egyptians. It is stimulating to the circulatory, glandular, respiratory, and digestive systems. It also may support feelings of well-being during the menstrual cycle.
Lavender Essential Oil (Lavandula angustifolia) can help you relax, wind down before bed and even ease stress. Its balancing properties are wonderful to promote a sense of deep relaxation when used in bath or diffused.

Do you want more Information about the Individual oil? Just click on the name of the oil to find out other interesting information such as:
What Part of the Plant is Used?
What is an ORAC Value?
What is the ORAC of the Oil?
What are the Plant Properties and Uses?
Where is the Name derived from?
The Most Interesting Historical Reference?
And more!
What are the Documented Uses for Estro Tincture Phytoestrogen Support?  Supports female glandular system; and supports healthy attitude during PMS. Phytoestrogens.
How do I use Estro Tincture Natural Phytoestrogen Support and Replacement?
Take 3 droppers (3 ml) two to three times daily in distilled water, or as needed. Shake well before using. Keep in refrigerator once opened.
Can this oil be used for Animals?  Yes, but have not used it personally.

Contains alcohol so not suited for birds.
Note about Animals: Certain oils can be very toxic to cats especially if the quality of the oil is not pure. Citrus products and oils in particular when not therapeutic grade.  Please consult your vet if you are not sure about applying any essential oil to your pet or giving an essential oil supplement to your pet.
What are the Safety Precautions? Avoid during pregnancy. Contains bee products-possible allergen.
Do not use if pregnant or lactating. Intended for adult use only. Keep out of reach of children.
If you are taking other medications or have a medical condition, consult your healthcare practitioner prior to use.
Want to Purchase Estro Tincture Natural Estrogen Replacement Support?

Return from Estro Tincture Natural Estrogen Support Supplement to Essential Oil Supplements