GLF  Vitality Essential Oil
Promotes Overall Wellness
GLF Vitality Essential Oil a wonderful blend of essential oils that have cleansing properties. The oils supprot healthey immune and digestive systems*.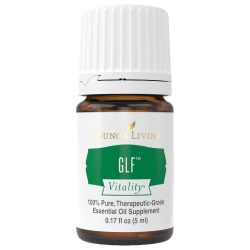 I often take in combination with Juva Cleanse or Juva Cleanse Vitality and JuvaFlex and JuvaFlex Vitality complementary oils so click on the link to read more.

This is an easy reference guide for GLF Vitality Oil Blend. It will tell you how to use your oil blend and what to use it for. It will also provide you with some fun tips and testimonials!
As I receive new tips and testimonials they will be added to the page, so check back frequently!
Want to Purchase Therapeutic GLF Vitality Essential Oil?
Go to the Oil Shop! Buy GLF Oil Here!
---
GLF Vitality Essential Oil Blend™
What is in GLF Vitality?
There are six therapeutic grade essential oils in GLF. They are listed below along with a brief description of each oil.
Do you want more Information about the Individual oil? Just click on the name of the oil to find out other interesting information such as:
What Part of the Plant is Used?
What is an ORAC Value?
What is the ORAC of the Oil?
What are the Plant Properties and Uses?
Where is the Name derived from?
The Most Interesting Historical Reference?
And more!
What are the Documented Uses for GLF Essential Oil? Anger, detoxification, cleansing. Supports healthy liver and gallbladder function*. Supports healthy digestive and immune system*.

Want to Learn about GLF's Emotional, Spiritual and Other Aspects?
Then, go to GLF oil to see information on this!

How do I Use it?
Dietary Supplement: place several drops in capsule with olive oil and take internally. If you prefer dilution, use 50:50 dilution-one part essential oil: one part vegetable oil.
Place in favorite smoothie or drink recipe.
To support wellness and healthy liver, take with JuvaTone 2 times daily between meals.*
Take with Essentialzyme to help support digestive health.*
Put 2 drops in a capsule. Take 3 times daily or as needed.
Aromatic - Diffuse
Good oil for the First Aid Kit? No
Can this oil be used for Animals? Yes
Note about Animals: Certain oils can be very toxic to cats. Citrus products and oils in particular that are not of therapeutic grade! Please consult your vet if you are not sure about applying any essential oil to your pet.
What are the Safety Precautions? GLF should not be used by children younger than 5 years of age. Women who are pregnant should avoid or use caution using this oil. Could result in skin irritation and direct exposure to sunlight should be avoided for 3 to 6 hours after use.
If pregnant or under a doctor's care, consult your physician.
This oil is EarthKosher Certified
Want to Purchase Therapeutic GLF Vitality Essential Oil?
Go to the Oil Shop! Buy GLF Oil Here!
Have a Great Experience to Share About this Essential Oil?
Do you have a personal story to share about this Essential Oil? Please share it here!
Return from GLF Vitality Essential Oil to Oil Blends E-H