Longevity Essential Oil -
Powerful Antioxidant Blend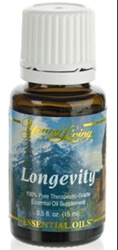 Longevity Essential Oil is a very powerful antioxidant oil blend that prevents premature aging and promotes longevity. The ORAC value of this oil is 1,511,025 µTE/100g. That is greater than any food or single essential oil known to man!
What causes Aging?
There are many schools of thought on this, but we do know that the oxidative stress or free radical theory is one of the strongest. The theory is based on the fact that continued oxidative stress to cells, receptors and DNA in the body cause aging and disease.
The good news is one of the best ways we can decrease the amount of oxidative stress is by increasing our uptake of antioxidants. And we know the antioxidant value of the foods, essential oils and supplements we are taking by the Oxygen Radical Absorbance Capacity (ORAC) value.
What is an ORAC Value?
ORAC tells you the antioxidant capacity of a food item. This was developed by the USDA researchers at Tufts University in Boston. This is the only test that measures the degree of free-radical inhibition of a food item!
Most of us think that berries such as blueberries and strawberries have high antioxidant values; however, most essential oils knock the food values out of the ballpark!
For instance here are some common values for food items:
Ningxia Wolfberries = 30,300 µTE/100g
Blueberries = 2,400 µTE/100g
Spinach = 1,400 µTE/100g
Carrots = 210 µTE/100g
Not bad. Now, look at the values of these oils:
Longevity Essential Oil = 1,511,025 µTE/100g
Wow! So now you can see that the value for Longevity essential oil (and Clove) is HUGE!!! So much for making sure you are eating your carrots and taking your vitamins every single day! Switch that motto to – Are you taking your daily essential oils?
The company that produces Longevity essential oil believes that taking an antioxidant supplement is important to good health that it should be taken everyday. And, as such, they make it available as a Dietary Supplement for easier consumption. So now we don't have to be filling vegetable capsules on a daily basis (although you could)!
Why are Antioxidants so Important?
Antioxidants have shown to reduce the risk of age related conditions. And prevent the development of many chronic diseases such as heart disease, Alzheimer's disease, cancer, cataracts, Rheumatoid arthritis and more! And the research that has been conducting shows that taking an antioxidant supplement daily does improve overall health and well-being.
I take at least one Longevity Softgel daily. More if I am feeling something coming on, feeling very stressed or if I am doing a lot of computer work. Or anything extra challenging that is out of your norm.
This is an easy reference guide for Longevity Essential Oil Blend. It will tell you how to use your oil blend and what to use it for. It will also provide you with some fun tips and testimonials!
As I receive new tips and testimonials they will be added to the page, so check back frequently!
To purchase Therapeutic Longevity Essential Oil go to the Oil Shop!
---
Longevity Essential Oil Blend™
What is in Longevity Essential Oil? There are four therapeutic grade essential oils in Longevity essential oil. They are listed below along with a brief description of each oil.
Take Longevity daily in a softgel! The Longevity Softgels are enteric coated and have an ORAC value of 150,000 µTE/100g. The value is slightly lower than the pure essential oil because it also contains some additional vegetable oils, but easier to take and same great benefits! Very high ORAC for an antioxidant supplement!
The other ingredients are: Fractionated Coconut Oil (distilled from pure coconut oil), gelatin, glycerin, enteric coating solution and mixed tocopherols (compounds of which many have Vitamin E activity).
To purchase Longevity Softgel Supplement, go to The Oil Shop!
Do you want more information about the individual oil? Just click on the name of the oil to find out other interesting information such as:
What Part of the Plant is Used?
What is an ORAC Value?
What is the ORAC of the Oil?
What are the Plant Properties and Uses?
Where is the Name derived from?
The Most Interesting Historical Reference?
And more!
What are the Documented Uses for Longevity Essential Oil? Aging, antioxidant, AIDS (take internally), arteriosclerosis, blood clots, blood circulation, brain, bronchitis, chronic fatigue, circulation disorders, colds, colitis (viral), congestive heart failure, constipation, cough, Epstein-Barr Virus, eyes (age-related macular degeneration), fatigue, fever, gallbladder infection, heart, heart attack, hematoma, hemorrhoids, high cholesterol, infection, immune system, impaired memory (internally) inflammation (take internally), kidney infection, liver, longevity, Lou Gehrig's Disease (ALS), lymphatic system, measles, metal toxicity, neuropathy, phlebitis, pneumonia, prostate problems (take internally for BPH and prostatitis), Rheumatoid Arthritis (take internally), seizures, sore throat, strep throat, spine injuries and pain, tuberculosis, tumors, whooping cough and wrinkles (take internally).
What Body Systems are Affected? Cardiovascular and Immune System
What is the Aromatic Affect on the Mind? Has a spicy and herbaceous aroma that can be uplifting.
What is the Spiritual Influence? This oil will help those who like they are being choked or are choked up about an issue in their life. It could be from the lack of love or deep grief held in the heart and lungs. This oil will help you release those negative emotions and embrace positive emotions of hope, joy and forgiveness.
What Chakra is Affected? Opens the solar plexus and heart chakras.
How do I use it?
Use diluted - 20:80 dilution (one part essential oil: four part of vegetable oil). Then,
Apply several drops (2-4) on ears, throat, spine, wrists, neck, thymus or feet
Apply to chakras/vitaflex points
Directly inhale
Diffuse, or
Dietary Supplement
Good oil for the First Aid Kit? No
Can this oil be used for Animals? Yes, certainly. I gave a capsule a day to my dog (medium). Large could go up to 2 capsules per day. Horses 2-4 capsules per day.
Note about animals: Certain oils can be very toxic to cats. Citrus and pine products and oils in particular if not of therapeutic grade! Please consult your vet if you are not sure about applying any essential oil to your pet.
What are the Safety Precautions? Children under 5 years of age should not use use Longevity essential oil. Can cause irritation to the skin, therefore dilution is necessary. Repeated use many result in contact sensitization. Avoid direct sunlight for 3-6 hours after applying to skin.
Want to Purchase Therapeutic Longevity Essential Oil?
Go to the Oil Shop! Buy Longevity Oil Here!
Tips and Testimonials from an Essential Oil User
Place 2-4 drops in a gel capsule and take as a dietary supplement once or twice per day. Remember to always follow dilution requirements when taking oils as a supplement.
Have a Great Experience to Share About this Essential Oil?
Do you have a personal story to share about this Essential Oil? Please share it here!
Return from Longevity Essential Oil to Oil Blends I-M