Myrtle Oil - Antibacterial and Decongests the Respiratory System!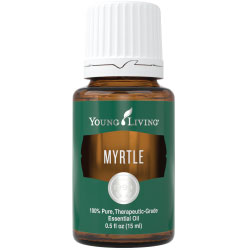 Myrtle Oil is an ancient oil that was used for asthma, bronchitis, diarrhea and dysentery. It was also used for lung and sinus infections, and skin care as it is today.
Dr. Pineal, a world known researcher of the uses of therapeutic essential oils, studied Myrtle for balancing hormones as they related to the ovaries and thyroid.
Myrtle oil, for this reason is in many of the professionally made oil blends for balancing hormones and the endocrine system: Mister and EndoFlex Essential Oil Blends.
Because of its soothing effects on the respiratory system it is contained in Purification and RC blends. These are both blends that I would diffuse of in a humidifier to help with lung or sinus congestion or infection.
Myrtle's chemistry is very close to frankincense essential oil, so it is no surprise that it also has been studied for its anti-cancer benefits.
According to a study by Brigham Young University Myrtle inhibited prostate and breast cancer cells along with Sandalwood at very low concentrations. Sandalwood essential oil ranked number one for inhibiting growth of breast cancer at 98.1% and Myrtle, second but very close behind at 95.2%!
Please read below for more information on Myrtle Oil. It will tell you how to use it and what to use it for. It will also provide you with some suggestions, safety precautions for you and your pet!
As I do receive new information and testimonials for Myrtle Oil, they will be added to this page. So check back frequently or subscribe to the Oil Blog so you don't miss a thing!
Buy Myrtle Essential Oil Here!
---
Myrtle Essential Oil
What is the Genus Species? Myrtus communis
Why is this information important? There are several species of Myrtle that are grown in different parts of the world. Myrtus communis is also referred to as Common Myrtle or True Myrtle.
There is also Lemon Myrtle (Backhousia citriodora) that is also distilled into an essential oil. It also has healing properties that are similar to Common Myrtle but their chemistry is actually quite different.
So always remember to purchase your essential oil by common name and genus species, so you know what you are getting!
Where is the name derived from? Derived from Latin, the word means "chaste beauty".
Why is this information so important? Its not, it's just a fun fact!
What Part of the Plant is Used? Leaves
What is the ORAC Value? 25, 400 µTE/100g
Why know about this number? ORAC stands for Oxygen Radical Absorbance Capacity. It tells you the antioxidant capacity of a food item. Antioxidants have shown to reduce the risk of age related conditions and cancer! This was developed by the USDA researchers. For instance: Spinach = 1,400; Clove = 1,078,700. Wow! The number for clove is NOT a typo!
Most Interesting Historical Reference?
Did you know that Myrtle was referred to in the Bible six times? In Esther 2:7, Esther is referred to as Hadassah which is the Hebrew name for Myrtle!
What are the Plant Properties? Anti-bacterial, anti-inflammatory, anti-mutagenic, anti-parasitic, anti-spasmodic, antiseptic, astringent, expectorant, decongestant, stimulant (thyroid, prostate and liver) and deodorizer.
What are the Documented Uses and Benefits of Myrtle? Bronchitis, coughs, flu, hypothyroidism, insomnia, infection (throat, lung, sinus, respiratory, ureter), prostate conditions, hormone balancing, skin conditions (acne, blemishes, bruises, oily skin, psoriasis,) cancer (prostate and breast) and muscle spasms.
What is the Aromatic Affect on the Mind? It is uplifting and euphoric. Has a sweet, slightly camphorous aroma with a light floral overtone.
What is the Spiritual Influence? Myrtle oil helps balance the male and female energies of the body by releasing anger and inner conflict. It will help those who feel suppressed or confused by life as well.
Balancing the male and female energies is important to becoming whole in our spiritual evolution. Often times we are taught to be one sided and avoid masculine or feminine traits. This creates unbalance in our body and is often manifested in our lungs/heart (respiratory conditions) or the endocrine system (thyroid, hormonal imbalance).
What Chakra is Affected? Opens the heart, throat and third eye chakras.
What is the corresponding Chakra Color? Blue
How do I use it?
Use diluted - 50:50 dilution (one part essential oil: one part of vegetable oil). Then,
Apply several drops (2-4) on location
Apply to chakras/vitaflex points
Directly inhale
Diffuse, or
Dietary Supplement.
Good oil for the First Aid Kit? No
Can this Oil be used for Pets? I have never used Myrtle oil as a single oil to treat any pet ailments. However, it is in several professionally made blends that I use all the time! RC is great for the respiratory system and Purification essential oil combats bacterial conditions and odors!
Note about Animal Use: Certain oils can be very toxic to cats. Citrus and pine oils in particular that are not of therapeutic grade! Please consult your vet if you are not sure about applying any essential oil to your pet.
What are the Safety Precautions? Only therapeutic grade essential oils should be used for healing results. Because it is approved as a Food Additive (FA) and Flavoring Agent (FL) by the FDA, Myrtle Oil is readily available on the market in many different qualities.
Although it may be used as a dietary supplement, it is advised not to use it in this manner for children under 6 years of age.
Essential Oil Trivia?
Did you know that many brides today still wear Myrtle as a symbol of innocence?
Did you know that Myrtle is considered the sacred plant of Aphrodite, the goddess of beauty and love?
Want to Purchase Therapeutic Myrtle Essential Oil?
Go to the Oil Shop! Buy Myrtle Essential Oil Here!
Tips and Testimonials from an Essential Oil User
For sinus congestion, smell Myrtle throughout the day and it will clear!
Have a Great Experience to Share About this Essential Oil?
Do you have a personal story to share about this Essential Oil? Please share it here!
Return from Myrtle Oil to Purification Essential Oil