Power Meal Rice Protein Powder-
Vegetarian Protein Powder
with Wolfberries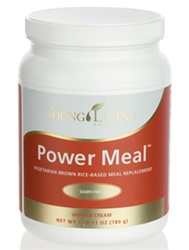 Power Meal Rice Protein Powder is a high protein meal replacement powder for vegetarians that contains essential oils, antioxidants, wolfberries, vitamins, minerals and more.
Twenty grams of protein per serving come from the rice bran. Rice bran contains natural occurring Vitamin E.
This vegan protein powder is low in calories and high in fiber; and can be used as part of an all natural weight loss program or detox regimen.
If you like a substitute for Balance Complete try Power Meal as you may prefer the taste

This is an easy reference guide for Power Meal Rice Protein Powder. It will tell you how to use it and what to use it for!
Want to Purchase Power Meal?
Then go to The Oil Shop!
Power Meal™ Rice Protein Powder
What is in Power Meal Rice Protein Powder?
There are many different natural ingredients as well as essential oils in Power Meal.
The natural ingredients include:
Rice protein concentrate
Rice bran and germ
Ningxia wolfberries fruit (lycium barbarum)
Fructose
Natural vanilla flavor
Apple Fruit (malus domestica)
Chicory root fiber extract (FOS or inulin fiber promotes flora growth in gut, and sodium alginate);
Coconut Oil (medium-chain triglycerides )
Calcium (as tri-calcium phosphate)
Soy lecithin
Magnesium (from m. oxide)
Natural orange flavor
MSM (methylsulfonymethane)
Xanthan gum,
Lo han kuo extract (natural low-calorie sweetener)
Lipase Enzyme
Protease 4.5 Enzyme
Ginkgo biloba extract
Protease 3.0
Vitamin E (mixed tocopherols)
Manganese (from m. gluconate)
Choline bitartrate
Eleuthero Root (eleutherococcus senticosis) (Siberian Ginseng)
PABA
Zinc (from z. lactate)
Vitamin c (as ascorbic acid)
Protease 6.0 Enzyme
Phytase Enzyme
Vitamin A (as beta-carotene)
Talin (natural flavor promoter)
Betaine HCI
Peptidase Enzyme
White pepper
Niacin (vitamin B3)
Selenium (from selenomethionine)
Alpha-lipoic acid,
vitamin A (from mixed carotenoids)
Kelp (laminaria digitata)
Copper (from c. gluconate)
Pantothenic acid (from calcium pantothenate) (vitamin B5)
Neohesperidin derivative (flavor from natural citrus)
Lycopene (carotenoid)
Vitamin B6 (from pyridoxine HCI)
Thiamine HCI (vitamin B1)
Riboflavin (vitamin B2)
Luetin (carotenoid)
Chromium (from c. aminonicotinate)
Zeaxanthin (carotenoid)
Astaxanthin (carotenoid)
Cholecalciferol (form of Vitamin D)
Folic acid
Biotin
Vitamin B12 (from methylcobalamin)
The essential oils are listed below along with a brief description of each oil.
Ginger Essential Oil (Zingiber officinale) is supportive of the digestive system, ginger is commonly used to soothe, comfort, and balance digestive discomfort.


Fennel Essential Oil (Foeniculum vulgare) It is stimulating to the circulatory, glandular, respiratory, and digestive systems. It also may support feelings of well-being during the menstrual cycle.
Clove Essential Oil (Syzygium aromaticum) promotes a healthy immune response, and may support overall wellness An important ingredient in Young Living's Thieves blend, its principal constituent is eugenol.
Orange Essential Oil (Citrus sinensis) is rich in the powerful d-limonene and aids in maintaining normal cellular regeneration. Also has calming effects and may be used for feelings of peace.

Grapefruit Essential Oil (Citrus paradisi) The benefits of grapefruit include purifying and cleansing. Tastes great in water and rich in  powerful d-limonene.

Lemon Essential Oil (Citrus limon) Lemon consists of 68 percent d-limonene, a powerful antioxidant; and may be beneficial for the skin. It has cleansing and purifying properties. Jean Valnet MD estimated that it takes 3,000 lemons to produce one kilo of oil!
Nutmeg Essential Oil (Myristica fragrans)  It supports nervous and endocrine systems and prostaglandin balance. May sustain energy.

Cardamon Essential Oil (Elettaria coardomomum) has been traditionally used for internal consumption to protect the stomach and through inhalation to invigorate the mind. A cousin to Ginger, it is also used for occasional digestive discomfort.
Anise (Pimpinella anisum)

What is the Nutritional Profile in Power Meal Rice Protein Powder?
Here it is:
Calories: 187
Total Fat: 3.32g
Total Carbohydrates: 24.2 g
Sugars: 8.9g
Protein: 20.6g
Do you want more Information about the Individual oil? Just click on the name of the oil to find out other interesting information such as:
What Part of the Plant is Used?
What is an ORAC Value?
What is the ORAC of the Oil?
What are the Plant Properties and Uses?

Where is the Name derived from?
The Most Interesting Historical Reference?
And more!
What are the Documented Uses for Power Meal Rice Protein Powder? Meal replacement; weight loss and weight management.
What Body Systems are Affected? Digestive

How do I Use it?
Add one or two scoop to 8 oz of cold water or favorite drink. Shake, stir or blend until a smooth consistency. For added benefit add other essential oils!
For a weight management program, replace at least two meals per day with Power Meal. To use as a daily nutritional shake, replace one meal per day with this product. Use with NingXia Red Drink to promote cleansing of the body.
Also see Slique All Natural Weight Loss Kit.

Can this oil be used for Animals? Yes, Add to food to increase the protein level. Use this for animals that need to gain weight.

Note about Animals: Certain oils can be very toxic to cats especially when non therapeutic grade oils are used. Citrus products and oils in particular. Please consult your vet if you are not sure about applying any essential oil to your pet.
What are the Safety Precautions?  If pregnant, nursing, taking medication, or have a medical condition, consult a healthcare practitioner prior to use.
Want to Purchase Power Meal Rice Protein Powder?
Then go to The Oil Shop!
Return from Power Meal Rice Protein Powder to All Natural Herbal Weight Loss