Puppy Teething Stress, Dog Bad Breath-
Essential Oils Save the Day!
Puppy teething stress can create emotional and mental irritation. Essential oils can help pull the edge off irritation and the stress associated with it.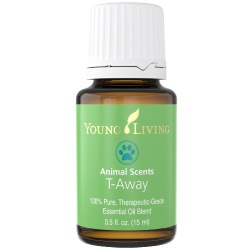 Animal Scents T-Away
Puppies start getting their teeth in at about four weeks. As with humans, eventually their baby teeth fall out and give way to permanent adult teeth. So some puppies may actually experience some stress associated with teething from four weeks to 9 months old!
Essential oils (therapeutic grade) have been used for thousands of years to help the body's natural response to stress and irritation.
Remember, teething can cause dog stress! So use essential oils to help relax and calm your animal mentally and emotionally during this time.

What Essential Oils Ease Puppy Teething?
For puppy teething we want to use oils that help to relax the puppy, ease irritation and help them to wind down. Here they are:
Use one drop and pet head to toe for best results.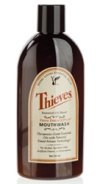 I highly recommend Thieves Fresh Essence Plus Mouthwash. The Mouthwash is made from Thieves Essential Oil Blend and also contains several hydrosols (floral waters). It will help keep the mouth fresh and free of food which may create added irritation. And use for puppy or dog bad breath as well!

I normally create a mixture of distilled water and Fresh Essence (50:50) and add one drop of Helichrysum or Copaiba as well.
I use a dropper to place the mixture on teeth; most dogs love the taste!

How do I Apply the Essential Oils?
First, remember to dilute oils accordingly. The oils can be applied to the outside of the jaw and face as well as taken internally (please read your labels as to which can be taken internally). Read the section essential oils for dogs.

So whether your animal is experiencing puppy teething or just plain old puppy irritation, essential oils can really help.
Return from Puppy Teething Discomfort to Oils for Dogs