Raven Essential Oil Takes On
Respiratory Challenges and More!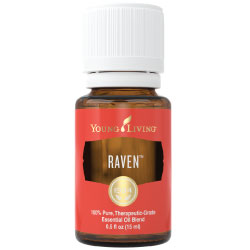 Raven Essential Oil is a blend of five different therapeutic grade oils that specifically addresses any condition of the respiratory system. Whether you are looking for pneumonia remedies or natural treatments for asthma, Raven can help you.
Its antiseptic and antiviral properties boosts immunity which in turn helps to combat allergies, colds, bronchitis, and sinus congestion. It also supports the immune system and fights fungal infections such as Candida and Ringworm!
Raven is very beneficial when it is diffused at night when you are sleeping. You can also put a few drops in your bath water or on your pillow before you go to sleep.
For severe respiratory system challenges, it is recommended that Raven be used as a suppository or enema, as outlined in the tips section. It has been documented that people have felt comfort in the lungs within seconds using this application.
Also, see RC Essential Oil. Together they make some of the toughest oils for combating any respiratory imbalance; and they are great companion oils. Many people alternate these oils or use them together to boost immunity and support healthy respiratory health during flu or cold season. Other companion oils include Melrose and Thieves Essential Oils.
There are many more uses for Raven that I would have never thought of. So keep reading below in the uses and benefits Section. It will tell you how to use your oil blend and what to use it for. It will also provide you with some fun tips and testimonials!
As I receive new tips and testimonials they will be added to the page, so check back frequently!
Want to Purchase Therapeutic Raven Essential Oil?
Go to the Oil Shop! Buy Raven Oil Here!

---
Raven Essential Oil Blend™
What is in Raven Essential Oil? There are five different essential oils in Raven. They are listed below along with a brief description of each oil.
Do you want more information about the individual oil? Just click on the name of the oil to find out other interesting information such as:
What Part of the Plant is Used?
What is an ORAC Value?
What is the ORAC of the Oil?
What are the Plant Properties and Uses?
Where is the Name derived from?
The Most Interesting Historical Reference?
And more!
What are the Documented Uses for Raven Essential Oil? Acne, airborne bacteria, allergies, anti-catarrhal, apnea, asthma, boils, breathing, bronchitis, colds (head), Candida Albicans, congestive coughs, cystic fibrosis, emphysema, flu, fungus, immune system, infection, infectious disease, inflammation of the mucous membranes, lungs, mononucleosis, mucus (excess), nasopharyngitis, pancreas, pimples, pneumonia, respiratory system, ringworm and skin candida, rhinitis, sinus congestion, sinusitis, sore throat, strep throat, tuberculosis and whooping cough.
What Body Systems are Affected? Respiratory System and Skin.
What is the Aromatic Affect on the Mind? Strengthening and energizing.
What Chakra is Affected? Promotes opening of the solar plexus and heart chakras.
What is the Spiritual Influence? Raven essential oil opens the solar plexus and heart chakras. It helps us to express our self in the world better by releasing congestion held in the lungs. Those who feel rejected and are holding onto deep sadness and grief in the heart and lungs can see relief using this oil.
Once all of the negative emotions are released then it is easier for us to embrace joy and hope in our lives.
How do I use it?
Use diluted - 50:50 dilution (one part essential oil: one part of vegetable oil). Then,
Apply several drops (2-4) on throat, lung or feet
Apply to chakras/vitaflex points
Directly inhale, or
Diffuse.
Good oil for the First Aid Kit? Yes
Can this oil be used for Animals? Yes! Great for upper respiratory relief and viral infections. Place in Canine First Aid Kit for sure.
Note about Animals: Certain oils can be very toxic to cats. Citrus products and oils in particular that are not of therapeutic grade! Please consult your vet if you are not sure about applying any essential oil to your pet.
What are the Safety Precautions? Raven Essential Oil can be irritating to the skin (dilution is necessary). Should not be used by children under the age of 18 months. 
Want to Purchase Therapeutic Raven Essential Oil?
Go to the Oil Shop! Buy Raven Oil Here! 
Tips and Testimonials from an Essential Oil User
Make a hot compress for your chest for breathing discomfort or to soothe throat.
One of the quickest ways to affect the lungs is through rectal retention. Add 1 oz of V-6 mixing oil to Melaleuca ericifolia and either RC or Raven (1:10 dilution). Insert into rectum for retention for a minimum of 15 minutes or overnight for best results.
Have a Great Experience to Share About this Essential Oil?
Do you have a personal story to share about this Essential Oil? Please share it here!
Return from Raven Essential Oil to Canine First Aid Kits