Sandalwood Essential Oil invokes Deep Relaxation, Meditation and More!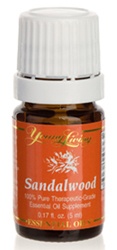 Sandalwood Essential Oil has been used in cultural and spiritual ceremonies for centuries. The Indian Ayurvedic system of medicine and culture has historically has used Sandalwood.
Did you know that Sandalwood Essential Oil is high in sesquiterpenes the chemical component that stimulates the pineal gland in the brain?
This creates deep relaxation of the nervous system and that is why it has been used for centuries to enhance meditation.
I personally like to use to help me relax and focus during meditation.
Some of my favorite professionally made blends that contain Sandalwood are Brain Power Gathering, and Inspiration essential oil blends.
Brain Power is excellent for concentration and focus. Inspiration and Gathering are spiritual oils used to enhance our communication and connection to spirit.
This section is a fun and easy reference guide for Sandalwood oil. It will tell you how to use it and what to use it for. It will also provide you with some fun suggestions, safety precautions for you and your pet!
As I receive new tips and testimonials for Sandalwood Essential Oil they will be added to the page, so check back frequently!
Young Living no longer caries Sandalwood. They do sell Royal Hawaiian Sandalwood.

---
Sandalwood Essential Oil
What is the Genus Species? Santalum album
Why is this information important? There are several different species of Sandalwood that are grown in other countries that may not have the same properties due to differences in chemistry.

Some companies may try to substitute a species within the family and try to sell it for therapeutic grade oil! So make sure you know your source and you are purchasing the right genus species!
Where is Sandalwood from? Sandalwood is an evergreen tree that is native to southern Asia. The oil comes from the heartwood of the tree.
Why is this information so important? It's not, it's just a fun fact!
What Part of the Plant is Used? Wood
What is the ORAC Value? 160 µTE/100g
Why know about this number? ORAC stands for Oxygen Radical Absorbance Capacity. It tells you the antioxidant capacity of a food item. This was developed by the USDA researchers. For instance: Blueberries = 2,400; Clove = 1,078,700. Wow! The number for clove is NOT a typo!
Most Interesting Historical Reference?
Did you know that Sandalwood was used to embalm the dead and release their souls during the funeral? 
What are the Plant Properties? Calming, grounding, aphrodisiac.
What are the Documented Uses for Sandalwood? Supports healthy skin and moisturizing.

What is the Aromatic Affect on the Mind? Encourages deep relaxation. Sweet aromatic scent of wood.
What is the Spiritual Influence? Awakens sensuality, invokes calmness and deep relaxation. This state allows for greater intuition and sense of awareness, particularly when opening up to and learning unconditional love. Opens cellular memory of past live experiences.
What Chakra is Affected? Opens the root and sacral chakras once the emotional issues are addressed and released in the body.
What are the corresponding Chakra Colors? Yellow and orange.
How do I use it?
Apply several drops (2-4) on location, ankles and wrists
Apply to chakras/vitaflex points
Directly inhale
Diffuse

Can this Oil be used for Pets? Yes, use it for calming and relaxing. I keep Trauma Life essential oil blend at the barn for various uses.
Note about Animal Use: Certain oils can be very toxic to cats. Citrus products and oils in particular that are not of therapeutic grade! Please consult your vet if you are not sure about applying any essential oil to your pet.
What are the Safety Precautions? First, only use therapeutic grade essential oils! Sandalwood essential oil has no known contraindications. It is approved by the FDA for use as a Flavoring Agent (FL) and Food Additive (FA).
Essential Oil Trivia?
Did you know that Sandalwood was recorded in 78 AD by Dioscorides in De Materia Medica, a book filled with descriptions of hundreds of plants? This book was used as the standard reference until sometime in the seventeenth century.
Want to Purchase Therapeutic Sandalwood Essential Oil?
Young Living no longer caries Sandalwood. They do sell Royal Hawaiian Sandalwood which has similar spiritual properties.
Tips and Testimonials from an Essential Oil User
Use sandalwood at bed time to relax and center before bed time.

Have a Great Experience to Share About this Essential Oil?
Do you have a personal story to share about this Essential Oil? Please share it here!
Return from Sandalwood Essential Oil to Natural Sleep Remedies