Nan's Experience Essential Oils Membership provides Exclusive EO Training and Coaching on Transformation, Functional Wellness, Animal Topics and More!

FREE ACCESS to E-Merald Level with THREE Training Bundles!

 Click HERE to LEARN MORE and Get INSTANT ACCESS to E-merald Level Trainings!
Gathering Essential Oil
Keeps us Focused on our Path
Gathering Essential Oil is a spiritual oil blend that contains sacred oils of galbanum, sandalwood, frankincense and spruce. All of these oils have been used for thousands of years for spiritual ritual and prayer.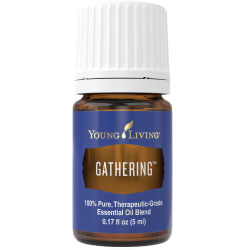 Gathering was created to help us rise above the chaotic energies and stress of the world today; and find a place of spiritual peace.
Gathering essential oil does this by assisting us in gathering and focusing our spiritual and emotional thoughts towards our purpose. When we can do this we can become clear on our true spiritual potential and see our connection to the divine.
It also harmonizes the body mind and soul. This allows negativity to be released and new thought patterns to be anchored.
This is an easy reference guide for Gathering Oil Blend. It will tell you how to use your oil blend and what to use it for. It will also provide you with some fun tips and testimonials!
As I receive new tips and testimonials they will be added to the page, so check back frequently!
Want to Purchase Therapeutic Gathering Essential Oil?
Go to the Oil Shop! Buy Gathering Oil Here!
Experience Gathering Essential Oil Blend™
What is in Gathering Essential Oil? There are nine therapeutic grade essential oils in Gathering. They are listed below along with a brief description of each oil.
In the revised formulation 2014, Sandalwood has been replaced with:
Royal Hawaiian Sandalwood Essential Oil** (Santalum paniculatum) is  emotionally balancing and grounding. It is valued for its skin moisturizing properties

. **

Royal Hawaiian Sandalwood is a trademark of Jawmin, LLC.
In the revised formulation, Galbanum and Black Spruce were replaced with the following oils:
Want More Information About the Individual Oil?  Click on the name of the oil to find out other interesting information such as:
What Part of the Plant is Used?
What is an ORAC Value?
What is the ORAC of the Oil?
What are the Plant Properties and Uses?
Where is the Name derived from?
The Most Interesting Historical Reference?
And more!
What are the Documented Uses for Gathering Essential Oil? Abundance, boredom, concentration, confusion, day dreaming, despair, disappointment, focus, emotional forgetfulness, fear, frustration, guilt, open mind, potential, restlessness, shock,  restlessness, spiritual, stress and clarity.
What is the Aromatic Affect on the Mind? This spicy aroma helps to gather thoughts to increase focus.
What is Nan's Mental (Mindset), Emotional and Spiritual Interpretation of this Oil?
Gathering essential oil releases negative emotions of feeling enslaved or imprisoned in ones thoughts or situation. It will relieve boredom and confusion.
It will help us gather all of our thoughts on a physical and emotional plane and bring them together for greater sense of purpose. Our clarity, focus and spiritual awareness will be enhanced which will provide a greater sense of peace.
Use when feeling scatter brained, all over the place, or spread to thin to keep your focus. Let it help you to pull it together!

What Chakra is Affected? Opens the third eye and crown chakras.
How Do I Use It?

Use NEAT (undiluted) then,
Apply several drops (2-4) on third eye (forehead), ears, wrists, neck or feet
Add several drops (2-4) to bath water
Apply to chakras

Directly inhale or
Diffuse.
Can this Oil be Used for Animals? Yes, try this oil if you or your horse's ride seems to be all over the place. And see if it won't pull the two of you together!
Note About Animals: Certain oils can be very toxic to cats. Citrus products and oils in particular that are not of therapeutic grade! Please consult your vet if you are not sure about applying any essential oil to your pet.
I only recommend using Young Living Oils on animals.

What are the Safety Precautions?
Possible skin sensitivity. If pregnant or under a doctor's care, consult your physician.
Want to Purchase Therapeutic Gathering Essential Oil?
Go to the Oil Shop! Buy Gathering Oil Here!
Tips and Testimonials from an Essential Oil User
Sacred Mountain or Valor (on crown) to clear negative thoughts first, and then apply Gathering to the third eye for spiritual insight or meditation.
Have a Great Experience to Share About this Essential Oil?
Do you have a personal story to share about this Essential Oil? Please share it here!
Return from Gathering Essential Oil to Sandalwood Essential Oil