Thyromin Natural Thyroid Supplement to Support Healthy Thyroid Function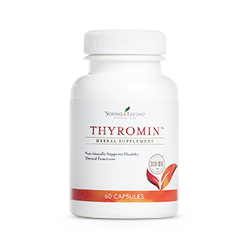 Thyromin natural thyroid supplement supports healthy thyroid function. It is a special blend of porcine glandular extracts, herbs, amino acids, minerals, and therapeutic-grade essential oils. This balanced formula maximizes nutritional support for healthy thyroid function.

Why Support Healthy Thyroid Function Nutritionally?
The thyroid gland regulates body metabolism, energy, and body temperature. There is a simple home thyroid test that you can use here.

Being proactive and supporting our thyroid is getting the proper amino acids and minerals is important to support a healthy lifestyle regimen.
And if not, please consult a medical professional. This is not a substitute for medical evaluation.

Want to Purchase Thyromin Supplement?
Go to the Oil Shop! Buy Thyromin Supplement here!

---
Thyromin Natural Thyroid Supplement™
What is in Thyromin Natural Thyroid Supplement?
There are several natural ingredients as well as four essential oils in Thyromin.
The natural ingredients with a brief description of each are provided below:
Vitamin E (d-alpha tocopheryl acetate and as d-alpha tocopheryl succinate) – Vitamin E is a natural antioxidant.

Kelp – Kelp is a natural ingredient whose main component is iodine.

Adrenal and Pituitary Extracts (Argentina bovine source) – Provides support to healthy glandular function.

CoQ10 – Enzyme used by every cell in the body to convert food to energy.

Potassium

Parsley

L-cystine

L-cysteine HCL

Magnesium carbonate

The essential oils are listed below along with a brief description of each oil.
Do you want more Information about the Individual oil?
Just click on the name of the oil to find out other interesting information such as:
What Part of the Plant is Used?

What is an ORAC Value?

What is the ORAC of the Oil?

What are the Plant Properties and Uses?

Where is the Name derived from?

The Most Interesting Historical Reference?

And more!
What are the Documented Uses Thyromin? Supports healthy endocrine system and healthy thyroid function. Energizing.

How do I Use it?
Take one or two capsules per day before bed or rotate one in morning and one during evening.

Can this oil be used for Animals?
 Yes. But please consult your vet.

Note about animals: Certain oils can be very toxic to cats when they are not therapeutic grade. Citrus products and oils in particular. Please consult your vet if you are not sure about applying any essential oil to your pet or giving an essential oil supplement to your pet.
I only recommend using Young Living Oils on animals at this time.

What are the Safety Precautions?
If pregnant or under a doctor's care, consult your physician.
Want to Purchase Thyromin Supplement?
Go to the Oil Shop! Buy Thyromin Supplement here! 
Return from Thyromin Natural Thyroid Supplement to Natural Thyroid Remedies