Valor Essential Oil
"Chiropractor in the Bottle"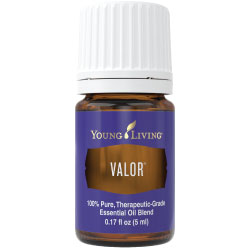 Valor Essential Oil is often referred to as "Chiropractor in the bottle". It has been given that nick name because it aligns our physical, mental and emotional bodies electrically in the body.
When this happens we are given the courage to take on new things and we are better able to release old patterns that are not working for us.
The smell is very soothing and calming! Valor may also be used for any back related conditions, including scoliosis and pain. Children that are hyperactive or struggle with attention deficit disorder may also benefit from this oil blend, just as with Peace and Calming Blend.
It is one of my top ten favorite oils, and it is a must have. I use it every day at the farm for horses that need to relax but also require courage to do their job. It is also a very important fundamental oil that is used during Raindrop Technique.
Valor is also available in an easy to use roll on applicator!
This is a fun and easy reference guide for Valor Essential Oil Blend. It will tell you how to use your oil blend and what to use it for. It will also provide you with some fun tips and testimonials!
As I receive new tips and testimonials they will be added to the page, so check back frequently!
---
Valor Essential Oil
What is in Valor Blend? There are four different oils in Valor Blend.
They are listed below along with a brief description of each oil.
What is the Carrier Oil? Sweet Almond (Prunus dulcis)
Do you want more information about the individual oil? Just click on the name of the oil to find out other interesting information such as:
What Part of the Plant is Used?
What is an ORAC Value?
What is the ORAC of the Oil?
What are the Plant Properties and Uses?
Where is the Name derived from?
The Most Interesting Historical Reference?
And more!
What are the Documented Uses for Valor Essential Oil? Scoliosis, depression, nervous system, insomnia, supporting immunity, conditions of the spine and skeletal structure, anxiety, ADD, stress, changes anaerobic cells to aerobic natural state.
What Body Systems are Affected? Nervous System, Muscles and Bones, Skin and Limbic (emotional).
What is the Aromatic Affect on the Mind? Calming and balancing.
What is the Spiritual Influence? When the body, mind and spirit are aligned, we are able to open and release emotional barriers that are keeping us stuck.
This oil allows us have the courage and self-esteem to allow us to overcome those things that are holding us back. Remember, when we are stressed, worried or have anxiety we are creating imbalance in our bodies that may manifest as a physical condition such as pain or structural misalignment.
What Chakra is Affected? Balances the root, solar plexus, heart, throat and third eye chakras.
How do I use it?
Use NEAT (undiluted) then,
Apply several drops (2-4) to wrists, chest, base of neck, bottom of feet
Add several drops (2-4) to bath water
Apply to vitaflex points
Directly inhale, diffuse
Dilute 1:15 with vegetable oil for body massage, or
Use in Raindrop Technique.
Good oil for the First Aid Kit? Yes, don't leave home without it!
Can this oil be used for pets? Yes, I have had great results with this oil.
I use it on a daily basis out at the barn. It helps the young horse or a horse that has been traumatized to have courage to overcome fear and embody new things in training. I place it on the base of the tail to help the structural and electrical alignment on the horse.
Note about animals: Certain oils can be very toxic to cats. Citrus products and oils in particular when not of therapeutic grade. Please consult your vet if you are not sure about applying any essential oil to your pet.
What are the Safety Precautions? Valor essential oil does not have any known contraindications. Non-irritating and non-toxic.
Want to Purchase Therapeutic Valor Essential Oil?
Go to the Oil Shop! Buy Valor Oil Here!
Tips and Testimonials from an Essential Oil User
Apply to your feet or put a drop or two on your pillow before you go to bed at night, to release worries and have a better night sleep!
Have a Great Experience to Share About this Essential Oil?
Do you have a personal story to share about this Essential Oil? Please share it here!
Return from Valor Essential Oil to Natural Sleep Remedies