Nan's Experience Essential Oils Membership provides Exclusive EO Training and Coaching on Transformation, Functional Wellness, Animal Topics and More!

FREE ACCESS to E-Merald Level with THREE Training Bundles!

 Click HERE to LEARN MORE and Get INSTANT ACCESS to E-merald Level Trainings!
Cool Azul Essential Oil and Gel for Soothing Muscle Discomfort After Exercise

Cool Azul essential oil and sports gel are perfect natural remedies for before, during and after workout. Specifically designed for muscle discomfort after exercise both these products support overall wellness*, healthy lifestyle and your health and fitness goals.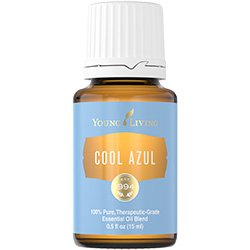 Both the gel and oil are perfect choices for supporting and soothing muscles after exercise. I love the cooling sensation on my skin especially in the hot weather. Place some on your legs and neck before a run to keep you cool and alert.

The gel is formulated with an unprecedented 10 percent (10 ml) of therapeutic grade essential oils in each 3.4-oz. tube. The main ingredient, aloe vera, is highly beneficial as it supports healthy skin and hydrates the skin. It is rarely found in natural gels and creams as most use water as the formula's base.
The unique formulation contains a cooling blend of Peppermint essential oil, menthol, and camphor; and Young Living exclusive oils Plectranthus Oregano and and Dorado Azul essential oil!
Also check out Cool Azul Pain Relief Cream!

This is an easy reference guide for Cool Azul Essential Oil and Sports Gel. It will tell you how to use your oil blend and what to use it for. It will also provide you with some fun tips and testimonials!
As I receive new tips and testimonials they will be added to the page, so check back frequently!
Want to Purchase Therapeutic Cool Azul Essential Oil and Sports Gel?
Go to the Oil Shop! Sports Gel link to shop is here.  To purchase oil click Here! 
---
Experience Cool Azul Essential Oil Blend™

What is in Cool Azul Essential Oil?
There are thirteen different essential oils in this oil. They are listed below along with a brief description of each oil.
Wintergreen Essential Oil (Gaultheria procumbens) contains 85-99% of methyl salicylate the same active ingredient as birch and is beneficial in massage for soothing head tension and muscles after exercising.

Peppermint Essential Oil (Mentha piperita) is one of the most highly regarded herbs for supporting normal digestion* when taken internally. It is also a key oil in the Raindrop Technique.
Sage Essential Oil (Salvia officinalis) Sage Essential Oil may help to uplift and aid with mental fatigue. It has been recognized for its ability to strengthen the senses and vital centers of the body.
Plectranthus Oregano Essential Oil (Plectranthus amboinicus) - Exclusively grown on Young Living Farms in Ecuador. Link connects to Oregano
Copaiba or Copal Essential Oil (Copaifera officinalis) is a rare essential oil that reduces the body's natural response to irritation

Melaleuca viridiflora Essential Oil (Niaouli) 
Lavender Essential Oil (Lavandula angustifolia) can help you relax, wind down before bed and even ease stress due. Its balancing properties create a harmonizing atmosphere when diffused.
Blue Cypress Essential Oil (Callitris intratropica) is indigenous to Australia. It has traditionally been used for incense, perfume and embalming. Traditionally the aboriginal burned the wood to repel mosquitoes and midges! Its benefits also include supporting the body's natural response to irritation.

Elemi Essential Oil (Canarium luzonicum) In the botanical family as frankincense and myrrh, it has been used traditionally in Europe for the skin. It is highly regarded for reducing the look of fine lines and wrinkles, supporting healthy skin, and for soothing muscles after exercise*.
Vetiver Essential Oil (Vetiveria zizanioides) brings you back to nature. It is a grounding oil and is one of the oils that is highest in sesquiterpenes.

Caraway Essential Oil (Carum carvi) brings spice and warmth to this blend

 Dorado Azul Essential Oil (Hyptis suaveolens) or Bush Mint comes from Ecuador and it is in the mint family. Has a fresh and herbaceous aroma.  Contains 1,8 cineol or eucalyptol.
Matricaria Essential Oil (Chamomilla recutita)
What is in Cool Azul Sports Gel?
Here is the full ingredient listing. Please see above for link to the oils :)

Aloe barbadensis (Aloe) leaf extract
Olea europaea (Olive) Oil
Peppermint Essential oil,
Wintergreen Essential Oil
Menthol, Sage Essential oil,
 Copaiba Resin Essential Oil
Plectranthus Oregano Essential Oil

Arnica Flower Extract (Heterotheca inuloides)
 Camphor

Sodium hyaluronate

Sunflower lecithin
Xanthan gum

 Melaleuca viridiflora Essential Oil

Lavender Essential Oil

Water

Matricaria Flower Extract

Blue Cypress Essential Oil,
Elemi Essential Oil

Willow bark extract (Salix alba)
Caraway seed Essential Oil

Dorado azul Essential Oil

Vetiver Essential Oil

Levulinic acid

Matricaria Essential Flower Oil

p-Anisic acid
Want More Information About the Individual Oil? Just click on the name of the oil to find out other interesting information such as:
What Part of the Plant is Used?
What is an ORAC Value?
What is the ORAC of the Oil?
What are the Plant Properties and Uses?
Where is the Name derived from?
The Most Interesting Historical Reference?
And more!
What are the Documented Uses for Cool Azul Essential Oil? Athlete, fitness, soothing muscle discomfort after exercise*. Supports healthy skin by hydrating and moisturizing*. Supports healthy muscles before, during and after exercise*.

What is the Aromatic Affect on the Mind? Invigorating and cooling. Promotes focus during exercise.

What is Nan's Mental (Mindset), Emotional and Spiritual Interpretation of this Oil? 
The oil and sports gel helps us to get clarity on our health and fitness goals by gently encouraging us to take care of ourselves. Often we know we "should" take care of ourselves better but our family patterns or learned behaviors and habits seem to get in our way.

Cool Azul will help you release those things that stop you from starting or continuing a healthy exercise regime. Especially those who are frustrated or have anger associated with maintaining a healthy lifestyle. Or may have not been nurtured as a child therefore, we are not able to translate that into adulthood.

How Do I Use it?
Use diluted - 50:50 dilution (one part essential oil: one part of vegetable oil). Then,
Apply several drops (2-4) on location after exercise
Apply to chakras
Apply as compress on spine or area of discomfort after exercise

Directly inhale, or
Diffuse
Cool Azul Sports gel can be applied directly. Very concentrated - apply a small amount on legs, arms, neck and spine before, during or after exercise.

Can this oil be used for pets? Yes, absolutely! Use as a natural horse liniment.  Horses and dogs love it, massage directly on spine.

Note About animals: Certain oils can be very toxic to cats. Citrus products and oils in particular that are not of therapeutic grade! Please consult your vet if you are not sure about applying any essential oil to your pet.
What are the Safety Precautions? Children under 18 months of age should not use this oil or gel. May be an irritant to the skin membranes, therefore dilution may be necessary for sensitive skin. Avoid eye contact.
Keep out of reach of children. If pregnant, nursing, taking medication, or have a medical condition, consult a healthcare practitioner prior to use.
Want to Purchase Therapeutic Cool Azul Essential Oil?
Go to the Oil Shop! Sports Gel link Here! Buy This Oil Here!
Tips and Testimonials from an Essential Oil User
Use this oil in conjunction with massage to ease muscle discomfort after exercise.
Return from Cool Azul Essential Oil to Essential Oil Blends A-D