Nan's Experience Essential Oils Membership provides Exclusive EO Training and Coaching on Transformation, Functional Wellness, Animal Topics and More!

FREE ACCESS to E-Merald Level with THREE Training Bundles!

 Click HERE to LEARN MORE and Get INSTANT ACCESS to E-merald Level Trainings!
Highest Potential Essential Oil  -
Focus and Achieve your Greatest Potential!
Highest Potential Essential Oil is a interesting oil blend that contains fourteen therapeutic grade oils from two blends and more!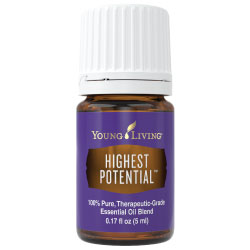 It is a spiritual oil in that it has many of the oils from the bible including frankincense, galbanum and sandalwood. These oils help you to connect with the divine and help you see your own potential. It empowers and supports so you can reach your goals and dreams.
This oil will help you build confidence, release limiting beliefs and focus on your potential not your imperfections.
This is an easy reference guide for Highest Potential Essential Oil Blend. It will tell you how to use your oil blend and what to use it for. It will also provide you with some fun tips and testimonials!
As I receive new tips and testimonials they will be added to the page, so check back frequently!
Buy Highest Potential Essential Oil Here!
---
Experience Highest Potential Essential Oil Blend™
What is in Highest Potential Essential Oil?
There are fourteen therapeutic grade essential oils in Highest Potential! It is made from two other blends plus two additional oils. They are listed below along with a brief description of each oil.
Want more Information About the Individual oil? Just click on the name of the oil to find out other interesting information such as:
What Part of the Plant is Used?
What is an ORAC Value?
What is the ORAC of the Oil?
What are the Plant Properties and Uses?
Where is the Name derived from?
The Most Interesting Historical Reference?
And more!
What are the Documented Uses for Highest Potential Essential Oil? Apathy, anger, balance chakras, childhood fears, confidence, day-dreaming, fears, focus, and uplifting.
What is the Aromatic Affect on the Mind? This beautiful aroma is calming yet uplifting.
What is the Nan's Mental (Mindset), Emotional and Spiritual Interpretation of this Oil? And Other Uses?
This oil will help you release emotions of annoyance and get even! The oil will help with anger and frustration that is stemming from childhood fears or negative experiences.
It will also help release these negative emotions and bring positive emotions of forgiveness, self worth and forgiveness, so we can truly see our own potential.
Remember if you are not aware of what is blocking you, then you can't see your way forward, or change it!

What Chakra is Affected? Balances the chakras. Opens the sex and root chakras.
How Do I Use It?
Use NEAT (undiluted) then,
Apply several drops (2-4) on ears, heart, back of neck, wrists or temples
Apply to chakras

Directly inhale or
Diffuse
Can this Oil be Used for Animals? Yes, good for dog or horse fear. Use it to bring out the potential in any animal!
Note About Animals: Certain oils can be very toxic to cats. Citrus products and oils in particular that are not of therapeutic grade! Please consult your vet if you are not sure about applying any essential oil to your pet.
What are the Safety Precautions? No contraindications.
If pregnant or under a doctor's care, consult your physician
Want to Purchase Therapeutic Highest Potential Essential Oil?
Go to the Oil Shop! Buy Highest Potential Oil Here!
Tips and Testimonials from an Essential Oil User
Rub over the heart and place on the forehead and temples.
Have a Great Experience to Share About this Essential Oil?
Do you have a personal story to share about this Essential Oil? Please share it here!
Return from Highest Potential Essential Oil to Oil Blends E-H