Nan's Experience Essential Oils Membership provides Exclusive EO Training and Coaching on Transformation, Functional Wellness, Animal Topics and More!

FREE ACCESS to E-Merald Level with THREE Training Bundles!

 Click HERE to LEARN MORE and Get INSTANT ACCESS to E-merald Level Trainings!

Master Formula Daily Multivitamin Packs
with Essential Oils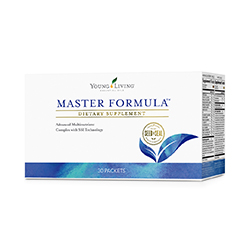 Master Formula Daily Multivitamin Packs are whole food vitamin and mineral supplements that come in a daily packet. Each multivitamin pack supplies a natural wide spectrum of what you want in a multivitamin - B vitamins, vitamins A, C, D, E and K, folic acid, selenium, zinc, potassium, and magnesium. For men and women.
Master Formula Supplement was designed to support the nutritional needs of women's and men's wellness*. It also contains NingXia Wolfberries which have vital natural minerals, vitamins and antioxidants.

For optimum wellness, consider adding a probiotic, Omega 3 and digestive enzyme daily in addition to Master Formula as part of a core foundational nutritional program.Or check out Core Supplements Kit.

This is an easy reference guide for Master Formula Daily Vitamin Supplement. It will tell you how to use it and what to use it for!
Want to Purchase Master Formula Supplement?
Then go to The Oil Shop! Available in 30 daily vitamin packets.
---
What are the Benefits of Master Formula Daily Multivitamin Packs?

Here are the Primary Benefits:

Naturally supports general health and well-being for the body*
Full spectrum multinutrient complex*
Ingredients help neutralize free radicals in the body
Gut flora supporting prebiotics
Pre-packaged sachets are convenient to take your vitamins on the go
SSI Technology delivers ingredients in 3 forms chosen for their complementary properties
Experience Master Formula Daily MultiVitamin Packs™

What is in Master Formula Daily Vitamin Supplement?
There multivitamin tablets contain all the daily nutritional requirements without artificial flavors, preservatives, sugar, cornstarch, corn, wheat, or yeast products. The ingredients are shown below:
Liquid Vitamin Capsule: Vitamin A (from beta carotene), Vitashine Vitamin D3 (Cholecalciferol), Vitamin E (d-alpha tocoperyl succinate), Vitamin K (K2 as menaquinone-7), Proprietary Master Formula Essential Oil Blend: Turmeric root oil (Curcuma longa), Cardamom Vitality essential oil (Ellettaria cardamomum), Clove (Syzygium aromaticum) oil, Fennel essential oil (Foeniculum vulgare), Ginger root essential oil (Zingiber officinale), Sunflower lecithin (non-GMO), Hydroxypropylmethylcellulose.
Micronized Nutrient Capsule: Vitamin A (from beta carotene), Thiamin (Vitamin B1 from organic food blend), Riboflavin (Vitamin B2 from organic food blend), Niacin (Vitamin B3 as niacinamide from organic food blend), Vitamin B6 (Pyridoxine from organic food blend), Folate (Vitamin B9 from organic food blend), Vitamin B12 (Methylcobalamin), Biotin, Pantothenic Acid (Vitamin B5 from organic food blend), Iron (Ferrous Bisglycinate chelate), Magnesium (Magnesium glycinate chelate), Zinc (Zinc Bisglycinate chelate), Selenium (Selenium glycinate chelate), Copper (Copper bisglycinate chelate), Manganese (Magnesium bisglycinate chelate), Chromium (Chromium nicotinate glycinate chelate), Molybdenum (Molybdenum glycinate chelate), Proprietary Master Formula Capsule Blend: Atlantic kelp, Inositol, PABA (Para amino benzoic acid), Boron citrate, Lycopene, Spirulina algae, Barley grass, Citrus bioflavanoids, Orange fruit powder, NingXia wolfberry (Lycium barbarum) powder, Olive (Olea europea) leaf extract, Hypromellose, Magnesium stearate (vegetable source), Silicon dioxide, Microcrystalline cellulose.
Phyto-Caplet: Calcium (Calcium carbonate), Potassium (Potassium chloride), Choline (Choline bitartate), Proprietary Master Formula Tablet Blend: Fructooligosaccharides, Trace minerals Spectra® Fruit, Vegetable, and Herb Blend: Coffea arabica fruit extract, Broccoli sprout concentrate, Camellia sinensis extract, Onion extract, Apple extract, Quercetin concentrate, Tomato concentrate, Broccoli concentrate, Acai concentrate, Garlic concentrate, Basil concentrate, Turmeric, Oregano concentrate, Cinnamon concentrate, Elderberry concentrate, Carrot concentrate, Mangosteen concentrate, Blackcurrant extract, Blueberry extract, Sweet cherry concentrate, Blackberry concentrate, Chokeberry concentrate, Raspberry concentrate, Spinach concentrate, Kale concentrate, Billberry extract, Acerola extract, Camu camu concentrate, Brussels sprout, Silicon dioxide, Stearic acid, Croscarmellose sodium, Organic maltodextrin, Organic sunflower lecithin, Organic palm olein, Organic guar gum.
Want More Information About the Individual Oil?
Click on the name of the oil to find out other interesting information such as:
What Part of the Plant is Used?
What is an ORAC Value?
What is the ORAC of the Oil?
What are the Plant Properties and Uses?
Where is the Name derived from?
The Most Interesting Historical Reference?
And more!
What are the Documented Uses for Master Formula Daily MultiVitamin Packs? To sustain promote wellness in the body proper nutrients must be taken to provide a core nutritional foundation*.
What Healthy Body Systems are Supported?  Supports the whole body and additional antioxidants to promote cell health*.

How Do I Use Master Formula Daily Vitamin Supplement?
Take 1 of each color capsule daily. Capsules can be taken separately or combined together in 1 daily dose. Keep in a cool dry place. Keep out of heat or direct sunlight.
Can this Product be Used for Animals?  I would not use this product for animals.
Note About Animals: Certain oils can be very toxic to cats especially when poor quality oils are used. Citrus products and oils in particular that are not of therapeutic grade.  Please consult your vet if you are not sure about applying any essential oil to your pet.
What are the Safety Precautions? Do not exceed recommended dosage. Keep in a cool dry place; and out of heat or direct sunlight. Please consult your doctor if pregnant or under specific care.
Want to Purchase Master Formula Supplement?


Return from Master Formula Daily MultiVitamin Packs to Essential Oil Supplements