BLM Essential Oil Supplement with
MSM and Glucosamine For You and Your Pets!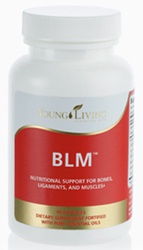 BLM Essential Oil Supplement was specifically designed for bones, ligaments and muscles.
It contains three essential oils that have natural anti-inflammatory and pain relieving properties; and other collagen complex ingredients and MSM that are known to rebuild joints and cartilage.
Whether you are preventing degenerative joint or bone pain; or you already have one of these conditions, and you want to minimize further degradation and manage pain, BLM Essential Oil Supplement is for you.
I love that this supplement contains therapeutic grade essential oils. Wintergreen and clove essential oils are some of the best natural anti-inflammatory oils we can use. Wintergreen contains methyl salicylate the same active ingredient in aspirin and is the only true direct source of this substance.
BLM Essential Oil Supplement is safe for human and animal use; and is also available in a powder form which is great for your horse.
With the powder, I usually place it right in my horses food and they eat it right up! And they get all the health benefits of MSM, glucosamine and essential oils!
This is an easy reference guide for BLM Supplement. It will tell you how to use it and what to use it for!
Buy BLM Essential Oil Supplement Here!
---
BLM Essential Oil Supplement™
What is in BLM Essential Oil Supplement?
There are several natural ingredients as well as three essential oils in BLM. The natural ingredients include:
MSM – Sulfur which is known to restore flexibility to the cell membranes and can slow down the breakdown of cartilage. It also supports hair, skin, liver and immune functions.


Glucosamine sulfate – Derived from shellfish, glucosamine benefits the body by aiding in the formation of cartilage and it has proven to effectively reduce arthritis symptoms (along with MSM).


Type II Collagen – Contains cartilage matrix glycoproteins that reduce oxidative damage to joints; and joint supporting proteoglycans.


Rice Bran – Rice bran is a fantastic source of squalene, an anticancer and antimutagen that is found in olive oil. It also contains gamma-oryzanol which has shown to be effective at reducing oxidation in the cells better than Vitamin E.


Manganese Citrate – This is a catalyst which synergizes ingredients; and is a cofactor in the creation of collagen.


Potassium Chloride


Gelatin (capsules only)
The essential oils that are contained in BLM are listed below along with a brief description of the oil.
Wintergreen Essential Oil (Gaultheria procumbens) is warming. It contains methyl salicylate and has a cortisone-like effect that reduces pain and inflammation from muscles, and joints.


Balsam Fir Essential Oil (Abies balsamea) has anti-inflammatory and anticoagulant properties. It is rich in limonene an antioxidant, and is excellent for tired muscles and joints.


Clove Essential Oil (Syzygium aromaticum) has antiseptic, antiviral, anti-infectious, antiparasitic and antifungal properties. It is COX inhibitor (anti-inflammatory) and has one of the highest ORAC values of any plant in the world!
Do you want more information about the individual oil? Just click on the name of the oil to find out other interesting information such as:
What Part of the Plant is Used?
What is an ORAC Value?
What is the ORAC of the Oil?
What are the Plant Properties and Uses?
Where is the Name derived from?
The Most Interesting Historical Reference?
And more!
What are the Documented Uses for BLM? Arthritis, back pain, backache, bones (heal broken and pain), bursitis, carpal tunnel syndrome, chronic pain, cramps, charley horses, disk deterioration, herniated discs, cartilage injury (knee, elbow, etc), connective tissue repair, ligaments (sprain or tear), leg cramps, lower back pain, lumbago, muscles, muscle spasm, muscle weakness, neck pain and stiffness, osteoarthritis, osteoporosis, Parkinson's Disease, rheumatoid arthritis, spine (general, deteriorating, pain, injuries), sports injuries and tendonitis.
What Body Systems are Affected? Muscles and Bones
How do I use it?
For Capsules: Take one capsule per day or up to three per day if less than 120 lbs.; up to 4 per day if you weigh between 120 and 200; and up to five per day if you weigh over 200 pounds.
This product also is available in a powder form that can be mixed in with food. This may be the best alternative for large animals. The capsules are recommended for cats and dogs. Great if you want to use glucosamine or MSM for dogs.
For Powder: Take 1/4 teaspoon per day or up to three times per day if less than 120 lbs.; use 1/4 teaspoon up to 4 times per day if you weigh between 120 and 200; and up to five times per day if you weigh over 200 pounds.
Can this product be used for Animals? Yes, use a dosage for dogs and horses according to weight guidelines above and here. Place it in their food as needed. Small dogs and cats use up to 1/2 capsule per day. Medium dogs up to one capsule. Large dogs up to 3 per day.
The capsules are recommended for small animals because the powder contains xylitol which has been shown to create some issues in high doses in dogs.
Note about animals: Certain oils can be very toxic to cats. Citrus products and oils in particular that are not of therapeutic grade! Please consult your vet if you are not sure about applying any essential oil to your pet.
What are the Safety Precautions? No contraindications.
Want to Purchase BLM Supplement?
Then go to the Oil Shop! Buy BLM Supplement Capsules or Powder here.
Also check out Sulfurzyme Supplement which combines MSM, FOS and Ningxia wolfberries in a convenient powder form! Or Omega Gize for combating inflammation. It contains D3, essential oils and Omega 3 fish oils.
Return from BLM Essential Oil Supplement to Oils for Pain