Citrus Fresh Essential Oil - Diffuse it,
Drink it, Love it!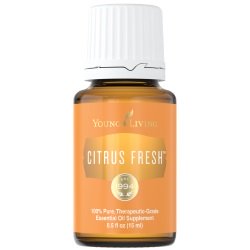 Citrus Fresh Essential Oil is a fantastic blend of oils which freshens air from environmental impurities and support healthy skin tone*. It includes naturally occurring constituents limonene, beta-pinene, and linalol.
On the emotional end, it has a balancing effect; it can be very calming and relaxing and can help to relieve fear and to wind down before bed. Mentally it may aid in greater focus and alertness.
Physically, it is a cleanser and helps with detoxification. Place it in your water for a sport drink is refreshing and tastes great!

I love to put a drop of Citrus Fresh in my water. It is perfect for those hot days because it is refreshing to drink. If you like citrus and mint then you will absolutely love this blend. It contains five different citrus oils plus Spearmint essential oil for that minty after taste!

My recommended alternative for water is Slique Essence Essential Oil.

This is a fun and easy reference guide for Citrus Fresh Essential Oil Blend. It will tell you how to use your oil blend and what to use it for. It will also provide you with some fun tips and testimonials!
As I receive new tips and testimonials they will be added to the page, so check back frequently!
Buy Citrus Fresh Essential Oil Here!
Citrus Fresh Essential Oil™
What is in Citrus Fresh Essential Oil Blend? There are six different oils in Citrus Fresh. They are listed below along with a brief description of each oil.
Do you want more information about the individual oil? Just click on the name of the oil to find out other interesting information such as:
What Part of the Plant is Used?
What is an ORAC Value?
What is the ORAC of the Oil?
What are the Plant Properties and Uses?
Where is the Name derived from?
The Most Interesting Historical Reference?
And more!
What are the Documented Uses for Citrus Fresh Essential Oil? Alertness, calming, cleansing, creativity, fear, emotional heart, occasional restlessness, joy, relaxation, stimulates creativity, and well being. Apply topically to help beautify and maintain the appearance of a healthy skin tone.*
What is the Aromatic Affect on the Mind? Clean and uplifting aroma that is calming and relaxing.
What is the Spiritual Influence? It is interesting that Citrus Fresh stimulates the right side of the brain which controls creativity and our intuition. When all the citrus oils help to bring greater mental focus and clarity which is largely dominated by the left side of the brain!
So Citrus Fresh works with both sides of the brain to help us release fear and stress. Because it balances the body and brings equilibrium,  it can be uplifting yet very relaxing and calming at the same time.
What Chakra is Affected? Opens the heart and solar plexus chakras.
How do I Use it?
Use NEAT (undiluted) then,
Apply several drops (2-4) to wrists, edge of ears, neck and feet
Add several drops (2-4) to bath water
Apply to vitaflex points
Directly inhale, or
Diffuse.
Can this Oil be used for Animals? Yes, my horse Roxie loves all the citrus and mint oils. She will lick this oil right out of my hand!

Note about Animals: Certain oils can be very toxic to cats. Citrus products and oils in particular that are not of therapeutic grade! Please consult your vet if you are not sure about applying any essential oil to your pet.
What are the Safety Precautions? Citrus Fresh essential oil can be photosensitive – direct exposure to sunlight within 12 hours after use could cause dermatitis. Dilution recommended for both topical and internal use.
Keep out of reach of children. Avoid using on infants and very small children.
If pregnant or under a doctor's care, consult your physician.
Want to Purchase Therapeutic Citrus Fresh Essential Oil?
Go to the Oil Shop! Buy Citrus Fresh Oil Here!
Tips and Testimonials from an Essential Oil User
Place Citrus Fresh to water and then freeze as popsicles for a healthy snack for you or for your kids!
Have a Great Experience to Share About this Essential Oil?
Do you have a personal story to share about this Essential Oil? Please share it here!
Return from Citrus Fresh Essential Oil to Oils for Sleeping
Return from Citrus Fresh Oil to Oils for Stress