Digest and Cleanse Essential Oil Supplement
Supports Healthy Digestive System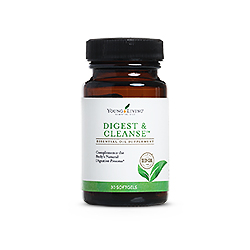 Digest and Cleanse essential oil supplement was specifically designed to soothe gastrointestinal upset and support healthy digestion.
The oils promote cleansing of the digestive systems that come from stress, lifestyle and toxins. This can irritate the gastrointestinal system and cause  occasional upset that interfere with the body's natural digestive and detox functions.
We know that cleansing of the body's systems particularly the digestive system is so important to provide the proper uptake of nutrients, support healthy immune system and more. It is natural for toxins to build up in the body, but it is unhealthy for toxins to accumulate!
Looking for Complementary Supplements? Check out ParaFree Essential Oil Supplement and ComfortTone.

This is an easy reference guide for Digest and Cleanse. It will tell you how to use it and what to use it for!
Want to Purchase Digest & Cleanse Supplement?
Then go to the Oil Shop! Buy Digest and Cleanse here!
---
Digest and Cleanse Essential Oil Supplement™
There are several natural ingredients as well as eight therapeutic grade essential oils in Digest and Cleanse.
The natural ingredients include:
Virgin Coconut Oil
Enteric Coating
Gelatin
They essential oils are listed below along with a brief description of each oil.
Peppermint Essential Oil (Mentha piperita) is one of the most highly regarded herbs for supporting normal digestion, including promoting healthy intestinal function and gastrointestinal system comforts. It is also a key oil in the Raindrop Technique.
Ginger Essential Oil (Zingiber officinale) is supportive of the digestive system, ginger is commonly used to soothe, comfort, and balance digestive discomfort. Spicy and warm.
Fennel Essential Oil (Pelargonium graveolens) The Benefits of Fennel date back to the ancient Egyptians. It is stimulating to the circulatory, glandular, respiratory, and digestive systems. It also may support feelings of well-being during the menstrual cycle.

Lemon Essential Oil (Citrus limon) consists of 68 percent d-limonene. It has cleansing and purifying properties.

Anise Essential Oil (Pimpinella anisum)

Caraway Essential Oil (Carum carvi)

Do you want more Information about the Individual oil? Just click on the name of the oil to find out other interesting information such as:
What Part of the Plant is Used?
What is an ORAC Value?
What is the ORAC of the Oil?
What are the Plant Properties and Uses?
Where is the Name derived from?
The Most Interesting Historical Reference?
And more!
What are the Documented Uses for Digest and Cleanse Essential Oil Supplement? Soothe the bowel and stimulate stomach secretions, which will aid in digestion. Cleansing and detoxification of the large intestine or colon. Supports normal and healthy bowel movement function.

How do I use Digest and Cleanse Essential Oil Supplement?
Take one capsules once daily with food or as needed.
Can this oil be used for Animals? Yes but not suitable for cats. Can be used for dogs but haven't used it that much. Rather rely on Enzymes or ParaFree.
Note about Animals: Certain oils can be very toxic to cats. Citrus products and oils in particular. Please consult your vet if you are not sure about applying any essential oil to your pet.
What are the Safety Precautions for Digest and Cleanse Essential Oil Supplement? Pregnant women (or animals) should not take this supplement without a physicians consult.
If pregnant or if you have a medical condition, consult with a health care professional before use.
Want to Purchase Digest & Cleanse Supplement?
Then go to the Oil Shop! Buy Digest and Cleanse here!
Return from Digest and Cleanse Essential Oil Supplement to Essential Oil Supplements