Egyptian Gold Essential Oil -
Combat Viruses from Oils of Ancient Egypt!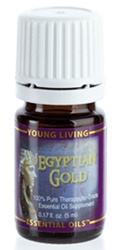 Egyptian Gold Essential Oil was blended with oils used in Ancient Egypt. They used these oils for various purposes including fighting infection and mummification!
All of the oils contained in this blend are anti-fungal, anti-bacterial and anti-viral making it a very effective natural immune system booster! It also stimulates the hypothalamus and pituitary glands.
The exotic fragrance balances the emotions and is stabilizing and empowering. Use it for perfume or cologne, or for spiritual practices such as meditation.
This is an easy reference guide for Egyptian Gold Oil Blend. It will tell you how to use your oil blend and what to use it for. It will also provide you with some fun tips and testimonials!
As I receive new tips and testimonials they will be added to the page, so check back frequently!
Buy Egyptian Gold Essential Oil Here!
---
Egyptian Gold Essential Oil Blend™
What is in Egyptian Gold Essential Oil? There are nine therapeutic grade essential oils in Egyptian Gold! They are listed below along with a brief description of each oil.
Do you want more information about the individual oil? Just click on the name of the oil to find out other interesting information such as:
What Part of the Plant is Used?
What is an ORAC Value?
What is the ORAC of the Oil?
What are the Plant Properties and Uses?
Where is the Name derived from?
The Most Interesting Historical Reference?
And more!
What are the Documented Uses for Egyptian Gold Essential Oil? Anti-bacterial, anti-fungal, anti-viral, glandular and immune system, Lou Gerig's Disease (ALS), pituitary gland (increases oxygen), respiratory system and viruses.
What Body Systems are Affected? Respiratory, Immune and Nervous System
What is the Aromatic Affect on the Mind? This exotic aroma is stabilizing yet uplifting.
What is the Spiritual Influence? Egyptian Gold essential oil is made with oils that were used in spiritual ritual for thousands of years. Use it to enhance your communication with the divine and release negative emotions held by the body.
What Chakra is Affected? Opens the solar plexus and heart chakras.
How do I use it?
Use diluted - 20:80 dilution (one part essential oil: one part of vegetable oil). Then,
Apply several drops (2-4) on crown of head, third eye, ears, wrists, neck or feet
Add several drops (2-4) to bath water
Apply to chakras/vitaflex points
Directly inhale
Diffuse, or
Dietary Supplement.
Good oil for the First Aid Kit? No
Can this oil be used for Animals? Yes
Note about animals: Certain oils can be very toxic to cats. Citrus products and oils in particular that are not of therapeutic grade! Please consult your vet if you are not sure about applying any essential oil to your pet.
What are the Safety Precautions? Not intended for use by children less than 18 months of age. Those who are susceptible to epilepsy and women who are pregnant should use caution when using this oil. Additionally, could result in skin irritation; therefore dilution may be necessary.
Children under 6 years old should not use Egyptian Gold essential oil as a dietary supplement.
Want to Purchase Therapeutic Egyptian Gold Essential Oil?
Go to the Oil Shop! Buy Egyptian Gold Oil Here!
Tips and Testimonials from an Essential Oil User
Wear as a cologne or perfume to balance emotions and boost the immune system.
Have a Great Experience to Share About this Essential Oil?
Do you have a personal story to share about this Essential Oil? Please share it here!
Return from Egyptian Gold Essential Oil to Cinnamon Essential Oil