Exodus II Essential Oil - Combat Infection and Boost your Immune system!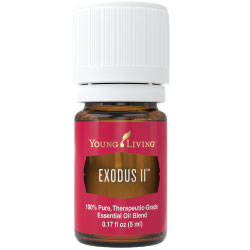 Exodus II Essential Oil is a blend designed to strengthen and boost your immune system. It expels disease and is excellent for viral and bacterial infection.
The oils in this blend were thought to be used by Moses and the Israelites to protect themselves from plague and other infections. They are all mentioned many times throughout the Bible.
Use Exodus II essential oil for colds, flu and infections as well as food poisoning (since it usually stems from bacterial infection). It also has been effective in combating Lyme Disease or Rocky Mountain Spotted Fever resulting from a tick bite.
Remember, any time there is an illness or disease in the body a natural immune system booster is needed to help combat it! Diffuse Exodus II or ImmuPower (or both) essential oil blends in your work space or home to fight infection. It is easy to do and naturally smells good!
Also keep them both on hand at home and at the farm. They are safe to use on humans and animals! And I definitely include at least one of them in any First Aid Kit for horse, human or dog.
This is an easy reference guide for Exodus II Oil Blend. It will tell you how to use your oil blend and what to use it for. It will also provide you with some fun tips and testimonials!
As I receive new tips and testimonials they will be added to the page, so check back frequently!
Buy Exodus II Essential Oil Here!
---
Exodus II Essential Oil Blend™
What is in Exodus II Essential Oil? There are nine therapeutic grade essential oils in Exodus II essential oil. They are listed below along with a brief description of each oil.
Frankincense Essential Oil (Boswellia carteri) has anti-depressant, ant-infectious and immune stimulating properties. The high sesquiterpenes level stimulates and oxygenates the limbic system of the brain which elevates our mood and helps us relax (overcome stress).


Hyssop Essential Oil (Hyssopus officinalis) has anti-infectious, antiviral, decongestant, antiseptic, anti-inflammatory and anti-spasmodic properties. It discharges toxins from the body.


Cinnamon Essential Oil (Cinnamomum verum) has antiseptic, antiviral, antibacterial, anti-infectious and antifungal properties. It is COX inhibitor (anti-inflammatory) and is a strong oxygenator.


Spikenard Essential Oil (Nardostachys jatamansi) has anti-bacterial, anti-fungal, anti-inflammatory, deodorant, relaxing and skin tonic properties. It helps with staph infections and nourishing to the skin conditions.


Myrhh Essential Oil (Commiphora myrrha) has antioxidant, antitumoral, anti-inflammatory and antiviral properties. It is excellent for fungal infections and skin conditions.


Galbanum Essential Oil (Ferual gummosa) has antiseptic, analgesic, anti-inflammatory and antiviral properties. Opens up communication to the creator. Holy incense along with Frankincense.


Cassia Essential Oil (Cinnamomum cassia) has antiviral, antifungal, anti-inflammatory and antibacterial properties. It is a COX2 Inhibitor and is excellent for fungal infections.


Calamus Essential Oil (Acorus calamus) has antispasmodic, antiseptic and antibacterial properties. It is a tonic for the digestive system.
Carrier Oil: Olive Oil
Do you want more information about the individual oil? Just click on the name of the oil to find out other interesting information such as:
What Part of the Plant is Used?
What is an ORAC Value?
What is the ORAC of the Oil?
What are the Plant Properties and Uses?
Where is the Name derived from?
The Most Interesting Historical Reference?
And more!
What are the Documented Uses for Exodus II Essential Oil? Build, strengthen and boost immune system, increases immunity, AIDS, abscesses and boils, anthrax, antioxidant, breast infection (mastitis), breathing, colds, congestion, cramps, degenerative disease, emphysema, Epstein-Barr Virus, flu, food poisoning, gangrene, gingivitis and periodontitis, gulf war syndrome, herpes-simplex type II, gonorrhea and syphilis, infections, influenza, lyme disease and rocky mountain spotted fever, mouth ulcers, mumps, nasopharyngitis, PMS, pancreatitis, pneumonia, polyps, rheumatic fever, seizures, shingles, sinus congestion, sinusitis and rhinitis, spina bifida, strep throat, tonsillitis and tuberculosis.
What Body Systems are Affected? Immune System
What is the Aromatic Affect on the Mind? Has a spicy, balsamic and warm aroma with incense-like overtones.
What is the Spiritual Influence? This oil will help those who feel doomed or always that something bad is going to happen. It will also help with obsession. It will help you to be grateful for your gifts and give freely to others.
What Chakra is Affected? Opens the solar plexus chakra.
How do I use it?
Use diluted - 50:50 dilution (one part essential oil: one part of vegetable oil). Then,
Apply several drops (2-4) on ears, throat, spine, wrists, neck, thymus or feet
Apply to chakras/vitaflex points
Directly inhale, or
Diffuse.
Good oil for the First Aid Kit? Yes, place ImmuPower or Exodus II in all your First Aid Kits. Horse and Canine First Aid Kit as well!
Can this oil be used for Animals? Yes. Keep in your First Aid Kits.
Note about animals: Certain oils can be very toxic to cats. Citrus products and oils in particular that are not of therapeutic grade! Please consult your vet if you are not sure about applying any essential oil to your pet.
What are the Safety Precautions? Children under 5 years of age or women that are pregnant should not use this oil. Can cause irritation to the skin, therefore dilution is necessary. Repeated use many result in contact sensitization.
Want to Purchase Therapeutic Exodus II Essential Oil?
Go to the Oil Shop! Buy Exodus II Oil Here!
Tips and Testimonials from an Essential Oil User
Diffuse during cold and flu season to build up immune system. Alternate with ImmuPower another natural immune system booster. Also use with Thieves which is highly anti-infectious.
Have a Great Experience to Share About this Essential Oil?
Do you have a personal story to share about this Essential Oil? Please share it here!
Return from Exodus II Essential Oil to Home Remedies for Food Poisoning