GLF Essential Oil
Flushes your Gallbladder, Liver and More!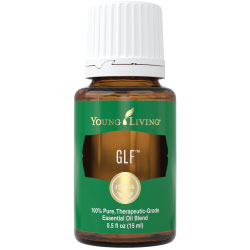 GLF Essential Oil a fantastic blend that was specifically formulated to support the proper function of the liver and gallbladder. When taken orally daily it will help to keep the liver and gallbladder healthy or restore the organs so they are working properly.
The oils have anti-inflammatory and cleansing properties that can be used as a home remedy for liver detox. And it can be used for other liver conditions such as hepatitis or fatty liver.
GLF Essential Oil can help with addictions and is a home remedy to quit smoking. It can help with any addiction including alcoholism. It will help release anger and deal with the emotional recovery process as well.
Essential oils are some of the best all natural detox remedies on the market today. Besides, GLF there are two essential oil blends, Juva Cleanse and JuvaFlex that also help detox the liver, gallbladder, kidneys and the lymphatic system, so definitely read through those pages.
This is an easy reference guide for GLF Oil Blend. It will tell you how to use your oil blend and what to use it for. It will also provide you with some fun tips and testimonials!
As I receive new tips and testimonials they will be added to the page, so check back frequently!
---
GLF Essential Oil Blend™
What is in GLF? There are six therapeutic grade essential oils in GLF. They are listed below along with a brief description of each oil.
Do you want more information about the individual oil? Just click on the name of the oil to find out other interesting information such as:
What Part of the Plant is Used?
What is an ORAC Value?
What is the ORAC of the Oil?
What are the Plant Properties and Uses?
Where is the Name derived from?
The Most Interesting Historical Reference?
And more!
What are the Documented Uses for GLF Essential Oil? Addictions, agent orange poisoning, alcoholism, anger (cleanse the liver of), detox from anti-depressants, detoxification, digestive system, gallbladder, hepatitis, indigestion, liver (cleansing, improving function of, jaundice, disease, liver cell function and cancer),obesity, respiratory system, quit smoking and surgical pain.
What Body Systems are Affected? Digestive System.
What is the Spiritual Influence? GLF essential oil clears the emotions of blame, bitterness and anger that are commonly stored in the gallbladder and liver. It will help you foster the positive emotions of approval, contentment and forgiveness.
What Chakra is Affected? Opens the solar plexus chakras.
How do I use it?
Use diluted - 50:50 dilution (one part essential oil: one part of vegetable oil). Then,
Apply several drops (2-4) on location to liver
Apply to chakras/vitaflex points
Directly inhale, or
Dietary Supplement
Good oil for the First Aid Kit? No
Can this oil be used for Animals? Yes
Note about animals: Certain oils can be very toxic to cats. Citrus products and oils in particular that are not of therapeutic grade! Please consult your vet if you are not sure about applying any essential oil to your pet.
What are the Safety Precautions? GLF should not be used by children younger than 5 years of age. Women who are pregnant should avoid or use caution using this oil. Could result in skin irritation and direct exposure to sunlight should be avoided for 3 to 6 hours after use.
Want to Purchase Therapeutic GLF Essential Oil?
Go to the Oil Shop! Buy GLF Oil Here!
Tips and Testimonials from an Essential Oil User
Apply 4-6 drops over liver or on the Vitaflex points on the feet.
Dilute 80-20 and fill a 00 size capsule. Take 2 capsules daily for a home remedy gallbladder and liver detox.
Have a Great Experience to Share About this Essential Oil?
Do you have a personal story to share about this Essential Oil? Please share it here!
Return from GLF Essential Oil to Oil Blends E-H