Lady Sclareol Essential Oil - An Alluring
Perfume with Health & Emotional Benefits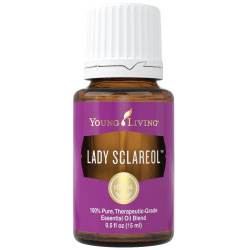 Lady Sclareol Essential Oil is a beautiful blend of oils that brings love to the heart. It has a wonderful scent and should definitely be used as an alluring perfume!
This romantic blend not only has a seductive scent but is good for the skin. It is also can be used for home remedies for infertility or impotence.
Use it to energize and enhance your evening with your partner or spouse. Or read below for more benefits and uses!
This is a fun and easy reference guide for Lady Sclareol Essential Oil Blend. It will tell you how to use your oil blend and what to use it for. It will also provide you with some fun tips and testimonials!
As I receive new tips and testimonials they will be added to the page, so check back frequently!
Buy Lady Sclareol Essential Oil Here!
---
Lady Sclareol Essential Oil™
What is in Lady Sclareol Essential Oil Blend?
Please Note that Acceptance oil was revised in summer of 2012 because of the deforestation and limited availability of Rosewood Essential Oil. See below for revised formula.
There are eleven therapuetic grade oils in Lady Sclareol. They are listed below along with a brief description of each oil.
Ylang Ylang Essential Oil (Cananga odorata) increases relaxation; balances male and female energies. It also restores confidence and equilibrium.


Geranium Essential Oil (Pelargonium graveolens) has anti-inflammatory, antioxidant, anti-depressant, and sedative properties. Its aroma lifts the spirit and releases negative emotions.


Rosewood Essential Oil (Aniba rosaeodora) has antiviral, antibacterial, anti-infectious and antifungal properties. It is emotionally stabilizing and sometimes used for depression.


Jasmine Absolute (Jasminum officinale) has antidepressant and antispasmodic properties. It is emotionally uplifting.


Vetiver Essential Oil (Vetiveria zizanioides) is warming and has antispasmodic properties. This oil is very good for sprains, rheumatism and arthritis.


Orange Essential Oil (Citrus sinensis) is elevating to the mind and body and brings joy and peace. A 1995 Mie University study documented the ability of citrus fragrances to combat depression and boost immunity.


Clary Sage Essential Oil (Salvia sclarea) has anti-convulsive, anti-fungal, sedative, soothing and nerve tonic properties. It is balancing to the hormones, and enhances the dream state.


Idaho Tansy Essential Oil (Tanacetum vulgare) has antiviral, antibacterial, anti-infectious and anti-inflammatory properties. It is supportive to the immune system.


Sandalwood Essential Oil (Santalum album) has anti-depressant, astringent, aphrodisiac and sedative properties. It is calming and emotionally balancing and is used for depression and stress.


Sage Lavender or Spanish Sage Essential Oil (Salvia lavandulifolia) has anti-depressant, astringent, anti-inflammatory and antispasmodic properties. It has shown to increase both estradiol and testosterone levels. It is emotionally balancing and is can be used for depression and stress.
In the revised formulation, Rosewood has been replaced with the following oils:
Bergamot Essential Oil (Citrus bergamia) has analgesic, anti-infectious, anti-inflammatory and antibacterial properties. It is refreshing and uplifting and helps with anxiety and depression.


Coriander Essential Oil (Coriandrum sativum) has antibacterial, antispasmodic, analgesic and antifungal properties. It is relaxing and releases fear and shock.
Do you want more information about the individual oil? Just click on the name of the oil to find out other interesting information such as:
What Part of the Plant is Used?
What is an ORAC Value?
What is the ORAC of the Oil?
What are the Plant Properties and Uses?
Where is the Name derived from?
The Most Interesting Historical Reference?
And more!
What are the Documented Uses for Lady Sclareol Essential Oil? Aphrodisiac for women, cramps (menstrual), enhancing relationships, impotence frigidity, harmony in body systems (women), hormonal balance, hysterectomy, impotence (female), infertility, libido enhancers (women), love, menopause, PMS, perfume, romantic intimacy, sexual energy and sex stimulant.
What Body Systems are Affected? Nervous System and Skin.
What is the Aromatic Affect on the Mind? Emotionally calming and balancing.
What is the Spiritual Influence? Lady Sclareol promotes the emotions of love, intimacy and confidence. It helps us release emotional blocks to love, self-love and sharing love. If we are experiencing low libido, infertility or frigidity, this oil may help you unblock the physical and emotional issues preventing you from moving forward.
What Chakra is Affected? Opens the sacral and heart chakras.
How do I use it?
Use NEAT (undiluted) then,
Apply several drops (2-4) to wrists, edge of ears, neck and feet
Add several drops (2-4) to bath water
Apply to vitaflex points
Directly inhale, diffuse, or
Dilute 1:15 with vegetable oil for body massage
Good oil for the First Aid Kit? No
Can this oil be used for Animals? Yes. Although, I haven't used it. But if you have, let me know!
Note about animals: Certain oils can be very toxic to cats. Citrus products and oils in particular that are not of therapeutic grade! Please consult your vet if you are not sure about applying any essential oil to your pet.
What are the Safety Precautions? Lady Sclareol essential oil does not have any known contraindications. Non-irritating and non-toxic.
Want to Purchase Therapeutic Lady Sclareol Essential Oil?
Go to the Oil Shop! Buy Lady Sclareol Oil Here!
Tips and Testimonials from an Essential Oil User
Dilute 1:15 to use as a beautiful smelling and romantic massage oil. Or wear on a romantic date as a perfume!
Have a Great Experience to Share About this Essential Oil?
Do you have a personal story to share about this Essential Oil? Please share it here!
Return from Lady Sclareol Essential Oil to Essential Oils Perfume