Sacred Frankincense Essential Oil - Showing AntiCancer & AntiTumoral Activity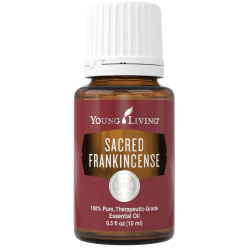 Sacred Frankincense Essential Oil, Oman Frankincense or Omani hojari is showing anti-tumoral and anti-cancer activity according to new research by Dr. Mahmoud Sunhail.
It is one of the rarest essential oils of the world as this species of frankincense tree only grows in Oman. It is considered the most precious spiritual oil of the Middle East; and as such has not been available outside of Oman for purchase until recently..
Although many texts cite that the species of Boswellia carterii and Boswellia sacra are identical, chemists and historians would disagree; as well as Saudi Royals and Oman Officials! It is believed that Boswellia sacra is the ancient species of which the oil of biblical times was created.
I can tell you that the aroma of Sacred Frankincense Essential Oil is much softer and sweeter; and energetically it has a much higher vibration than Frankincense (Boswellia carterii). The chemistry profile shows that it contains a higher alpha pinene constituent as well. And, because it produces less skin sensitivity, it can be used NEAT (undiluted).
Immediately I feel drawn to Sacred Frankincense as it is known to increase ones spiritual connection. So if choosing between the two species for meditative or healing work, I would definitely choose Boswellia sacra..
Although the chemistry of the essential oils is slightly different the same medicinal properties and uses of frankincense oil apply. However, studies are finding that the anti-cancerous effects are far greater than the Boswelli carterii species. It is actually dissolving or digesting the nucleus or "brain center" of cancer cells!!! Listen to the video below!
Watch this unbelievable You Tube Video where Dr. Mahmoud Sunhail is speaking about the cancer research he is conducting on this species of Frankincense in Oman. Honestly, the results are astonishing. Please pass this on to anyone who is looking for alternative or natural cancer solutions or prevention! Please!
If you are short on time----start at minute 5.
As I do receive new information and testimonials for Sacred Frankincense Essential Oil, they will be added to this page. So check back frequently or subscribe to the Oil Blog so you don't miss a thing!
Please read below for more information on Sacred Frankincense Oil. It will tell you how to use it and what to use it for. It will also provide you with some suggestions, safety precautions for you and your pet!
---
Sacred Frankincense Essential Oil
What is the Genus Species? Boswellia sacra grown and distilled in Oman.
Why is this information important? There are several species of Frankincense that are grown in different parts of the Middle East. The carterii and sacra species have documented healing properties but it can be confusing.
Where is the name derived from? The name Olibanum is derived from the Arabic word "al-luban" which means "that which results from milking".
Why is this information so important? Its not, it's just a fun fact!
What Part of the Plant is Used? Gum/resin
What is the ORAC Value? 630 µTE/100gWhy know about this number? ORAC stands for Oxygen Radical Absorbance Capacity. It tells you the antioxidant capacity of a food item. Antioxidants have shown to reduce the risk of age related conditions and cancer! This was developed by the USDA researchers. For instance: Spinach = 1,400; Clove = 1,078,700. Wow! The number for clove is NOT a typo!
Most Interesting Historical Reference?
Did you know that Frankincense was traded over 5000 years ago in North Africa and on the Arabian Peninsula?
Did you know that Frankincense Oil was found in King Tutankhamen's tomb in Ancient Egypt? King Tut died in 1323 BC!
What are the Plant Properties? Anti-cancerous, anti-catarrhal, anti-depressant, anti-infectious, anti-tumoral, antiseptic, expectorant, immune-stimulant, muscle relaxant and sedative.
What are the Documented Uses and Benefits of Frankincense? Asthma, cancer, depression, infection (colds, coughs, pneumonia, respiratory, staph, strep), immune stimulant, inflammation, meditation, muscles, nervous conditions, spiritual connection, supports the nervous system, stress, ulcers and vertigo.
What is the Aromatic Affect on the Mind? It is uplifting and centering. Has a sweet, balsamic and warm aroma with incense-like overtones.
What is the Spiritual Influence? Sacred Frankincense Essential Oil has been used to awaken our spiritual awareness and connect with spirit for 5000 years or more. It will help us release parts of our ego which hold us back from connecting with our soul, as well as feelings of unworthiness and insecurity.
Once we are able to connect with our spiritual side, we can embrace our true purpose in the world and become more spiritually driven rather than ego driven.
Use Sacred Frankincense Essential Oil during meditation to connect with spirit and stay centered in yoga or meditation sessions.
What Chakra is Affected? Opens the heart, throat, third eye and crown chakras.
What is the corresponding Chakra Color? Gold
How do I use it?
Use NEAT (undiluted). Then,
Apply several drops (2-4) on location
Apply to chakras/vitaflex points
Directly inhale
Diffuse, or
Dietary Supplement
Good oil for the First Aid Kit? No
Can this Oil be used for Animals? Yes absolutely!
Note about Animal Use: Certain oils can be very toxic to cats if they are not therapeutic grade. Citrus and pine products and oils in particular which are of poor grade! Please consult your vet if you are not sure about applying any essential oil to your pet.
What are the Safety Precautions? Only therapeutic grade essential oils should be used for healing results. Because it is approved as a Food Additive (FA) and Flavoring Agent (FL) by the FDA, Frankincense Oil is readily available on the market in many different qualities.
Although it may be used as a dietary supplement, it is advised not to use it in this manner for children under 6 years of age.
Essential Oil Trivia?
Did you know that Sacred Frankincense grows only in the Dhofar region of Oman?
Yup, recent studies have now confirmed that!
Did you know that Frankincense is referred to in the Bible over 52 times?
To learn more about Healing Oils of the Bible, click here.
Want to Purchase Therapeutic Sacred Frankincense Essential Oil?
Go to the Oil Shop! Buy Sacred Frankincense Oil Here!
Tips and Testimonials from an Essential Oil User
Place several drops of Sacred Frankincense on your forehead (third eye) to assist in meditation or spiritual journeying.
Add to your favorite beverage or place in a capsule and use as a dietary supplement to combat inflammation and infection.
Have a Great Experience to Share About this Essential Oil?
Do you have a personal story to share about this Essential Oil? Please share it here!
Return from Sacred Frankincense Essential Oil to Essential Oil Singles S-Y