Trauma Life Essential Oil is the
Calm During the Storm!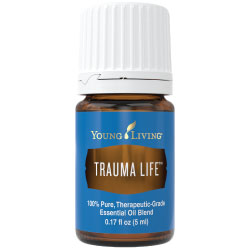 Trauma Life Essential Oil is an excellent blend for physical and emotional shock and trauma. This is why I include it in my First Aid Kit for dogs, horses and humans.
Use it during human and horse emergencies, to deal with grief, or as a natural remedy for depression! There are so many uses in the emotional category I can't list them all here!
Are you dealing with any emotional issues in relation to past trauma or abuse? Try Trauma Life oil, it really helps to release buried emotional stuff and get to the root of the problem.
This is why it is so effective for healing and emotional release work for humans and animals. I have had horses that come from abusive situations that have moved on to new owners and are doing extremely well!
And when one of my animals, riders or me have been in an accident or injured, it is one of the first oils I reach for along with Peace & Calming blend.
It is emotionally calming and grounding which is good when everyone around you is panicking! The animals in these situations relax immediately; just seem to know that it is helping them deal with the situation.
If there is a lot of chaos in your home or work place, I would consider diffusing it. Or if you have any hyperactive children or animals. I am not so sure that you will love the smell, but you will certainly love the results!
Use it with Peace & Calming, Joy or Into the Future to magnify the effect!
This is a fun and easy reference guide for Trauma Life Oil Blend. It will tell you how to use your oil blend and what to use it for. It will also provide you with some fun tips and testimonials!
As I receive new tips and testimonials they will be added to the page, so check back frequently!
---
Trauma Life Essential Oil Blend™
What is in Trauma Life Essential Oil Blend? There are ten different oils in Trauma Life oil blend. They are listed below along with a brief description of each oil.
Frankincense Essential Oil (Boswellia carteri) has anti-depressant, ant-infectious and immune stimulating properties. The high sesquiterpenes level stimulates and oxygenates the limbic system of the brain which elevates our mood and helps us relax (overcome stress).


Sandalwood Essential Oil (Santalum album) has anti-depressant, astringent, aphrodisiac and sedative properties. It is calming and emotionally balancing and is used for depression and stress.


Valerian Essential Oil (Valeriana officinalis) can depress the central nervous system and has antispasmodic and sedative like properties. It is emotionally grounding and calming. Used for stress, trauma, insomnia and anxiety.


Lavender Essential Oil (Lavandula angustifolia) has analgesic and anti-spasmodic properties. It helps relief stress, sore muscles, menstrual cramps and nervous tension in the body.


Spruce Essential Oil (Picea mariana) has anti-inflammatory properties and helps us combat infection. Emotionally, it is grounding and releasing.


Geranium Essential Oil (Pelargonium graveolens) has anti-inflammatory, antioxidant, anti-depressant, and sedative properties. Its aroma lifts the spirit and releases negative emotions.


Helichrysum Essential Oil (Helichrysum italicum) is a powerful natural anti-inflammatory. It also improves circulation and may help cleanse the blood. Helps to leg go of negative feelings.


Rose Otto Essential Oil (Rosa damascena) has anti-hemorrhaging, anti-infectious and aphrodisiac properties. It is stimulating to the mind and creates a sense of well being.


Davana Essential Oil (Artemisia pallens) is anti-infectious and stimulates the endocrine system to improve hormonal balance. It helps ease anxious feelings and nervousness.


Limette (Citrus Hystrix) contains aldehydes and esters that have sedating and calming properties.
Do you want more information about the individual oil? Just click on the name of the oil to find out other interesting information such as:
What Part of the Plant is Used?
What is an ORAC Value?
What is the ORAC of the Oil?
What are the Plant Properties and Uses?
Where is the Name derived from?
The Most Interesting Historical Reference?
And more!
What are the Documented Uses for Trauma Life Essential Oil? Acceptance, abuse, accidents, agitation, Alzheimer's Disease, anger, animals (traumatized), assault, balance, emotional blocks, calming, cancer (emotions related to), coma, hyperactive children, coma, death of loved one, depression, deprogramming, despondency, fainting, hyperactivity, insomnia, loss, mood swings, overcome difficult situations, release, negative emotions, panic, peace, increases oxygen to the pituitary gland, postpartum depression, relaxation, restlessness, sedative, shock, sleep, stress (emotional and physical), suicidal tendencies, tension (and headache), and trauma (emotional and physical).
What Body Systems are Affected? Nervous System
What is the Aromatic Affect on the Mind? Calming and balancing.
What is the Spiritual Influence? Trauma Life goes to the root of the problem when we are blocked emotionally due to past trauma (accident or injury) or abuse (physical or mental).
It will help us release anger and resentment towards childhood trauma, even past life trauma. In these situations the oils of Inner Child, SARA and Release may also be effective, either separate or combined.
It also helps those who are dealing with sorrow or grief for a loved one or animal. In this case I would diffuse or add Joy as well.
Either way, this oil helps us overcome difficult situations by releasing the emotional edge that keeps us stuck. This is why it is one of the essential oils used to help cancer patients' deal with the emotional side of cancer. It is welcome at my home or barn on any day.
What Chakra is Affected? Opens the root and sacral chakras.
How do I use it?
Use NEAT (undiluted) then,
Apply several drops (2-4) to wrists, behind the ears, neck and feet
Apply to chakras/vitaflex points
Directly inhale, or
Diffuse.
Good oil for the First Aid Kit? Yes, great for shock, trauma and relaxing.
Can this oil be used for Animals? Yes, I have had great results with this oil! See the introduction for details.
Note about animals: Certain oils can be very toxic to cats. Citrus products and oils in particular that are not of therapeutic grade! Please consult your vet if you are not sure about applying any essential oil to your pet.
What are the Safety Precautions? Trauma Life essential oil does not have any known contraindications. Non-irritating and non-toxic.
Want to Purchase Therapeutic Trauma Life Essential Oil?
Go to the Oil Shop! Buy Trauma Life Oil Here!
Tips and Testimonials from an Essential Oil User
Place on your dogs paw if they are having trouble sleeping especially if they are in pain.
Have a Great Experience to Share About this Essential Oil?
Do you have a personal story to share about this Essential Oil? Please share it here!
Return from Trauma Life Essential Oil to Horse Emergencies