Nan's Experience Essential Oils Membership provides Exclusive EO Training and Coaching on Transformation, Functional Wellness, Animal Topics and More!

FREE ACCESS to E-Merald Level with THREE Training Bundles!

 Click HERE to LEARN MORE and Get INSTANT ACCESS to E-merald Level Trainings!
Celebration Essential Oil
Celebrate ALL of You!

Celebration Essential Oil encourages you to embrace all of who you are and then some. It supports mental alertness and uplifts mental fatigue.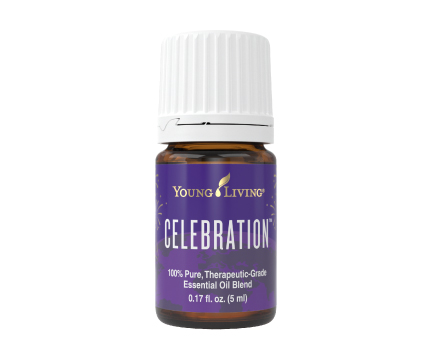 This oil is specially formulated to bring harmonic balance to the energy centers or chakras of the body. It  encourages feelings of enthusiasm for life and all of what you have in your life. 
Celebration was created in 2014 to celebrate the European market. It may be a limited offering so grab a bottle when you can!

This is an easy reference guide for Celebration Essential Oil Blend. It will tell you how to use your oil blend and what to use it for. It will also provide you with some fun tips and testimonials!
As I receive new tips and testimonials they will be added to the page, so check back frequently!
Want to Purchase Therapeutic Celebration ssential Oil?
Go to the Oil Shop! Buy This Oil Here!
---
Experience Celebration Essential Oil Blend™
What is in Celebration Essential Oil Blend?
There are over ten different oils in this blend. They are listed below along with a brief description of each oil.
Lavender Essential Oil (Lavandula angustifolia) can help you relax, wind down before bed and even ease stress due. Its balancing properties create a harmonizing atmosphere when diffused.
Angelica Essential Oil (Angelica archangelica)  the "Oil of Angels" and helps to provide a feeling of safety and security. It is emotionally balancing.
German Chamomile (Matricaria recutita) made from german chamomile flowers contains chamazulene, a compound studied for its ability to support the body's natural response to irritation*. It clears the mind and creates patience and peace.
Cardamom Essential Oil (Elettaria coardomomum) has been traditionally used through inhalation to invigorate the mind and internal consumption to protect the stomach*. It has also been used traditionally to alleviate mental fatigue and nervous strain. Modern scientific research has not yet validated these traditional claims.
Rosemary Essential Oil (Rosmarinus officinalis CT cineol) was one of the most broadly used plants throughout the ages. Rosemary includes the naturally occurring constituents eucalyptol and alpha-pinene.
Peppermint Essential Oil (Mentha piperita) is one of the most highly regarded herbs for supporting normal digestion when taken internally*. It is also a key oil in the Raindrop Technique.
Dill Seed Vitality Oil  (Anethum graveolens) reduces nervous tension and stress in the auric field.

Sacred Sandalwood Essential Oil (Santalum album) is calming and emotionally balancing and is used for stress and unwinding. Also called Aloes.
Ylang Ylang Essential Oil (Cananga odorata) restores confidence and equilibrium.
Frankincense Essential Oil (Boswellia carteri) is high in sesquiterpenes which helps to uplift spirits and promotes relaxation (overcome stress).
Orange Essential Oil (Citrus sinensis) is rich in d-limonene and may aid in maintaining normal cellular regeneration*. Also has calming effects and may be used for feelings of peace.
Hyssop Essential Oil (hyssopus officinalis) is noted for its purifying properties.
Sage Lavender or Spanish Sage Essential Oil (Salvia lavandulifolia) is emotionally balancing and can be used for relaxation
Want More Information About the Individual Oil? Just click on the name of the oil to find out other interesting information such as:
What Part of the Plant is Used?
What is an ORAC Value?
What is the ORAC of the Oil?
What are the Plant Properties and Uses?
Where is the Name derived from?
The Most Interesting Historical Reference?
And more!
What are the Documented Uses for Celebration Essential Oil? Harmonizing; balancing emotions and environments; encouragement; restore mental alertness from fatigue; and celebration of life.

What is the Aromatic Affect on the Mind? Uplifting and clearing.

What is the Nan's Mental (Mindset), Emotional and Spiritual Interpretation of this Oil?
Celebration Essential Oil encourages you to embrace all of who you are and encourages positive enthusiasm for life.
When we are mentally tired, we become physically, emotionally and spiritually tired as well. Our energy centers feel imbalanced and our zest for our life, career and even our passion for what we do in the world becomes drained.
This is a good oil when we feel stuck in this place. It will re-fresh our outlook by balancing the chakras and helping us see the "good" work we have done in our life. Then one step or one "celebration" at a time, we can once again, see our way through to the "truth". And then once again we will be energized and be able to celebrate our life.

What Chakra is Affected? Harmonizes all the chakras.
How Do I Use It?
Use NEAT. Then,
Apply several drops (2-4) to neck and wrists;
Diffuse in home and workplace; and

Apply to chakras.

Can this Oil be Used for Animals? Yes! Great one to balance the environment when diffused. This will help kennels, barns and other animal environments.

Note About animals: Certain oils can be very toxic to cats. Citrus products and oils in particular when they are not of therapeutic grade! Please consult your vet if you are not sure about applying any essential oil to your pet.
What are the Safety Precautions? Celebration essential oil does not have any known contraindications.
May be photosensitive.

If pregnant or under a doctor's care, consult your physician.
Want to Purchase Therapeutic Celebration Essential Oil?
Go to the Oil Shop! Buy This Oil Here!
Tips and Testimonials from an Essential Oil User
Use to balance the environment. This would be an excellent oil to diffuse in the workplace!

Return from Celebration Essential Oil Blends A-D