Nan's Experience Essential Oils Membership provides Exclusive EO Training and Coaching on Transformation, Functional Wellness, Animal Topics and More!

FREE ACCESS to E-Merald Level with THREE Training Bundles!

 Click HERE to LEARN MORE and Get INSTANT ACCESS to E-merald Level Trainings!
Premium Essential Oils Collection
by Young Living - Seed to Seal!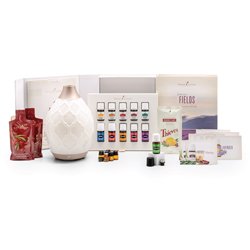 Premium Essential Oils Collection™ by Young Living was created to support your whole-life wellness! This is a great starter kit as it contains oils for relaxation, winding down before bed time, and supporting healthy digestive, immune and respiratory systems* (vitality oils). Great for home, office, barn or kennel.
It is included in Young Living Membership Starter Kits and is not sold alone. The photo shows one of those kits.

Contains ELEVEN therapeutic grade essential oils of 5 ml each: Frankincense, Lavender, Peppermint Vitality, Lemon Vitality, Thieves Vitality, Di-Gize Vitality, PanAway, Citrus Fresh Vitality, Raven, Peace and Calming and Valor.
PLUS: With Premium kits you get a BONUS OIL! Stress Away, a top blend for people and animals!

Interested in Saving 24% Off Essential Oils from Retail?
Then consider Young Living Essential Oils Membership. Starter Kits include the Premium Oil Collection and a Diffuser that are valued way above the cost of the kit. For more information, click here.
Want to Experience The Premium Essential Oil Collection?
Then consider Young Living Essential Oils Membership.
---
Experience the Premium Essential Oils Collection ™
What is in the Premium Essential Oils Collection?  There are ten different oils contained in this kit.
They are listed below along with a brief description of each oil.
Frankincense Essential Oil (Boswellia carteri) is high in sesquiterpenes which helps to uplift spirits and promotes relaxation (overcome stress).
Lavender Essential Oil (Lavandula angustifolia) can help you relax, wind down before bed. It's balancing properties harmonize any atmosphere especially when diffused. Your kids and pets will love it!

Peppermint Vitality Essential Oil (Mentha piperita) is one of the most highly regarded herbs for supporting normal digestion, including promoting healthy intestinal function and gastrointestinal system comforts*.

Lemon Vitality Essential Oil (Citrus limon) consists of 68 percent d-limonene. It has cleansing and purifying properties, and is very uplifting.

DiGize Vitality Essential Oil is supportive of a healthy digestive system*. Includes naturally occurring constituents such as menthol, citrol, and zingibere.
Thieves Vitalilty Essential Oil is highly effective in supporting the immune system and promoting good health*. This proprietary essential oil blend was university tested for its cleansing abilities.  This oil was based on the ingredients found in the "Four Thieves Vinegar" or "Marseilles Vinegar". 

PanAway Essential Oil - is excellent for minor muscle discomfort due to exercise. This cooling oil soothes and cools muscles while uplifting your senses. Supports the appearance of healthy skin coloration.
Citrus Fresh Vitality Essential Oil is perfect for zesting up your water or favorite recipe. Or place in the diffuser to clear out disagreeable pet and/or cooking odors! Combination of citrus oils and spearmint uplifts your day!

Raven Essential Oil supports, cools and soothes especially when placed on the bottom of feet or over chest. Includes eucalyptus, wintergreen and ravintsara.

Valor Essential Oil promotes relaxation and encourages courage. It helps to align energies in the body and the chakras with its beautiful blue hues. Great for people and animals!
Peace and Calming Essential Oil is my number one oil blend that I like to use to promote relaxation. Kids and animals just love this oil! Use before bed, stressful events or to help ease emotional triggers.

Please note: One or more of the following essential oils may be substituted in the event of sourcing constraints or supply considerations: AromaEase™, Citrus Fresh™ Vitality™, Lemongrass Vitality™, Orange Vitality™ and Tea Tree.
Want More Information About the Individual Oil? Just click on the name of the oil to find out other interesting information such as:
What Part of the Plant is Used? 
What is the ORAC of the Oil?
What are the Plant Properties and Uses?
Where is the Name derived from?
The Most Interesting Historical Reference?
What are the Documented Uses for Premium Essential Oils Collection? Please refer to the individual oils.
What is the Aromatic Effect on the Mind? Please refer to the links for the individual oils.
What is Nan's Mental (Mindset), Emotional and Spiritual Interpretation of this Oil?
Please refer to the links for the individual oils. All of these oils will help to open our heart and mind to our spiritual connection to our God.
What Chakra is Affected?  Please refer to the links for the individual oils.
How Do I Use the Kit?
The Premium Essential Oils Collection comes with a brochure on how to use each of the oils contained in it. Please also refer to the links for the individual oils.

Can this Kit be Used for Animals? YES! Please refer to the links for the individual oils.
Note About Animals: Certain oils can be very toxic to cats. Citrus products and oils in particular.  Please consult your vet if you are not sure about applying any essential oil to your pet.
What are the Safety Precautions? Please refer to the links for the individual oils.
Would you like to Purchase This Collection of Oils?
This kit is only offered through Young Living Essential Oil Membership. Please click on the link for more information or call us at 561-315-6334!

Return from Premium Essential Oils Collection to Premium Starter Kit