Essentialzymes Digestive Enzymes Supplement
 with Essential Oils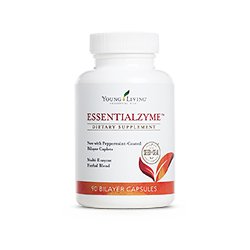 Essentialzymes Digestive Enzymes Supplement is a pancreatin enzyme supplement that contains pancrelipase, pancreatin, bromelain, lipase, trypsin and Betaine HCL; as well as six essential oils including cumin, anise, peppermint, tarragon, clove and fennel.
It is formulated to support healthy digestion, improve overall enzyme activity, and support healthy pancreas function. Learn about all the benefits of digestive enzymes and the types of enzymes as well before selecting which enzyme is right for you.
I love that these enzymes contains essential oils. Plant enzymes help with the absorption and uptake of nutrients; and have all the other benefits of essential oils of course!
Essentialzymes are safe for human and animal use. My horse will eat them right out of my hand! Maybe it's the peppermint oil in them!
This is an easy reference guide for Essentialzymes Supplement. It will tell you how to use it and what to use it for!
Want to Purchase Essentialzymes Digestive Enzymes Supplement?
To purchase this product, visit The Oil Shop!
Essentialzymes Digestive Enzymes Supplement™
What is in Essentialzymes Digestive Enzymes Supplement?
There are several natural ingredients as well as seven essential oils in Essentialzymes.
The natural ingredients include:
Betaine HCl - HCL supports the break down of protein in your food to promote healthy digestion.

Pancrelipase enzymes support the breakdown of fat, protein and starch.

Pancreatin 10x - is a full spectrum enzyme helps to digest proteins that contain proteases, amylases and lapases.

Bromelain – comes from pineapple stems and supports digestion of carbohydrates.

Trypsin – is an amino acid that helps to convert carbohydrates into energy; and supports food assimilation and nutrient absorption.

Alfalfa Meal (Medicago sativa) is extremely high in chlorophyll and minerals.

Carrot Root Powder (Daucus carota) Traditionally, it has been used for digestive complaints due to its tonic properties.

Vegetable sterols (Phytosterols)

Croscarmellose sodium - natural tableting agent. Also found in foods.

Manganese Stearate – natural hardening agent.

Di-calcium phosphate – natural tableting agent. Also found in foods.

Stearic acid – saturated fatty acid used in supplements for hardening.
The essential oils that are contained in Essentialzymes Digestive Enzymes Supplement are listed below along with a brief description of the oil.
Thyme Essential Oil (Thymus vulgaris CT thymol)  Thyme may supports the immune, respiratory, digestive, nervous, and other body systems. It contains large amounts of thymol.

Fennel Essential Oil (Foeniculum vulgare) The Benefits of Fennel date back to the ancient Egyptians. Use Fennel Essential Oil to support the circulatory glandular and respiratory systems.

Tarragon Essential Oil (Artemisia dracunculus) Tarragon Plant and Essential Oil It is supportive to a healthy digestive system and used topically in Europe as a digestive aid.
Clove Essential Oil (Syzygium aromaticum) promotes a healthy immune response, and may support overall wellness. An important ingredient in Young Living's Thieves blend, its principal constituent is eugenol.s eugenol, which is used in the dental industry to numb the gums!

Peppermint Essential Oil (Mentha piperita) is one of the most highly regarded herbs for supporting normal digestion, including promoting healthy intestinal function and gastrointestinal system comforts. It is also a key oil in the Raindrop Technique.

Cumin Essential Oil (Cuminum cyminum) May support healthy immune system.

Anise Essential Oil (Pimpinella anisum)

Do you want more Information about the Individual oil? Just click on the name of the oil to find out other interesting information such as:
What Part of the Plant is Used?
What is an ORAC Value?
What is the ORAC of the Oil?
What are the Plant Properties and Uses?
Where is the Name derived from?
The Most Interesting Historical Reference?
And more!
What are the Documented Uses for Essentialzymes? Healthy Digestion and Digestive System. Improve overall enzyme activity, reduce pancreatic stress, and support healthy pancreatic function.
How do I use Essentialzymes Digestive Enzymes Supplement?
Take one tablet per day or up to three tablets per day three times per day are allowed. Take with meals to assist with digestion, especially meals high in protein. Take in between meals to improve the body's overall enzyme activity, and support healthy pancreatic function.
Can this product be used for Animals? Yes, use a dosage for dogs and horses according to weight using above guidelines for human. Place it in their food as needed.
Note about Animals: Certain oils can be very toxic to cats especially when poor quality oils are used. Citrus products and oils in particular that are not of therapeutic grade. Please consult your vet if you are not sure about applying any essential oil to your pet.
What are the Safety Precautions of Essentialzymes Digestive Enzymes Supplement? Keep in a cool place away from excessive heat or direct sunlight.
If you are pregnant, nursing, taking medication, or have a medical condition, consult a health professional prior to use.
Do not give this product to children under 12 years of age except under the supervision of a health professional. Keep in a cool dry place.
Want to Purchase Essentialzymes Digestive Enzymes Supplement?
To purchase this product, go to The Oil Shop
Return from Essentialzymes Digestive Enzymes Supplement to Essential Oil Plant Enzymes