MultiGreens Spirulina Dietary Supplement Chlorophyll Formula with Amino Acids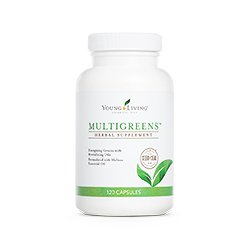 MultiGreens Spirulina Dietary Supplement is a chlorophyll supplement with benefits of bee pollen, anti-aging amino acids, kelp and choline.

Chlorophyll benefits may include:
Provide excellent natural source of vitamins and minerals, including Vitamin K and magnesium.

Excellent source of choline which is supports energy production.
May support healthy blood and digestive system. The basic structure of chlorophyll is similar to that of heme in hemoglobin, the difference being that the central atom in chlorophyll is magnesium instead of iron.
Spirulina health benefits include providing a rich source of magnesium. Bee pollen benefits include providing a natural source of protein, vitamins and minerals including Vitamin B and calcium.
Kelp benefits include providing a natural source of iodine which is required for healthy thyroid function.  Barley grass is a powerful antioxidant and contains many minerals; and alfalfa meal is extremely high in chlorophyll and minerals as well.
Did you know that Amino Acids are Building Blocks of Protein in the body; and Support Healthy Cell Function?
Yes, humans produce 10 of 20 amino acids that are essential to the body; and the others must be sourced from the food we eat. Essential means that we must have them for the body to operate. They are the building blocks of healthy hair, skin, cells, and body systems.

Amino acid and enzyme deficiency in the body may contribute to the aging process; and must be added back as we grow older. Amino acids are not stored therefore we must supplement them every day.
Contains therapeutic grade essential oils including Geranium, Rosemary, Lemon, Lemongrass and Melissa.

Want to Purchase MultiGreens Spirulina Dietary Supplement with Anti-aging Amino Acids?
---
MultiGreens™ Supplement

What is in MultiGreens Spirulina Dietary Supplement with Amino Acids? 

MultiGreens Spirulina Dietary Supplement combines natural ingredients as well as essential oils.
A brief description of each ingredient is provided below:


Choline Bitartrate – Used primarily to support healthy liver function.
Bee Pollen Powder - Bee pollen benefits may include excellent source of enzymes, amino acids and Vitamin C.
Barley Grass (Hordeum vulgare) – Is an antioxidant rich in vitamins and minerals.
Spirulina (Spirulina platensis) – Is a fantastic source of chlorophyll which is rich in magnesium.

Eleuthero Root extract or Siberian Ginseng (Eleutherococcus senticosus) – may support healthy endocrine and immune systems.
Alfalfa Leaf and Stem Concentrate (Medicago sativa) - Source of enzyme, amylase and high in chlorophyll.
Pacific Kelp Whole Thallus (Laminaria digitata) - Kelp is a natural ingredient whose main component is iodine.
L-arginine - An amino acid that may support healthy heart function.
L-cysteine – An amino acid that promotes glutathione production

L-tyrosine - An amino acid that supports healthy brain and heart. 
Essential Oils include:
Lemon Essential Oil (Citrus limon) Lemon consists of 68 percent d-limonene. It has cleansing and purifying properties. Jean Valnet MD estimated that it takes 3,000 lemons to produce one kilo of oil!
Rosemary Essential Oil (Rosmarinus officinalis CT cineol) was one of the most broadly used plants throughout the ages. Supports a healthy lifestyle regimen and overall well-being. This oil provides a savory addition to many meats marinades, side dishes, and dressings. Rosemary includes the naturally occurring constituents eucalyptol and alpha-pinene.
Lemongrass Esential Oil (Cymbopobon nardus) The Benefits of Lemongrass include supports healthy digestive system. Contains the naturally occurring constituent geranial.
Melissa or Lemon Balm Essential Oil (Melissa officinalis) uses include supportive of immune system function. It is strengthening and revitalizing, yet soothing and calming making it good to ease stress. Several studies report that Melissa may benefit the skin.
Do you want more information about the individual oil? Just click on the name of the oil to find out other interesting information such as:
What Part of the Plant is Used?
What is an ORAC Value?
What is the ORAC of the Oil?
What are the Plant Properties and Uses?
Where is the Name derived from?
The Most Interesting Historical Reference?
And more!
What are the Documented Uses for MultiGreens Spirulina Dietary Supplement?  Supports vitality by supporting healthy glandular, nervous, and circulatory systems.
How do I use MultiGreens Spirulina Dietary Supplement?
If you have a slower metabolism, take 3 capsules once or twice daily. If you have a faster metabolism, take 4 capsules once or twice daily. For best results, take 1 hour before meals. For stomach sensitivity, take with meals.
Can this oil be used for Animals?  Yes, absolutely, can be used for all animals including birds and exotics. Cats can start at about ½ capsule per day; dogs one tablet per 10 lbs of body weight; and more for large animals including horses.

Note about Animals: Certain oils can be very toxic to cats especially if the quality of the oil is not pure. Citrus products and oils in particular when not therapeutic grade.  Please consult your vet if you are not sure about applying any essential oil to your pet or giving an essential oil supplement to your pet.
What are the Safety Precautions? Contains bee products-possible allergen.
If pregnant or under a doctor's care, consult your physician.
Return from MultiGreens Spirulina Dietary Supplement to Essential Oil Supplements