Nan's Experience Essential Oils Membership provides Exclusive EO Training and Coaching on Transformation, Functional Wellness, Animal Topics and More!

FREE ACCESS to E-Merald Level with THREE Training Bundles!

 Click HERE to LEARN MORE and Get INSTANT ACCESS to E-merald Level Trainings!
Allerzyme Digestive Enzymes Supplement -
Supports Healthy Digestion*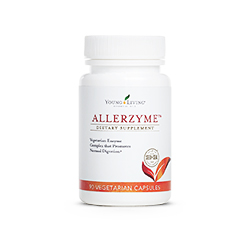 Allerzyme Digestive Enzymes Supplement is used to support healthy digestion*.
It is formulated to support a healthy digestive system*. Learn about all the benefits of digestive enzymes and the types of enzymes as well before selecting which enzyme is right for you.
Enzymes help to break down processed food or wheat gluten in the gut. Undigested food creates inefficient digestion. The digestive track is designed to extract minerals and nutrients from the food we eat.

To support healthy digestion, also consider adding a probiotics such as Life 9. I always take Allerzyme and Essentialzymes when I eat out.

I love that Allerzyme contains essential oils. Oils in enzymes ensure you reap the benefits of essential oils.

Allerzyme is safe for human and animal use.

This is an easy reference guide for Allerzyme Supplement. It will tell you how to use it and what to use it for!
Want to Purchase Allerzyme Digestive Enzymes Supplement?
To purchase this product, go to The Oil Shop!
---
Experience Allerzyme Digestive Enzymes Supplement with Essential Oils

What is in Allerzyme Digestive Enzymes Supplement?
There are several natural ingredients as well as eight essential oils in Allerzyme Digestive Enzymes Supplement.
The natural ingredients include:
Protease 3, 4.5 and 6 - enzymes that help to digest protein.

Amylase enzymes which digests starch, carbohydrates and sugars.

Cellulase enzyme – This enzyme helps to digest plant material.

Invertase – Enzyme which assists in the break down of sugars. Converts sucrose to glucose and fructose.

Lipase – Enzyme which helps to digest fat.

Pepitidase – Helps to break down proteins into amino acids. Form of protease.

Phytase – Catalyzes Phytic acid which is found in foods containing phosphorous including grains and oil seeds.

Bromelain – A plant derived enzyme coming from pineapple stems

Lactase – Assists in the break down dairy products (milk sugars).

Alpha galactosidase – assists in the break down beans, legumes, seeds, soy products, roots and underground stems.

Malt Diastase

Plantain (sulfite free)

Barley sprout powder

Vegetable cellulose

Silica

Deionized water
The essential oils that are contained in Allerzyme Digestive Enzymes Supplement are listed below along with a brief description of the oil.
Want More InfromationAbout the Oils in this Product?
Just click on the name of the oil to find out other interesting information such as:
What Part of the Plant is Used?
What is an ORAC Value?
What is the ORAC of the Oil?
What are the Plant Properties and Uses?
Where is the Name derived from?
The Most Interesting Historical Reference?
And more!
What are the Documented Uses for Allerzyme? Healthy Digestion and Digestive System*

What Body Systems are Supported? Healthy Digestive System*
How do I Use it?
Take one capsule per day or up to two capsules per day three times per day are allowed.

Can this product be used for Animals? Yes, love these enzymes for animals. The capsule is very small (Number 3 or 4 capsule) so it is very easy to use. I would use one capsule or less for a cat or small dog; 1-3 capsules for a medium dog; and 3-5 per day for large dogs. Split them up and feed each meal.
I usually use Essentialzymes for horses due to quantity required for horses.

Note about Animals: Certain oils can be very toxic to cats. especially when poor quality oils are used. Citrus products and oils in particular that are not therapeutic grade. Please consult your vet if you are not sure about applying any essential oil to your pet.
What are the Safety Precautions Allerzyme Digestive Enzymes Supplement? Keep in a cool place away from excessive heat or direct sunlight.
If you are pregnant, nursing, taking medication, or have a medical condition, consult a health professional prior to use.
Do not give this product to children under 12 years of age except under the supervision of a health professional.
Keep in a cool dry place.
Want to Purchase Allerzyme Digestive Enzymes Supplement?
To purchase this product, go to The Oil Shop
Return from Allerzyme Digestive Enzymes Supplement to Enzyme Digestive Suplements