Abundance Essential Oil for 
Manifesting Health and Wealth!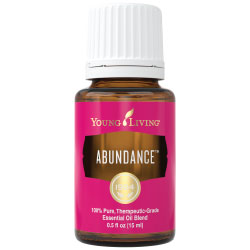 Abundance Essential Oil is a manifesting blend which helps attracts wealth and health in our lives. The frequency of the oil is the same as the brain which helps stimulate somatides.
What are Somatides?
Somatides transmit frequencies from the cells to outside of the body. This happens when you smell Abundance essential oil and project thoughts of prosperity into the universe. In simpler terms, this is called the "Universal Law of Attraction"!
Of all the law of attraction techniques, I think this is the simplest! Just smell the oil and think about abundance. Or diffuse it at home or at work.
Abundance essential oil also has anti-fungal and anti-viral properties; and the blend is a natural immune system booster. Immupower also builds up the immune system, but it doesn't smell quite as nice as Abundance.
Abundance has a spicy aroma that reminds me of holiday eggnog and mulled rum punch. I like to wear it as a perfume and the guys can wear it as cologne as well!
This is a fun and easy reference guide for Abundance Essential Oil Blend. It will tell you how to use your oil blend and what to use it for. It will also provide you with some fun tips and testimonials!
As I receive new tips and testimonials they will be added to the page, so check back frequently!
Buy Abundance Essential Oil Here!
---
Abundance Essential Oil™
What is in Abundance Essential Oil Blend? There are eight different therapeutic grade oils in Abundance Blend. They are listed below along with a brief description of each oil.
• Myrrh Essential Oil (Commiphora myrrha) has antioxidant, antitumoral, anti-inflammatory and antiviral properties. It is excellent for fungal infections and skin conditions. It opens our mind to receiving gifts.
• Patchouli Essential Oil (Pogostemon cablin) is strongly grounding and centering. Very high sesquiterpenes that stimulate the limbic center of the brain. It reestablishes mental and emotional equilibrium and energizes the mind.
• Orange Essential Oil (Citrus sinensis) is elevating to the mind and body and brings joy and peace. A 1995 Mie University study documented the ability of citrus fragrances to combat depression and boost immunity.
• Clove Essential Oil (Syzygium aromaticum) has antiseptic, antiviral, anti-infectious and antifungal properties. It is COX inhibitor (anti-inflammatory) and has one of the highest ORAC values of any plant in the world! Creates a feeling of protection.
• Cinnamon Bark Esential Oil (Cinnamomum verum) has antiseptic, antiviral, antibacterial, anti-infectious and antifungal properties. It is COX inhibitor (anti-inflammatory) and is a strong oxygenator. Brings feelings of joy.
• Frankincense Essential Oil (Boswellia carteri) has anti-depressant and immune stimulating properties. The high sesquiterpenes level stimulates and oxygenates the limbic system of the brain which elevates our mood and helps us relax (overcome stress).
• Ginger Essential Oil (Zingiber officinale) has laxative, anesthetic, and anti-inflammatory properties. It is gentle and stimulating to the mind and used for digestive disorders and motion sickness. Emotionally it gives us courage.
• Spruce Essential Oil (Picea mariana) has anti-inflammatory properties and helps us combat infection. Emotionally, it is grounding and releasing. Supports us to open and receive.
Do you want more information about the individual oil? Just click on the name of the oil to find out other interesting information such as:
What Part of the Plant is Used?
What is an ORAC Value?
What is the ORAC of the Oil?
What are the Plant Properties and Uses?
Where is the Name derived from?
The Most Interesting Historical Reference?
And more!
What are the Documented Uses for Abundance Essential Oil? Abundance, anti-fungal, antimicrobial, anti-viral, bronchitis, denial, anti-depressant, energy, fungus, joyous, magnetic energy, immune system, plague, positive feelings, purification, respiratory system and wealth.
What Body Systems are Affected? Immune, Respiratory and Nervous System
What is the Aromatic Affect on the Mind? Its spicy aroma is uplifting and balancing.
What is the Spiritual Influence? This helps us release emotions of we are not enough and worry. It helps us let go of scarcity and poverty consciousness. This is an excellent oil for those who struggle and worry about money and want to move to a wealth consciousness.
What Chakra is Affected? Opens the root and heart chakras.
How do I use it?
Use diluted - 50:50 dilution (one part essential oil: one part of vegetable oil). Then,
Apply several drops (2-4) to wrists, over heart, neck and feet;
Apply to vitaflex points;
Directly inhale; or
Diffuse.
Good oil for the First Aid Kit? No
Can this oil be used for Animals? Yes, I have not had a reason to use it on my dog, but I have used it at the farm. My horse Roxie loves the smell!
Note about animals: Certain oils can be very toxic to cats. Citrus products and oils in particular if not therapeutic quality! Please consult your vet if you are not sure about applying any essential oil to your pet.
What are the Safety Precautions? Abundance essential oil does not have any known contraindications. However repeated use can result in extreme contact sensitization. Can result in skin irritation; therefore dilution maybe necessary.
Want to Purchase Therapeutic Abundance Essential Oil?
Go to the Oil Shop! Buy Abundance Oil Here! 
Tips and Testimonials from an Essential Oil User
Diffuse it in your office to create abundance for your business.
If you are in retail, place a drop on your packages before they are sent to your customers!
Place a drop on a damp wash cloth and use as a natural dryer sheet!
Have a Great Experience to Share About this Essential Oil?
Do you have a personal story to share about this Essential Oil? Please share it here!
Return from Abundance Essential Oil to Esential Oils Perfume