Dog Loss of Appetite - Essential Oils
May Encourage them to Eat Up!
Dog loss of appetite can be contributed to many factors and finding out the root cause for the loss of appetite is important to completely solve the problem. Some of the things that create this situation include:
Illness including parasites - please take your dog to the vet

Digestive discomfort

Age (older dogs)
Diet
For instance, when I first got my dog Lexie she would spend at least two days a week not eating. She was going through many changes including emotional (change of residence, owner, etc) and diet which were the two roots causes. She also had to get use to being in a vehicle every day to get the barn.
I began using Di-Gize to support her digestive system* and ease the truck rides; and Peace & Calming for her stress level. I also used Citrus Fresh in between meals to uplift her attitude. All of the oils helped quite a bit, but she still just didn't want to eat a hardy meal until I changed her diet.

After trying many different organic dog foods, I switched her to a raw diet. She improved quickly and continued to use the oils to help support her emotionally, physically and mentally.
So what ever is creating the dog loss of appetite there is more than likely an emotional component and that is where therapeutic grade essential oils can support! Select one oil to work with and observe the changes before moving forward. 
Please note, as always, if your dog hasn't eaten in a day or so, or you think it may be more serious, PLEASE consult your vet! Oils are not a substitution for any medical consultation!

What Essential Oils May Help Increase Dog Appetite?
In general, use oils that will support a healthy digestive system*. They also are emotionally uplifting so they are an excellent choice.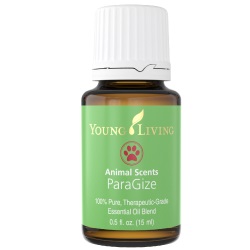 Just simply place one or two drops on your hand and pet head to toe. See essential oils for dogs for more info.

How do I Support the Emotional Component? (Dog Stress and More)
Essential oils can help with that also! Click here to find out what oils specifically help with dog stress. Also, look through the stress and horse emotions sections for tips; dogs use the same oils for stress as people and horses!
Return from Dog Loss of Appetite to Essential Oils for Dogs