Nan's Experience Essential Oils Membership provides Exclusive EO Training and Coaching on Transformation, Functional Wellness, Animal Topics and More!

FREE ACCESS to E-Merald Level with THREE Training Bundles!

 Click HERE to LEARN MORE and Get INSTANT ACCESS to E-merald Level Trainings!
Animal Scents T-Away Essential Oil
Essential Oils for Cats, Dogs & Horses

Animal Scents T-Away Essential Oil supports mental and emotional wellbeing and releases negative memories and blocks. Healthy non-toxic and natural support to maintain for your pet's emotional and mental well being.

People forget that animals have emotions also and sometimes when it goes unresolved it affects their attitude, their training and their way of being. Essential oils can help to soothe and release emotions that affect animals especially those that have come from poor homes and negative situations.
Horse emotions are pretty easy to peg when you walk in the barn with some carrots or a bottle of peppermint oil. They will show you who's in charge, who backs off and who stands out pretty quickly. lol

Whether you are a veterinarian, pet owner, animal massage therapist or practitioner you will love the gentle and safe animal scents oils. Animal Scents T-Away essential oil is part of the wonderful part of the Animal Scents Essential Oil Care Collection Kit which has six oils that are pre-diluted to give you peace of mind when you use them.

This is an easy reference guide for Animal Scents T-Away Essential Oil Blend. It will tell you how to use your oil blend and what to use it for. It will also provide you with some fun tips and testimonials!
As I receive new tips and testimonials they will be added to the page, so check back frequently!
Oh, and don't forget to check out Animal Scents Ointment and Animal Scents Shampoo!

Want to Purchase Therapeutic Animal Scents T-Away Essential Oil?
Go to the Oil Shop! Buy T-Away Essential Oil Here!
Experience Animal Scents T-Away Essential Oil Blend™
What is in Animal Scents T-Away Essential Oil?
There are eight different essential oils in Animal Scents T-Away essential oil. They are listed below along with a brief description of each oil.
Carrier Oil - Coconut Oil and Glycerin (Caprylic/capric triglyceride)
Royal Hawaiian Sandalwood Essential Oil (Santalum paniculatum) is  emotionally balancing and grounding. It is valued for its skin moisturizing properties.
Frankincense Essential Oil (Boswellia carteri)  is high in sesquiterpenes which helps to uplift spirits and promotes relaxation (overcome stress).  It may help smooth the appearance of healthy-looking skin, and is useful in combination with massage after exercise.
Valerian Essential Oil (Valeriana officinalis) from the root has been used for centuries. During the last three decades, it has been clinically investigated for its relaxing properties.

Spruce Essential Oil (Picea mariana) is grounding and releasing.
Davana Essential Oil (Artemisia pallens) It helps ease stressful feelings and nervousness.
Lavender Essential Oil (Lavandula angustifolia) can help you relax, wind down before bed and let go. Its balancing properties can harmonize an environment when diffused.
Geranium Essential Oil (Pelargonium graveolens) helps you relax and beatify your skin!

Helichrysum Essential Oil (Helichrysum italicum) known for its restorative properties and provides excellent support to the skin and nervous system.
Limette (Citrus Hystrix) contains aldehydes and esters that have calming properties.
Rose Otto Essential Oil (Rosa damascena) has an intoxicating aroma that opens the spiritual heart. Used for skin care for thousands of years, it is perfect for dry or aging skin. It helps bring balance and harmony with uplifting properties that create a sense of well-being.
Tangerine Essential Oil (Citrus reticulata) contains esters and aldehydes that are calming. Rich in d-limonene

Ylang Ylang Essential Oil (Cananga odorata) has a long history in skin and hair care products, particularly in Asia, where it is used to promote healthy, luxuriant hair. It also restores confidence and equilibrium.
Orange Essential Oil (Citrus sinensis) is rich in the d-limonene and may support cellular function. Also has calming effects and may be used for feelings of peace.
Angelica Essential Oil (Angelica archangelica) the "Oil of Angels" and helps to provide a feeling of safety and security. It is emotionally balancing.
Hyssop Essential Oil (hyssopus officinalis) supports a healthy skin and is noted for its purifying properties.
Sage Lavender or Spanish Sage Essential Oil (Salvia lavandulifolia) is emotionally balancing and can be used for relaxation.
Coriander Essential Oil (Coriandrum sativum) has been used since Ancient Egypt. It may support healthy skin.

Bergamot Essential Oil (Citrus bergamia) This essential oil has a calming aroma which relaxes the mind and body. It has a long history of use for oily and troubled skin.
Lemon Essential Oil (Citrus limon) consists of 68 percent d-limonene. It has cleansing and purifying properties. It takes 75 lemons to make one 15ml bottle of thereapeutic grade oil.
Jasmine Absolute (Jasminum officinale)  as a wonderful aroma that relieves stressful situations and uplifts the mind and body!

Roman Chamomile Essential Oil (Chamaemelum nobile) creates inner peace. It is a calming oil that resonates well with adults, children and animals! Soothing to all types of skin, it is used extensively in Europe in skin preparations.

Palmarosa Essential Oil (Cymbopogon martinii) also been known as Turkish Geranium or Indian Geranium Oil.

Patchouli Essential Oil (Pogostemon cablin) has a sweet and rich aroma that is very beneficial for the skin. Use to reduce wrinkled or chapped appearance.

Blue Tansy Essential Oil (Tanacetum annuum) has a slightly sweet and herbaceous aroma. Tansy plants have several species and this one is also called Moroccan Chamomile or Annual Tansy. Emotionally, it combats anger and negative emotions.
Rue Essential Oil (Ruta graveolens) Emotionally, it is relaxing and releasing.

German Chamomile Essential Oil (Matricaria recutita) made from german chamomile flowers contains chamazulene.  It clears the mind and creates patience and peace.
Want More Information About the Individual Oil? Just click on the name of the oil to find out other interesting information such as:
What Part of the Plant is Used?
What is an ORAC Value?
What is the ORAC of the Oil?
What are the Plant Properties and Uses?
Where is the Name derived from?
The Most Interesting Historical Reference?
And more!
What are the Documented Uses for Animal Scents T-Away Essential Oil? Abandonment. Emotional and mental wellbeing. Releasing negativity, charges and triggers from negative experiences and poor homes.

What is the Aromatic Affect on the Mind? Calms and releases.
What is the Nan's Mental (Mindset), Emotional and Spiritual Interpretation of this Oil?
T-Away essential oil helps animals release negative memories, attitudes, and emotions that hold them back from being in their heart and forgiving those who have wronged them.
This is exceptional good for those animals that have gone through negative experiences or neglectful situations. It also supports animals that are in transition with new homes or situations.

What Chakra is Affected? Opens and harmonizes all the chakras.

How Do I Use It?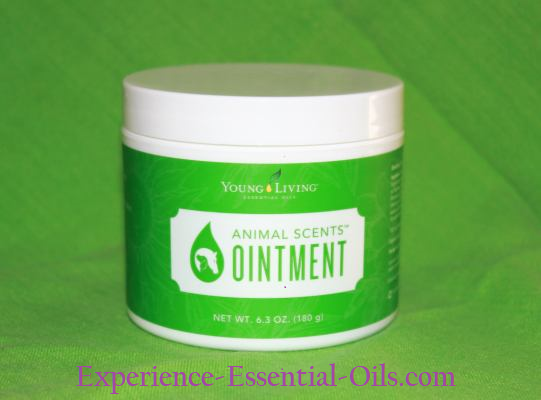 Use with Animal Scents Ointment!
Use NEAT (undiluted). Then,
Apply several drops (2-4) on ears or spine. Pet head to tail.
Apply to chakras

Directly inhale
Diffuse
Can this Oil be Used for Animals? Yes! Definitely use it for cats, dogs and horses. Oils designed specifically for the family pets!

Note About Animals: Certain oils can be very toxic to cats. Citrus products and oils in particular that are not of therapeutic grade! Please consult your vet if you are not sure about applying any essential oil to your pet.
What are the Safety Precautions? Generally safe for animals. I always recommend starting slower when introducing essential oils for horses, cats or dogs.

Want to Purchase Therapeutic Animal Scents T-Away Essential Oil?
Go to the Oil Shop! Buy T-Away Oil Here!
Tips and Testimonials from an Essential Oil User
Place a drop of Animal Scents T-Away essential oil on your palm and pet your dog or cat head to tail to promote a positive attitude.

Return from Animal Scents T-Away Essential Oil to Animal Scents Essential Oil Care Collection