Nan's Experience Essential Oils Membership provides Exclusive EO Training and Coaching on Transformation, Functional Wellness, Animal Topics and More!

FREE ACCESS to E-Merald Level with THREE Training Bundles!

 Click HERE to LEARN MORE and Get INSTANT ACCESS to E-merald Level Trainings!
Harmony Essential Oil
Balances the Chakras and Energy Centers
Harmony Essential Oil is a very powerful spiritual and emotional oil blend that has seventeen therapeutic grade oils!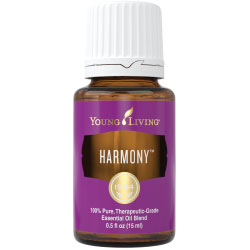 It promotes and helps to create harmony in all areas of our life no matter what seems to be out of balance. Our physical, emotional and spiritual bodies come together to create harmony in the world around us. When we are pushing to hard in one area of our life then often times the other areas of our lives suffer.
Harmony essential oil helps us to re-establish the connections by balancing the energy centers or chakras. It also allows us to ease stress and free emotional blocks softly and gently. Once this happens the energy in our body can flow free again and we feel more in control of our life.
This is an easy reference guide for Harmony Oil Blend. It will tell you how to use your oil blend and what to use it for. It will also provide you with some fun tips and testimonials!
As I receive new tips and testimonials they will be added to the page, so check back frequently!
Want to Purchase Therapeutic Harmony Essential Oil?
Go to the Oil Shop! Buy Harmony Oil Here!
---
Experience Harmony Essential Oil Blend™
What is in Harmony Essential Oil?
Please Note that Harmony oil was revised in summer of 2012 because of the deforestation and limited availability of Rosewood Essential Oil. See below for revised formula.
There are seventeen therapeutic grade essential oils in Harmony! They are listed below along with a brief description of each oil.
In the revised formulation, Rosewood has been replaced with the following oil:
Coriander Essential Oil (Coriandrum sativum) has been used since Ancient Egypt. It may support healthy assimilation of thoughts. This is important when making choices and moving forward with plans.
In the revised formulation 2014, Sandalwood has been replaced with:
Want more Information About the Individual Oil? Just click on the name of the oil to find out other interesting information such as:
What Part of the Plant is Used?
What is an ORAC Value?
What is the ORAC of the Oil?
What are the Plant Properties and Uses?
Where is the Name derived from?
The Most Interesting Historical Reference?
And more!
What are the Documented Uses for Harmony Essential Oil? Abundance,  agitation, anger, apathy, argumentative, balance, blocks, chakras, clearing, confusion, day-dreaming, deodorant, disappointment, electrical problems in the body, fear, grief/sorrow, guilt, harmony in systems, emotional heart, emotional upheaval and distress, jealousy, being in the moment, fear, protection, resentment, restlessness, shocker, stress, tension and well being.
What is the Aromatic Affect on the Mind? This beautiful aroma is balancing and calming for the body.
What is the Nan's Mental (Mindset), Emotional and Spiritual Interpretation of this Oil? And Other Uses?
Harmony essential oil will help those who like they are being ignored or crushed in their life. It can also release hostility, fear of being punished or the habit of beating one self up.
Most of these emotions stem from the lack of love or compassion for self. Harmony will help restore hope empathy and faith in self once again by balancing the emotional body.
Will help to harmonize and bring synergy to the mental, emotional, physical and spiritual aspects of wellness.

What Chakra is Affected? Opens the sacral chakra.
How Do I Use It?
Use NEAT (undiluted) then,
Apply several drops (2-4) on ears, throat, spine, wrists, neck, or feet
Apply to chakras

Directly inhale, or
Diffuse.
Can this Oil be Used for Animals? Yes, definitely.
I use if for help with releasing emotional issues.
I have had success with Harmony essential oil for horses that can't seem to focus; and are stubborn and/or restless. I have combined it with Live with Passion, Transformation, Clarity and Brain Power; but I think you can combine it with a number of oils and have great results. I use the Harmony first to balance the body, and then I follow up with the other oils.
Note about animals: Certain oils can be very toxic to cats. Citrus products and oils in particular that are not therapeutic grade! Please consult your vet if you are not sure about applying any essential oil to your pet.
What are the Safety Precautions? Those with epilepsy should not use this oil. Women who are pregnant or those who have high blood pressure should use this oil with caution.
Generally safe for children over 2 years of age.
This oil is photosensitive; therefore, direct exposure to sunlight may cause contact dermatitis. Avoid sunlight for 3-6 hours after application.
If pregnant or under a doctor's care, consult your physician.
Want to Purchase Therapeutic Harmony Essential Oil?
Go to the Oil Shop! Buy Harmony Oil Here!
Tips and Testimonials from an Essential Oil User
Use instead of Valor Essential Oil.

Have a Great Experience to Share About this Essential Oil?
Do you have a personal story to share about this Essential Oil? Please share it here!
Return from Harmony Essential Oil to Oil Blends E-H