NingXia Red Wolfberry Juice-
Benefits of Wolfberries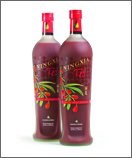 NingXia Red wolfberry juice incorporates the benefits of Goji berry, yuzu juice, aronia berry and therapeutic essential oils into a powerful antioxidant and nutritionally balanced drink. The NingXia and Chinese wolfberry have been used for thousands of years to boost the immune system, promote longevity and naturally detox the body.
In China, the wolfberry fruit is more often referred to as "goji" or lycii fruit. They are the bright red fruit of the Lycium barbarum plants. There are over eighty species of wolfberries worldwide that vary in antioxidant and nutritional value.
Lycium barbarum L is considered to have the most potential healing and medicinal properties in China as it grows in a flood plain which is sourced from the Himalayan Mountains. The Himalayan Mountains are known to be one of the riches sources of minerals and organic nutrients found on earth. And this valley is contaminant free which is a huge benefit as so much of China's soil is contaminated with heavy metals, particularly lead.
What are the Benefits of Wofberries?
The wolfberry benefits are amazing! They provide a natural source of calcium and magnesium, Vitamin B, antioxidants and more. For a complete list, click here!
What are the Benefits of NingXia Red Wolfberry Juice?
• Fantastic taste with no "junk-juice" (e.g., apple, white grape, pear, etc.) or added sugar.
• Contains a great whole food source of protein, fiber, minerals and vitamins.
• Contains therapeutic grade essential oils of yuzu, lemon, tangerine and orange.

• Contains natural antioxidants which protect the body against free radicals. It is free radicals that create cell oxidation and damage and are known to contribute to cancer, heart disease and more.
• Highest levels of naturally occurring, age defying S-ORAC activity. Studies have shown that S-ORAC supports cardiovascular health, boosts natural immune function and protects the eyes.
• Assists in detoxing the cells and organs including the kidneys and liver on a daily basis.
• Natural form of energy without sugar, caffeine or other artificial stimulants.
• Can be used to support animal health. Assists cats metabolize essential oils more efficiently by the liver.
• Only 15 calories per 1 ounce serving! 0 grams of Fat and 3 grams of Total Carbohydrates.  And only 14 mg of Sodium

Want to Learn More about NingXia and the Best Way to Get It?

Great! Then listen to this fantastic video!
How Does NingXia Red Compare to Other Antioxidant Drinks?
Independent testing from Brunswick Laboratories showed that Ningxia Red contained the highest amount of superoxide radical (S-ORAC) the most powerful antioxidant when compared to other antioxidant drinks on the market. See Chart Below and here.
Want to Purchase NingXia Red?
Please contact Nan as the weight of this product does not allow me to put it on The Oil Shop. But is available for purchase! NingXia wolfberries are also for sale.

---
NingXia Red™ Wolfberry Juice
What is in NingXia Red Wolfberry Juice?
NingXia Red wolfberry juice combines natural ingredients as well as essential oils to provide a healthy delicious drink. A brief description of each ingredient is provided below:
Whole Organic NingXia Wolfberry Puree (lyceum barbarum L). The Puree retains more of the health properties during bottling.
Blueberry Juice (Vaccinium corymbosum) has a very high level of antioxidants. Blueberries boost the immune system, improve memory and reduce free radicals in the body.
Plum Juice (Prunus domestica) also high in antioxidants. Increase the absorption of iron in the body; and has a high level of Vitamin C.
Cherry Juice (Prunus avium) contains the flavonoid Queritrin, perillyl alcohol and ellagic acid which are potent anticancer agents. Also of course rich in antioxidants.
Pomegranate Juice (Punica granatum) also has a very high level of antioxidants. Pomegranate improves cardiovascular health; reduce cholesterol and free radicals in the body
Aronia Berry Juice (Armonia melanocarpa) or chokeberry is a rich source of phenolic anthocyanins, vitamins, trace minerals and antioxidants. 
Organic Stevia Extract is an alternative sweetener which has a low-glycemic value.


Dark Grape Seed, Skin and Stem Pomace (Vitis vinifera) - water extracted. Grapes contain flavonoids that are very powerful antioxidants and resveratrol which has been shown to increase expression of three genes all related to longevity.
Lemon Essential Oil (Citrus limon) has antiseptic and immune stimulating properties. It is purifying and uplifting. Promotes leukocyte formation which aids in dissolving fat and cholesterol. Contains 65% d-limonene which promotes healthy cell life cycles.
Orange Essential Oil (Citrus sinensis) is elevating to the mind and body and brings joy and peace. A 1995 Mie University study documented the ability of citrus fragrances to combat depression and boost immunity. Contains 91% d-limonene which promotes healthy cell life cycles.
Tangerine Essential Oil (Citrus nobilis) contains esters and aldehydes that are sedating and calming, helping with anxiety and nervousness.

Yuzu Essential Oil

(Citrus junos). Yuzu fruit has been used historically to guard against cold and flu by boosting immunity. It is associated with promoting healthy blood flow and therefore aids the circulatory system. It is relaxing and uplifting.
Also contains water, tantaric acid, natural blueberry flavor, malic acid, vanilla extract, pectin, and sodium benzoate/potassium sorbate to maintain freshness.

Do you want more information about the individual oil? Just click on the name of the oil to find out other interesting information such as:
What Part of the Plant is Used?
What is an ORAC Value?
What is the ORAC of the Oil?
What are the Plant Properties and Uses?
Where is the Name derived from?
The Most Interesting Historical Reference?
And more!
What are the Documented Uses for NingXia Red Wolfberry Juice? Aging, antioxidant, supports brain health, provides healthy source of energy to combat occasional fatigue, cleansing, supports healthy digestion (enzymatic activity), supports healthy eyes (antioxidants), supports healthy immune system and healthy function of the heart, liver, kidney and pancreas. Longevity, memory, natural detox, reduces stress by providing essential nutrients, part of Slique, Young Living's healthy weight loss and management system.
What Body Systems are Supported? Immune and Digestion.
How do I use NingXia Red Wolfberry Juice?
Drink one once daily or as needed. For detoxification or to boost the immune system, drink 2 ounces per day or more. Shake well before pouring and refrigerate after opening.
How do I use NingXia Red Wolfberry Juice for Weight Loss?
Drink at least one ounce per day and combine with a healthy diet and exercise plan. For maximum weight loss use along with digestive enzymes, meal replacement shake, Slique Oolong Tea or Essential Oil. Please refer to the all natural weight loss section.
Can this oil be used for Animals? Yes, but you may have to dilute it!
I would give some to your pet before and after vaccinations or medicine to reduce the side effects; or anytime as it is excellent nutritional support. Definitely consider it for any animal with health challenges as it helps to boost the immune system. If using essential oils for cats, then make sure that they are getting some everyday to help metabolize the oils.

If they don't like it, place a few drops in their food. My dog liked it but only after I diluted it with water about 50 or 60%!
Remember amounts depend on the health of animal. Chronic conditions will lend itself to more NingXia!
Note about animals: Certain oils can be very toxic to cats especially if the quality of the oil is not pure. Citrus products and oils in particular when not therapeutic grade. Please consult your vet if you are not sure about applying any essential oil to your pet or giving an essential oil supplement to your pet.
What are the Safety Precautions? No contraindications.
Want to Purchase NingXia Red?
Please contact Nan as the weight of this product does not allow me to put it on The Oil Shop. But is available for purchase!
Return from NingXia Red Wolfberry Juice to Essential Oil Supplements