Nan's Experience Essential Oils Membership provides Exclusive EO Training and Coaching on Transformation, Functional Wellness, Animal Topics and More!

FREE ACCESS to E-Merald Level with THREE Training Bundles!

 Click HERE to LEARN MORE and Get INSTANT ACCESS to E-merald Level Trainings!
The Gift Essential Oil
Natural Remedy for Stress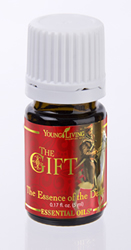 The Gift Essential Oil is a special blend that has calming and health-supporting properties which help to ease stress. Modern scientific research has not yet validated these traditional claims. The plant oils in this blend are from the desert lands of the Middle East.
The gift was created by Mary Young as a gift to her husband, Gary Young, the founder of Young Living Essential Oils. The oil symbolizes the journey that Gary has taken to discover and bring therapeutic grade essential oils to the world.
Specifically, the oil represents his excursions through the Middle East on the frankincense trail from Yemen to Israel; and what he learned and experienced during this adventure.
To me, this oil represents the embodiment of our own spiritual journey. It helps us to remember that we are all from one powerful universal source and that we are always divinely guided. It reminds me that I am a unique gift; each one of us are God's wonderful gifts; and that we are given these gifts to help others on their path. Remember, as we help ourselves to heal and become all that we can be; then we can truly help others in this capacity.
This is a fun and easy reference guide for The Gift Essential Oil Blend. It will tell you how to use your oil blend and what to use it for. It will also provide you with some fun tips and testimonials!
As I receive new tips and testimonials they will be added to the page, so check back frequently!
Want to Purchase Therapeutic The Gift Essential Oil?
Go to the Oil Shop! Buy The Gift Oil Here! 
---
Experience The Gift Essential Oil Blend™
What is in The Gift Essential Oil Blend?
There are seven different oils in the Gift oil blend. They are listed below along with a brief description of each oil.
This oil was reformulated in November 2016. Spikenard, Galbanum and Frankincense were removed. The following oils were added:
Want More Information About the Individual Oil? Just click on the name of the oil to find out other interesting information such as:
What Part of the Plant is Used?
What is an ORAC Value?
What is the ORAC of the Oil?
What are the Plant Properties and Uses?
Where is the Name derived from?
The Most Interesting Historical Reference?
And more!
What are the Documented Uses for The Gift Essential Oil? Spiritual and emotional transformation, stress and seeing one owns gifts.
What is the Aromatic Affect on the Mind? This spicy aroma is calming and protective.
What is the Nan's Mental (Mindset), Emotional and Spiritual Interpretation of this Oil?
The Gift essential oil is the embodiment of our soul and our God given gifts and talents. It is a reminder to us that we are a true gift to the world.
This oil will help us embody our true gifts and talents that God gifted us. It will help us become more loving, accepting and compassionate of ourselves and others. And help us discover our own gifts on our spiritual journey that we are to share with the world.
This is a good oil for those who have many gifts and abilities, to the point where it is hard to differentiate their true calling. For it is only when we connect with and be guided by our heart not our mind that we can find our true purpose. And then, we will want to embrace it wholeheartedly with an open heart and mind.
What Chakra is Affected? Opens and connects the heart and crown chakras.
How Do I Use It?
Use NEAT (undiluted) then,
Apply several drops (1-2) to bottoms of feet, neck or temples
Apply to chakras
Directly inhale
Diffuse

Can this Oil be Used for Animals? Yes, helps animals with confidence and protection issues, especially those who have been neglected or have come from an negative situations or poor homes. Helps horses embody their true gifts and talents; and become one with their rider.
Note About Animals: Certain oils can be very toxic to cats. Citrus products and oils in particular that are not of therapeutic grade! Please consult your vet if you are not sure about applying any essential oil to your pet.
What are the Safety Precautions? The Gift essential oil should be used cautiously if pregnant. Repeated use may cause skin irritation.
It pregnant or under a doctor's care, consult your physician.

Want to Purchase Therapeutic The Gift Essential Oil?
Go to the Oil Shop! Buy The Gift Oil Here! 
Tips and Testimonials from an Essential Oil User
Place on the heart and third eye to connect your heart and mind.
Have a Great Experience to Share About this Essential Oil?
Do you have a personal story to share about this Essential Oil? Please share it here!
Return from The Gift Essential Oil to Essential Oil Blends