Nan's Experience Essential Oils Membership provides Exclusive EO Training and Coaching on Transformation, Functional Wellness, Animal Topics and More!

FREE ACCESS to E-Merald Level with THREE Training Bundles!

 Click HERE to LEARN MORE and Get INSTANT ACCESS to E-merald Level Trainings!
Oola Balance Essential Oil by Young Living
Release Stress and Bring Balance!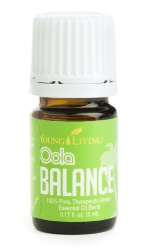 Oola Balance Essential Oil is a fantastic blend for any place where more balance is needed in your life. Helps to align and balance your center giving you an increase in concentration with a positive outlook. Use with Oola Grow Essential Oil, Valor or alone.
It is a very powerful emotional oil blend that has over twenty therapeutic grade oils! It promotes and helps to create harmony in all areas of our life no matter what seems to be out of balance on a mental, emotional and spiritual level.
For those who tend to work too much or become overwhelmed easily this oil will help them to rebalance and focus so they can walk through circumstances in our life rather than fighting them. It will help people embody their path and walk forward with focus by releasing fear and providing a sense of security from the core of their being.
This is an easy reference guide for Oola Balance Oil Blend. It will tell you how to use your oil blend and what to use it for. It will also provide you with some fun tips and testimonials! For Oola Grow, click here!

As I receive new tips and testimonials they will be added to the page, so check back frequently!
Want to Purchase Oola Balance Essential Oil?
Go to the Oil Shop! Buy Oola Essential Oil Here!
---
Experience Oola Balance Essential Oil Blend™

What is in Oola Balance Essential Oil? 
There are over twenty therapeutic grade essential oils in Oola Balance! They are listed below along with a brief description of each oil:

Galbanum Essential Oil (Ferual gummosa) Opens up communication to the creator. Holy incense along with Frankincense. It is a spiritual oil that has been used for mediation and to increase awareness.

Orange Essential Oil (Citrus sinensis) is rich in the powerful antioxidant d-limonene and aids in maintaining normal cellular regeneration. Also has calming effects and may be used for feelings of peace.
Angelica Essential Oil (Angelica archangelica) is the "Oil of Angels" and helps to provide a feeling of safety and security. It is emotionally balancing.
Geranium Essential Oil (Pelargonium graveolens) helps you relax and beatify your skin!

Hyssop Essential Oil (Hyssopus officinalis) is noted for its purifying properties. It is balancing and promotes centering in the body.

Ocotea Essential Oil (Ocotea quixos) is a rare and unique therapeutic grade oil that helps aid the body's natural response to irritation*. From the cinnamon family, Ocotea also has natural cleansing and purifying properties.
Sage Lavender or Spanish Sage Essential Oil (Salvia lavandulifolia) is emotionally balancing and is can be used for minimizing stress.
Spruce Essential Oil (Picea mariana) is physically grounding and relaxing. Has a sweet and earthy scent that is fresh and fruity. It is also said to release blocks to prosperity and wealth.
Cistus Essential Oil (Cistus ladaniferus) or Labdanum is a spiritual oil made famous by the Song of Salomon. Also called Rose of Sharon.
Spikenard Essential Oil (Nardostachys jatamansi) is known for its spiritual significance. It acts as a skin tonic and soothes the mind and body!
Bergamot Essential Oil (Citrus bergamia)  The essential oil has a calming aroma which relaxes the mind and body.
Roman Chamomile Essential Oil (Chamaemelum nobile) his a calming oil that resonates well with adults, children and animals. Soothing to all types of skin*, it is used extensively in Europe in skin preparations. Also beneficial when added to massage oil for relief of muscle discomfort after exercise.
Lemon Essential Oil (Citrus limon) consists of 68 percent d-limonene, a powerful antioxidant; and may be beneficial for the skin*. It has cleansing and purifying properties.
Palmarosa Essential Oil (Cymbopogon martinii) also been known as Turkish Geranium or Indian Geranium Oil. Stimulating and soothing to the body and mind.
Rose Otto Essential Oil (Rosa damascena) has an intoxicating aroma that relieves stress. Excellent for all skin types.
In the revised formulation 2015, Sandalwood has been replaced with:
In the revised formulation of October 2016, Spikenard and Black Spruce were replaced with:

Want More Information About the Individual Oil? Just click on the name of the oil to find out other interesting information such as:
What Part of the Plant is Used?
What is an ORAC Value?
What is the ORAC of the Oil?
What are the Plant Properties and Uses?
Where is the Name derived from?
The Most Interesting Historical Reference?
And more!
What are the Documented Uses for Oola Balance Essential Oil? Abundance, agitation, anger, argumentative, balance, blocks, chakras, clearing, concentration, confusion, day-dreaming, despair, disappointment, electrical problems in the body, fear, focus, grief/sorrow, guilt, harmony in body systems, heart (emotionally), jealousy, being in the moment, uplift mood, occasional sleeplessness, protection, resentment, restlessness, emotional upheavel, stress, tension and wellbeing.

What is the Aromatic Affect on the Mind? This beautiful aroma brings harmony to the body and clears the mind.  
What is the Nan's Mental (Mindset), Emotional and Spiritual Interpretation of this Oil?
Oola Balance essential oil harmonizes the body by pulling the body's energy in at the core (solar plexus) then redistributing it throughout the chakras and body which brings emotional balance and mental focus.
For those who tend to work too much or become overwhelmed easily this oil will help to rebalance and focus on how a person can walk through the circumstances in our life rather than fight them. It will help people embody their path and walk forward with focus by releasing fear and providing a sense of security.
In Raindrop Technique, use it right after Valor but in the same way. Valor gives us the courage and the backbone to release what no longer serves us but Balance brings the security we need from deep within our core to accomplish the same.
This is why Balance will also support us in terms of making change.It will help to release fear that create imbalance and/or overwhelm in our life.
What Chakra is Affected?  Balances all the chakras but provides second chakra or sacral chakra protection.
How Do I Use It?
Use diluted - 50:50 dilution (one part essential oil: one part of vegetable oil), then,
Apply several drops (2-4) on ears, throat, spine, wrists, neck, or feet
Apply to chakras
Directly inhale or
Diffuse
Can this Oil be Used for Animals?  Yes, definitely. I know that it will be particularly good for those who do Reiki and Raindrop Technique. Especially Equine Raindrop.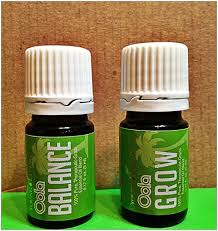 When I first got Oola Balance Essential Oil, my whippet, Dezie was picking up a lot of stress I had about my Mom being in the hospital. I placed some on me then petted her with it head to spine and it immediately rebalanced her energies.
The oil helped us both get on the same page energetically and then it was easy for me to see how to proceed with the family situation. And she saw that being part of that energy was not serving either one of us.
I followed up with the oil of Oola Grow so we could balance our own priorities along with my families rather than giving power to them.
Oola Balance Essential Oil should help with any emotional issue. Use for when animals enter new homes or lose an animal or loved one in the home. Anywhere where the balance of the home and environment has been compromised.
Note About animals: Certain oils can be very toxic to cats especially if not therapeutic grade. Citrus and pine oils in particular that are adulterated.  Please consult your vet if you are not sure about applying any essential oil to your pet.
What are the Safety Precautions? No information at this time.  
Want to Purchase Oola Balance Essential Oil?
Go to the Oil Shop! Buy Oola Balance Essential Oil Here!
Tips and Testimonials from an Essential Oil User
Place on the shoulders and bottoms of feet to bring balance to the whole body.
Return from Oola Balance Essential Oil to Essential Oil Blends