Animal Scents Ointment
Seals and Disinfects Wounds!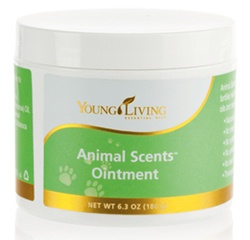 Animal Scents Ointment is natural ointment that contains eight therapeutic grade essential oils. It acts as a sealer for infected wounds or when applied with other essential oils.
It is excellent for natural wound healing. Helps heal cuts and scrapes by applying it directly on the cut. It may also be applied to open wounds as well.
It is a fantastic horse ointment; especially, if you compare it to ingredients found in most commercially made ointments for animals. Remember there are no labeling requirements for pet products.
Therefore most of the ingredients are not even listed on the container! Animal Scents healing salve contains no synthetic compounds or harmful chemicals.
Although this product was designed for animal use, it can be used safely on humans as well. As a matter of fact, I either keep Animal Scents or Rose Ointment in my Human and Animal First Aid Kits to seal wounds.
Animal scents ointment contains Geranium and Balsam Fir, while Rose Ointment contains Rose Otto Essential Oil Otherwise, the ingredients are the same (with different ingredient quantities).
This is an easy reference guide for Animal Scents Ointment. It will tell you how to use your ointment and what to use it for. It will also provide you with some fun tips and testimonials!
As I receive new tips and testimonials they will be added to the page, so check back frequently!
Buy Animal Scents Ointment Here!
---
Animal Scents Ointment™
What is in Animal Scents Ointment?
There are seven different ingredients as well as seven therapeutic grade essential oils in Animal Scents Ointment.
Please Note that Animal Scents Ointment was revised in summer of 2012 because of the deforestation and limited availability of Rosewood Essential Oil. See below for revised formula.
The natural ingredients include:
Lecithin – Natural dispersing agent. Natural substitute for sodium lauryl sulfate.


Lanolin – Taken from sheep wool; excellent for skin care.


Pure Bees Wax (Cera alba) - Aids in thickening and natural stabilizer.


Mink Oil – Nurtures and regenerates the skin.


Sesame Seed Oil (Sesamum indicum) – Sesame is high in linoleic acid. Helps maintain the pH of the skin.


Wheat Germ Oil is rich in vitamin B and E, and lecithin. It is an antioxidant, and has been known to reduce scaring from tissue damage and stretch marks.


Rosehip Seed Oil (Rosa rubiginosa) – Helps reduce scarring and premature aging.
The essential oils are listed below along with a brief description of each oil.
In the revised formulation, Rosewood has been replaced with the following oils:
Bergamot Essential Oil (Citrus bergamia) has analgesic, anti-infectious, anti-inflammatory and antibacterial properties. It is refreshing and uplifting and helps with anxiety and depression. This is furanocoumarin-free (FCF) Bergamot.


Coriander Essential Oil (Coriandrum sativum) has antibacterial, antispasmodic, analgesic and antifungal properties. It is relaxing and releases fear and shock.


Ylang Ylang Essential Oil (Cananga odorata) increases relaxation; balances male and female energies. It also restores confidence and equilibrium.
Do you want more information about the individual oil? Just click on the name of the oil to find out other interesting information such as:
What Part of the Plant is Used?
What is an ORAC Value?
What is the ORAC of the Oil?
What are the Plant Properties and Uses?
Where is the Name derived from?
The Most Interesting Historical Reference?
And more!
What are the Documented Uses for Animal Scents Ointment? Animals, baby thrush, sore nipples, cuts, chapped or cracked skin, nail fungus, scarring, skin, softening fungus, tissue repair and wounds (seals and protects).
What Body Systems are Affected? Skin
How do I use it?
Apply directly over other essential oils. Or directly on the wound, scrape or cut.
Good oil for the First Aid Kit? Yes, absolutely!
Can this oil be used for Animals? Yes, made for animals and pets in mind! Use it on my dog and horse all the time.
Note about animals: Certain oils can be very toxic to cats. Citrus products and oils in particular that are not of therapeutic grade quality! Please consult your vet if you are not sure about applying any essential oil to your pet.
What are the Safety Precautions?
No contraindications.
Want to Purchase Therapeutic Animal Scents Ointment?
Go to the Oil Shop! Buy Animal Scents Essential Oil Ointment Here!
Return from Animal Scents Ointment to Natural First Aid