ParaFree Supplement
Essential Oils in a Convienent Softgel!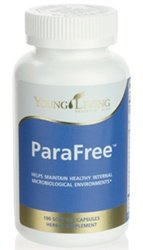 ParaFree Supplement contains essential oils that have cleansing properties. It is safe for human and animal use; although it is not to be during pregnancy.
Use for occasional gas, bloating, diarrhea and constipation. Or as a natural colon cleanser as it contains some of the strongest essential oils studied for their cleansing abilities.
This is an easy reference guide for ParaFree Supplement. It will tell you how to use it and what to use it for!
Buy ParaFree Parasite Supplement Here!
---
ParaFree Essential Oil Supplement™
What is in ParaFree Supplement?
There are two different ingredients as well as ten essential oils in ParaFree.
The natural ingredients include:
Organic Sesame Seed Oil (Sesamum indicum) – Sesame is high in linoleic acid and antioxidants.


Organic Olive Oil (Oleo europaea) is rich in Vitamins A, B-1, B-2, C, D, E, K and in iron. Also high in antioxidants.
The essential oils are listed below along with a brief description of each oil.
Cumin Essential Oil (Cuminum cyminum) has immune system enhancing properties.


Anise Essential Oil (Pimpinella anisum) aids in digestion.



Bay Laurel Essential Oil

(Lauris nobolis)  has been used by Ancient Greece. Traditionally used to support the respiratory and digestive systems.


Melaleuca alternifolia Essential Oil (

Tea Tree Oil

) for its ability to support the immune system and is beneficial for the skin.
Nutmeg Essential Oil (Myristica fragrans) uses including stimulating digestion and energizing the body! It also supports nervous and endocrine systems and prostaglandin balance.


Fennel Essential Oil (Foeniculum vulgare) The Benefits of Fennel date back to the ancient Egyptians. Use Fennel Essential Oil to help with occasional digestive upset or to support the circulatory glandular and respiratory systems. Discover more here about this oil!
Clove Essential Oil (Syzygium aromaticum) helps to boost immunity, and promote oral health. And is also the highest ranked known antioxidant!   An important ingredient in Young Living's Thieves blend due to its wonderful immune-enhancing properties, its principal constituent is eugenol, which is used in the dental industry to numb the gums!


Vetiver Essential Oil (Vetiveria zizanioides) brings you back to nature. It is a grounding oil and is one of the oils that is highest in sesquiterpenes, Vetiver was studied by Dr. Terry Friedmann for improving children's behavior. Vetiver may help when coping with stress and to recover from emotional trauma and shock.
Thyme Essential Oil (Thymus vulgaris) supports the immune, respiratory, digestive, nervous, and other body systems. Known since ancient times as a medicinal herb, thyme contains large amounts of thymol. It is also a key oil in the Raindrop Technique.


Idaho Tansy Essential Oil (Tanacetum vulgare) has been used traditionally for supporting the digestive system. Listed in E. Joseph Montagna's The Herbal Desk Reference on herbal formulas, tansy is soothing to the skin.
Do you want more Information about the Individual oil? Just click on the name of the oil to find out other interesting information such as:
What Part of the Plant is Used?

What is an ORAC Value?

What is the ORAC of the Oil?

What are the Plant Properties and Uses?

Where is the Name derived from?

The Most Interesting Historical Reference?

And more!
What are the Documented Uses for ParaFree Supplement? Cleansing,  digestive system; occasional gas, bloating and diarrhea; detox.

What Body Systems are Affected? Digestive

How do I Use it?
Take one capsule per day or as required (up to six may be taken). For better results, take consistently for at least 21 days and then take the following seven days off. Rotation may then be repeated as needed. Should be taken on an empty stomach.
Can this oil be used for Animals? Yes, I have used ParaFree Supplement for my dog and horse.
Use up to 2 capsules per day for up to a 50 lb animal. Adjust according to weight and monitor your dog! Will have to perform stool testing to make sure that parasites have been eliminated completely.
For horses, 6-10 day can be used easily as human dose is 6 caps per day.
According to the Animal Desk Reference by Dr. Melissa Shelton, DVM. For dog heartworm prevention:
Small Dogs (under 20 pounds): 1/2 to 1 capsule per day at least 2 times per week during heartworm season or when you know your dog has heartworm.


Medium Dogs (20-50 pounds): 1-1 1/2 capsules per day at least 2 times per week during heartworm season or when you know your dog has heartworm.


Large Dogs (over 50 pounds): 2-3 capsules per day at least 2 times per week during heartworm season or when you know your dog has heartworm.
I would split all capsules into am and pm feedings and feed probiotic in between.
Note about Animals: Certain oils can be very toxic to cats if not therapeutic grade. Citrus products and oils in particular. Please consult your vet if you are not sure about applying any essential oil to your pet.
What are the Safety Precautions? Pregnant women (or animals) should not take this supplement.
If pregnant or under a doctor's care, consult your physician.
Want to Purchase ParaFree Supplement?
Then go to the Oil Shop! Buy ParaFree Supplement here.
Return from ParaFree Supplement to Dog Parasites